I know this post was supposed to come on Saturday, but I have a good excuse. I'm in Maine, waiting for my little niece to officially come in to this world. But she knows what's up–it's COLD in Maine in January! And she's feeling nice and cozy in her mama's belly! We thought she'd be here by now, but alas, she is making us eagerly wait. While some would be disappointed, I am anything but–this just means I get to come back next month to spend time with my sister and her family! 😀
With the anticipation of meeting my niece, along with thoroughly enjoying late night talks with my sister and her husband and soaking up as much time with my nephews as possible, I just couldn't bring myself to sit down in front of my computer long enough to craft a post. As I prepare to head back to DC though, I knew I didn't want you to wait another second for this elegant winter soup.
Like the tatsoi and the romanesco cauliflower I recently posted about, I had never tasted sunchokes (also called Jerusalem artichokes, although they are not related to artichokes at all). The first time I saw them was when I lived in North Carolina, when a friend explained that they were tubers (which I had also never heard of before!). Still, I was not yet adventurous enough to try them. Fast forward to this winter when I embarked on a new winter veggie binge, and they were soon plopped down into my grocery bag.
Although they resemble ginger root, figuring they were starchy like a potato, I went with a potato-like soup. For color, I added roasted sweet potato (now, I'm thinking when I make this soup again I may use carrots or rainbow chard) and to bring out some of the earthiness and sweetness, I used thyme and roasted garlic. The result? Nom!
This soup was comforting and hearty, which is just what I was looking for. A definite 'must try' and great alternative to potatoes. Sunchokes pack vitamin C, phosphorous, and potassium, and iron…. and inulin. Inulin, a type of carbohydrate, acts a lot like a probiotic. What does this mean practically? As tasty as sunchokes are, they are also "wind-producing." Because of this, I would suggest serving this soup in small portions, perhaps as an amuse-bouche in shot glasses or large soup spoons (like the ones featured here).
The taste is amazing, but the effect on your tummy can be harsh if you eat too much, so savor this soup in small doses!
Roasted Sunchoke and Sweet Potato Soup
Ingredients:
1 pint sunchokes
1/2 red onion–chopped
1 bulb roasted garlic
1 1/2 cups vegetable stock
1/2 cup white wine
1 tablespoon Earth Balance (or butter/margarine)
1 sweet potato–cubed
1 tablespoon orange juice
olive oil
salt
pepper
dash dried thyme
pecans (garnish)
Method:
*Preheat oven to 400 degrees F. Prepare roasted garlic (click here for directions). Wash and cube sweet potatoes. Add sweet potatoes to baking pan. Drizzle with 1-2 tablespoons of olive oil. Sprinkle with salt, pepper, and a dash of thyme. Roast until soft (~20 minutes), turning 1-2 times. Set aside.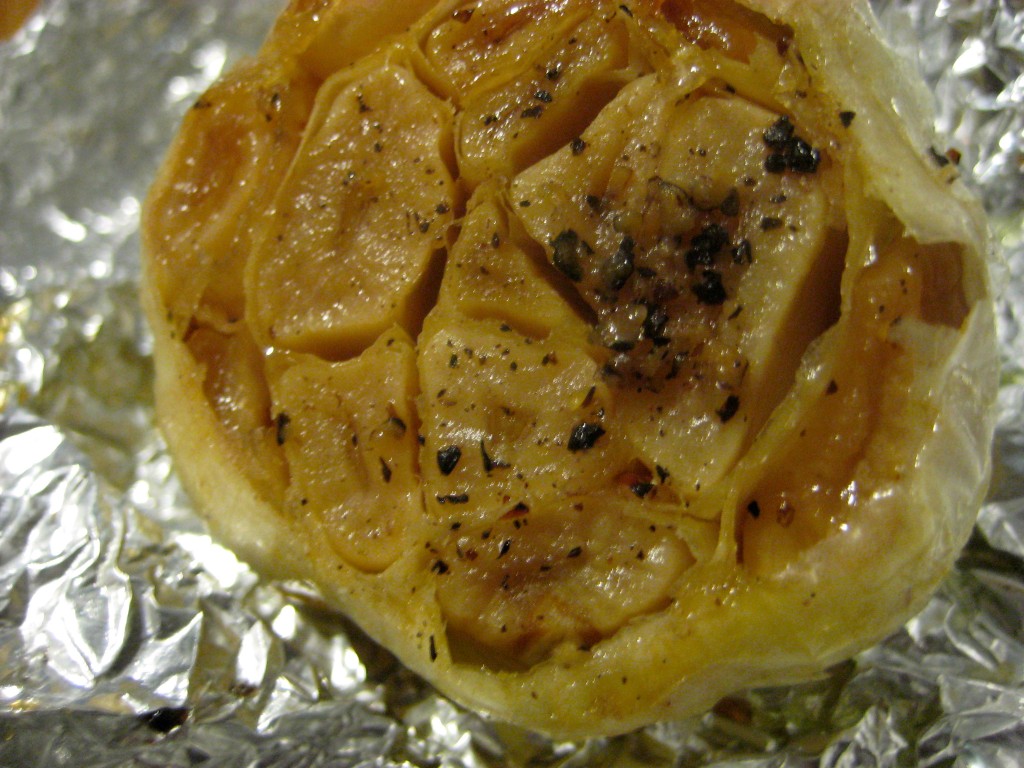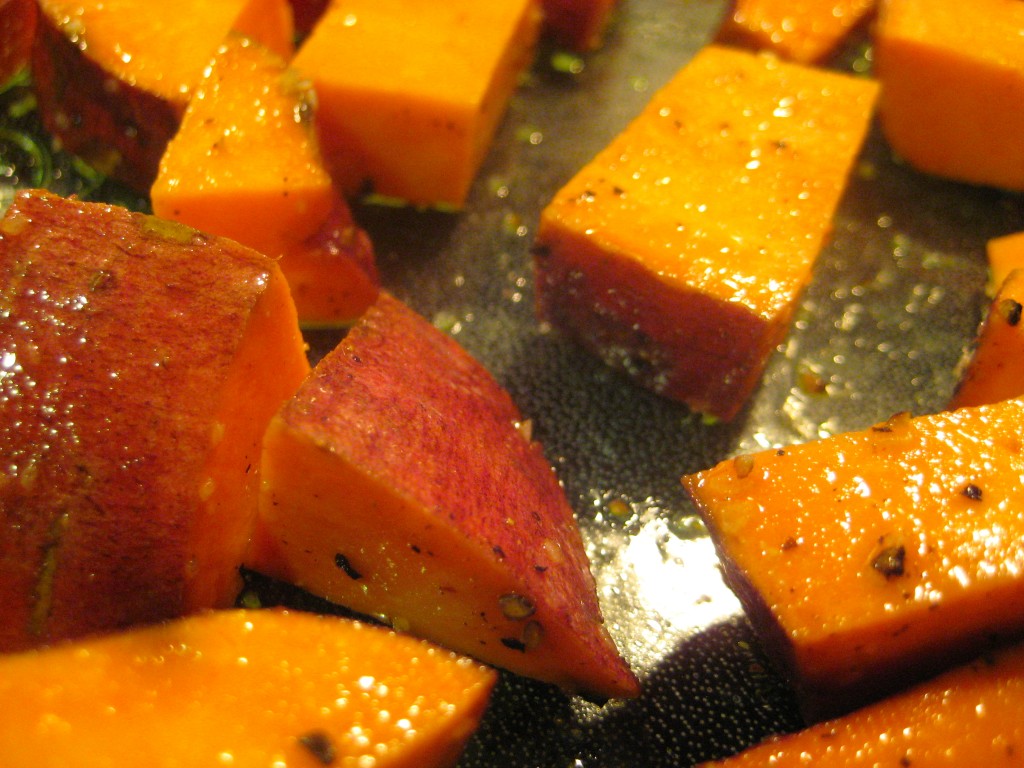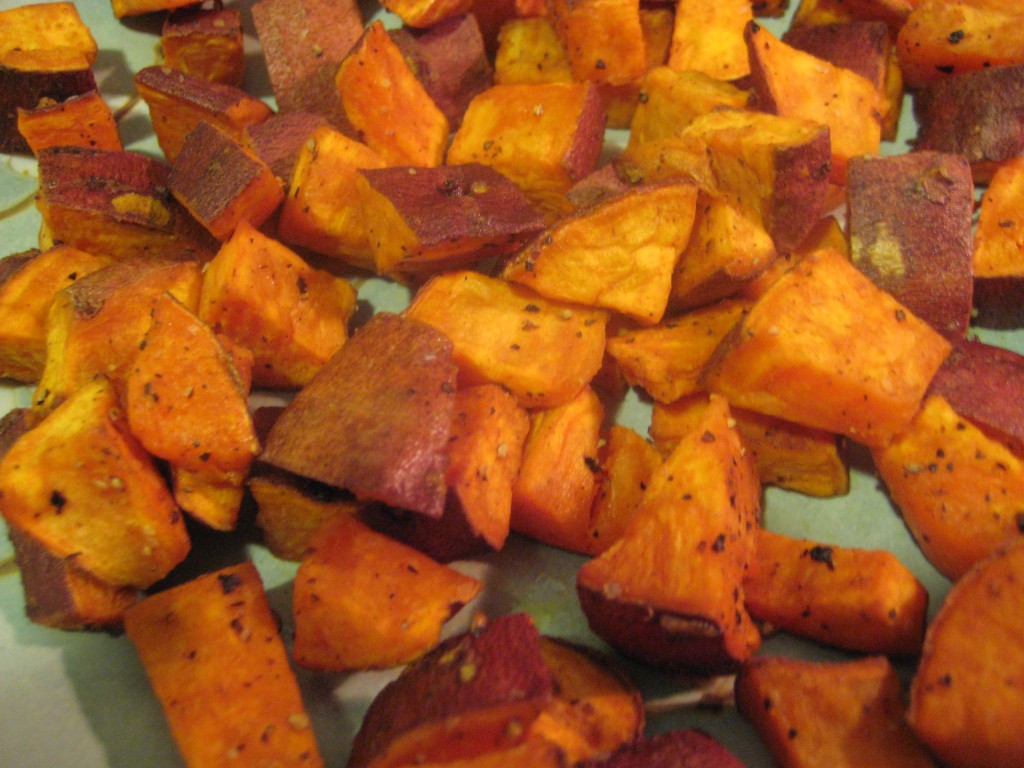 *Wash sunchokes. Cut into ~1 1/2 – 2 inch chunks. Add to baking pan. Drizzle with 1 -2 tablespoons of olive oil. Sprinkle with salt and pepper. Roast until soft (~25 minutes), turning 1-2 times. Set aside.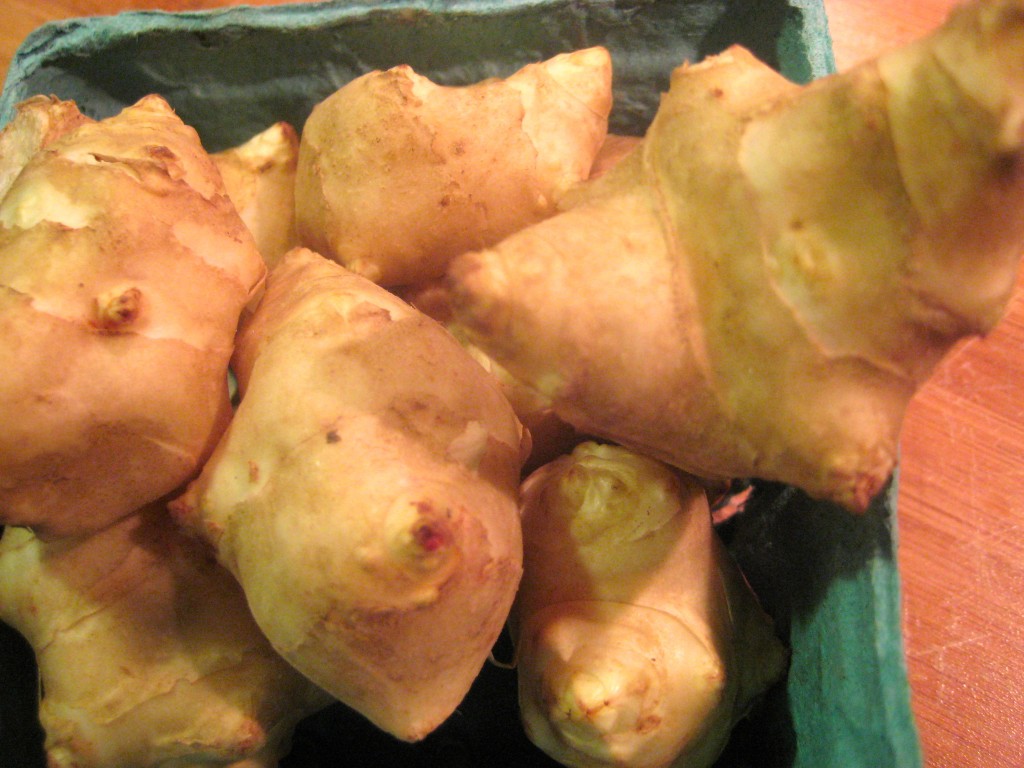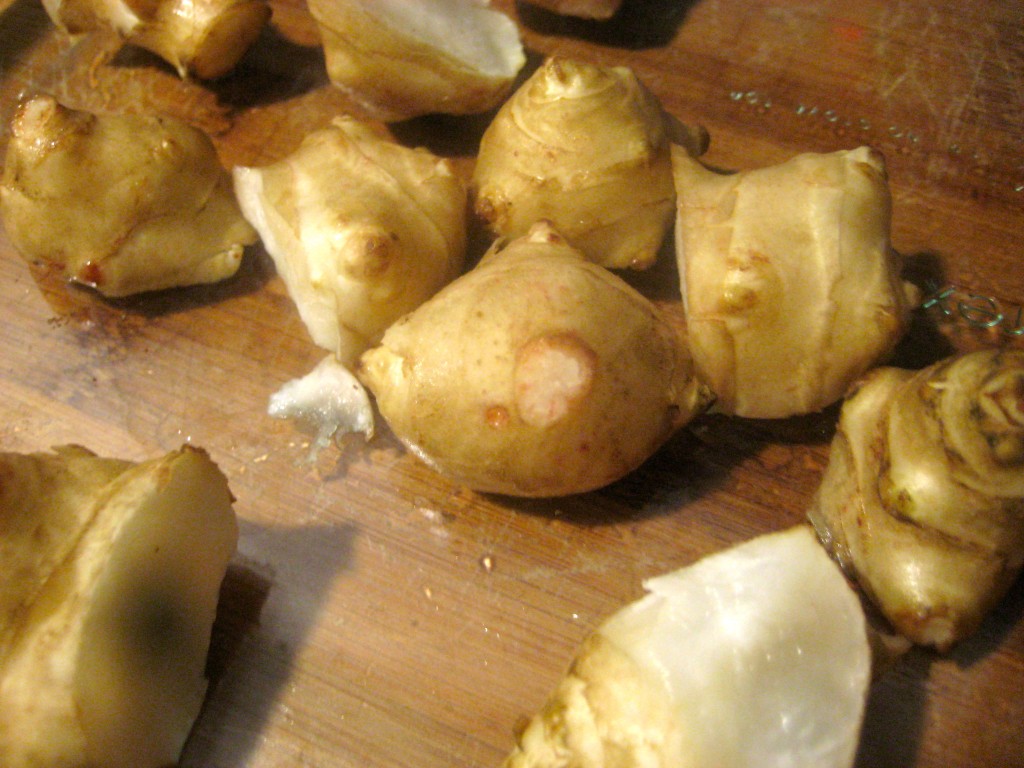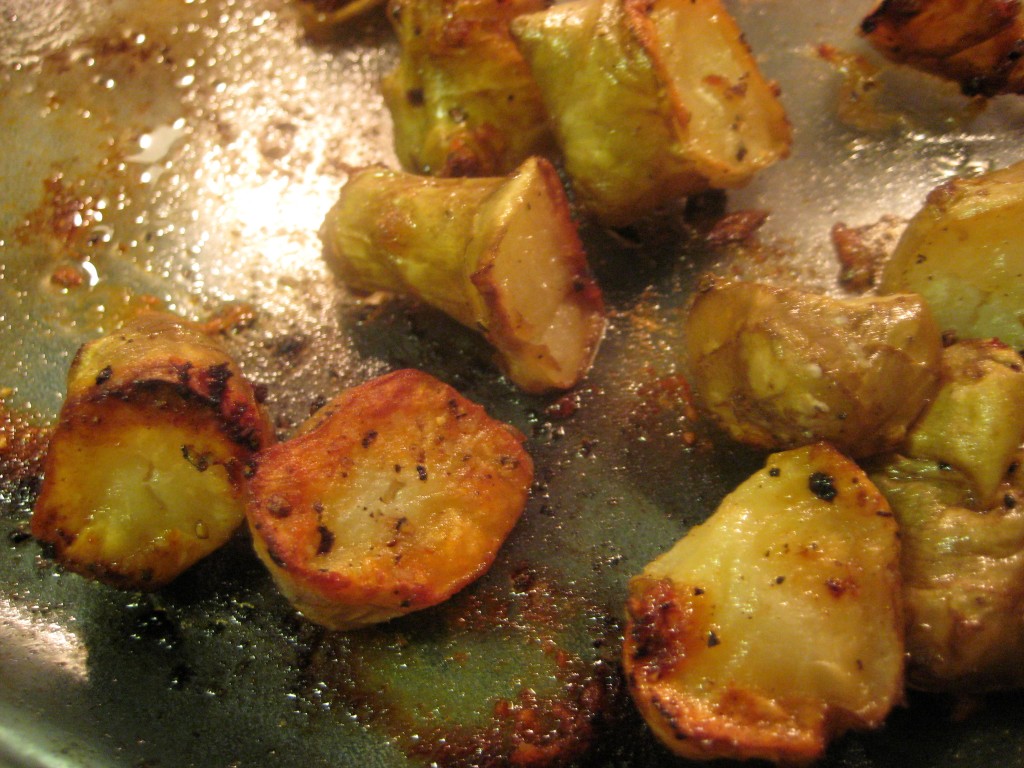 *Dice onion. Saute onion in 1 tablespoons olive oil and Earth Balance over medium heat. Set aside. Chop pecans, set aside.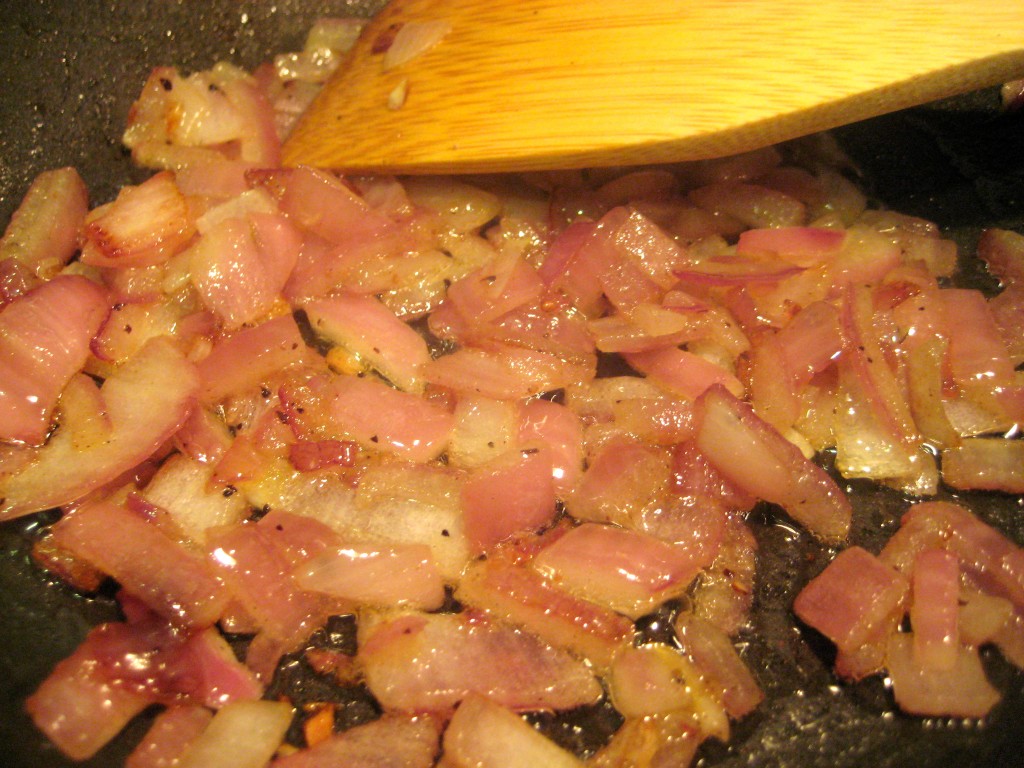 *Heat vegetable stock, white wine, and orange juice over medium low heat in medium saucepan. When sunchokes are soft and cooled for 5 minutes, add to blender along with pulp from roasted garlic, sautéed onions, and stock/wine/oj mixture. Blend until smooth. Adjust seasoning. Add additional vegetable broth if you like a thinner soup. Serve with cubed sweet potatoes, a dash of cayenne, and a few chopped pecans.