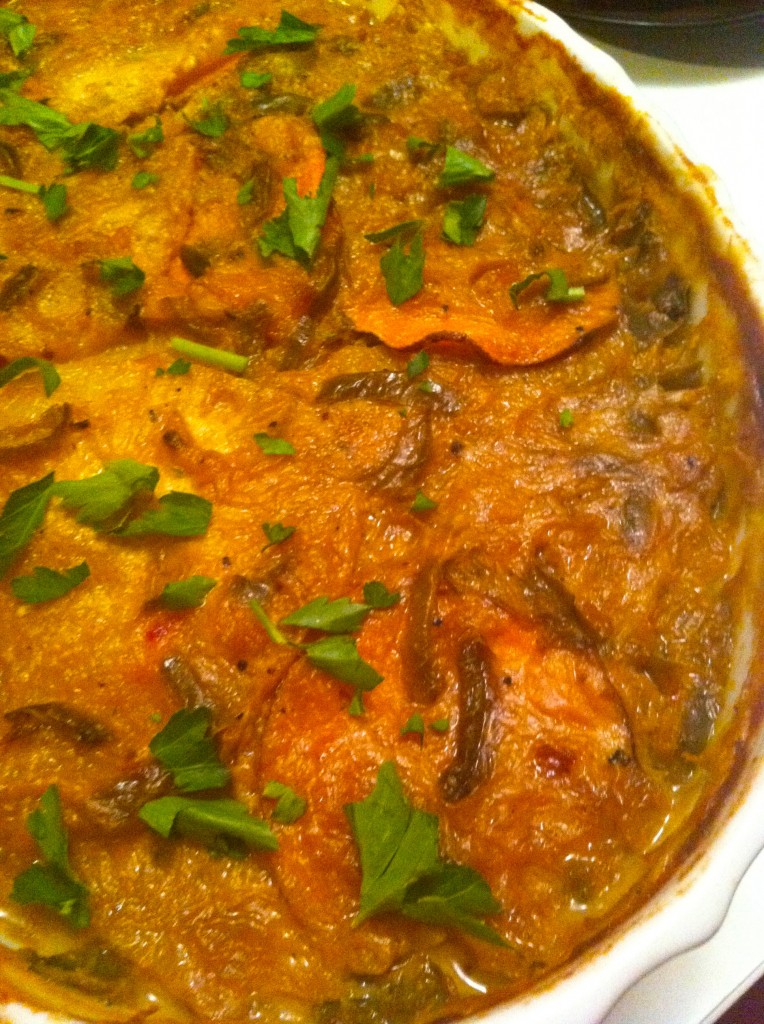 Canon SD 750 R.I.P.
The night was New Year's Eve. I was embarking on another–quite typical, I'm ashamed to admit–overzealous cooking spree. Four vegan dishes and my first ice cream in 2 1/2 hours, plus cleaning up, and showering. I could do this. I had done this before. It's all about planning, mise en place, and a few prayers. I was flowing–the food was cooperating (for the most part) and my first ice cream batter was so tasty, I delved in tablespoon first before it could even harden. "2012 is going to be a great year!", I thought to myself. And then it happened: the black screen of death. My camera screen was completely black and the pictures it took just as coal-colored. The inevitable had happened. My camera had died.
So, I dedicate this post to my point and shoot Canon SD 750. I first bought the camera as a gift to myself preceding my trip to Paris, never ever imagining that just a few years later I'd be writing for my own food blog. That camera began the Como Water journey with me and if you've looked at any of my early posts, or if you've been following me for awhile, you'll know that my Canon SD 750 and I evolved together, grew together, and shaped Como Water together. Although I was thoroughly annoyed 😉 that it decided to die in the middle of my NYE dinner (which contained the remaining veggie month posts!), my iPhone was a fine enough back up. To you… I apologize in advance for smartphone quality pictures for the next week or so until I am able to get a new camera.
Speaking of… do YOU have any suggestions for what new camera I should buy???
And now, enough mourning… onto this vegan au gratin, which is the culmination of yet another one of my daydreams. I wondered… how can I capture the silkiness of a traditional au gratin, while making the dish vegan, amping up the nutritional value (no offense to white potatoes!), and using some of the lovely saffron my sister bought me for Christmas? The result was this version of an au gratin and I couldn't have been happier with it. The only thing I would change next time is that I would par boil the turnip and sweet potato before baking to cut down on the baking time. If you have the time though, you can keep the recipe as is.
Enjoy! And Happy Thursday folks! 🙂
Saffron Turnip and Sweet Potato Au Gratin
Ingredients: 
1 large sweet potato–sliced thinly (max 1/8 inch)
1 large turnip–sliced thinly (max 1/8 inch)
1/2 green bell pepper–diced
1/2 yellow onion–diced
1 clove garlic–minced
1/4 to 1/3 cup nutritional yeast
1 tablespoon Earth Balance (or margarine/butter)
1 tablespoon flour
1 cup almond milk (plain, unsweetened)
1/3 cup coconut milk
1/2 cup vegetable broth
1/4 teaspoon seasoned salt (I use Goya Adobo)
1/8 teaspoon curry powder
1/4 teaspoon saffron (approx.)
1/4 teaspoon tumeric
1/8 teaspoon cayenne
1/8 teaspoon cumin
olive oil
salt
pepper
parsley (garnish)
Method:
*Preheat oven to 375 degrees F. Wash and dry potato and turnip. Peel turnip. Slice potato and turnip thinly (max. 1/8 inch). Keep in a large bowl of cold water while preparing other components of the dish.
*Dice onion and bell pepper. Mince garlic. Saute onion and pepper in 1-2 tablespoons of olive oil until they are barely soft. Add garlic and sauté until all three veggies are completely soft. Set aside.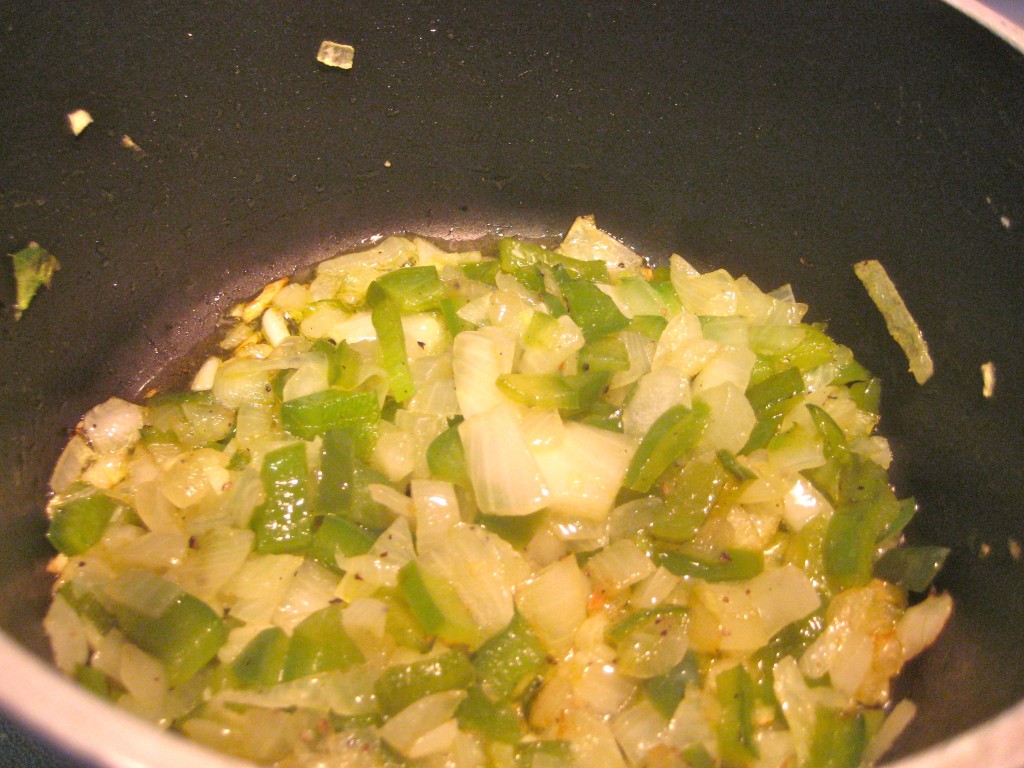 *Add 1-2 tablespoons of olive oil and the Earth Balance to medium-sized pot over medium heat. Melt the Earth Balance. Add flour. Stir to combine and cook for approx. 1 minute. Whisk in broth and milks. Stir until roux is completely dissolved into the liquid. Add all seasonings (except parsley). Note: crush saffron threads in your fingers before adding. Stir and reduce heat to medium low. Add nutritional yeast and onion mixture; stir until all ingredients are completely combined.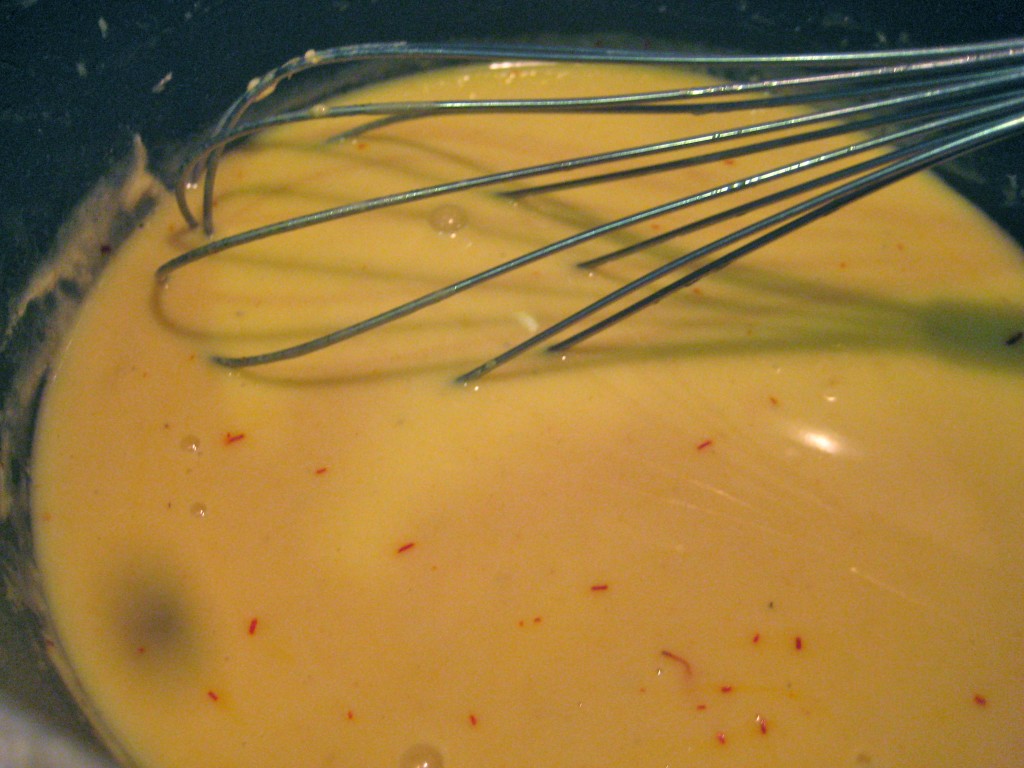 *Remove turnip and sweet potato slices from water. Dry on paper towel and layer in greased baking dish, leaving at least 1/2 inch at the top of the baking dish. Pour sauce over turnip and sweet potato slices. Bake covered with foil for 45-50 minutes. Remove foil. Bake uncovered 15 minutes or until top in bubbly and golden brown. Serve with fresh herbs.