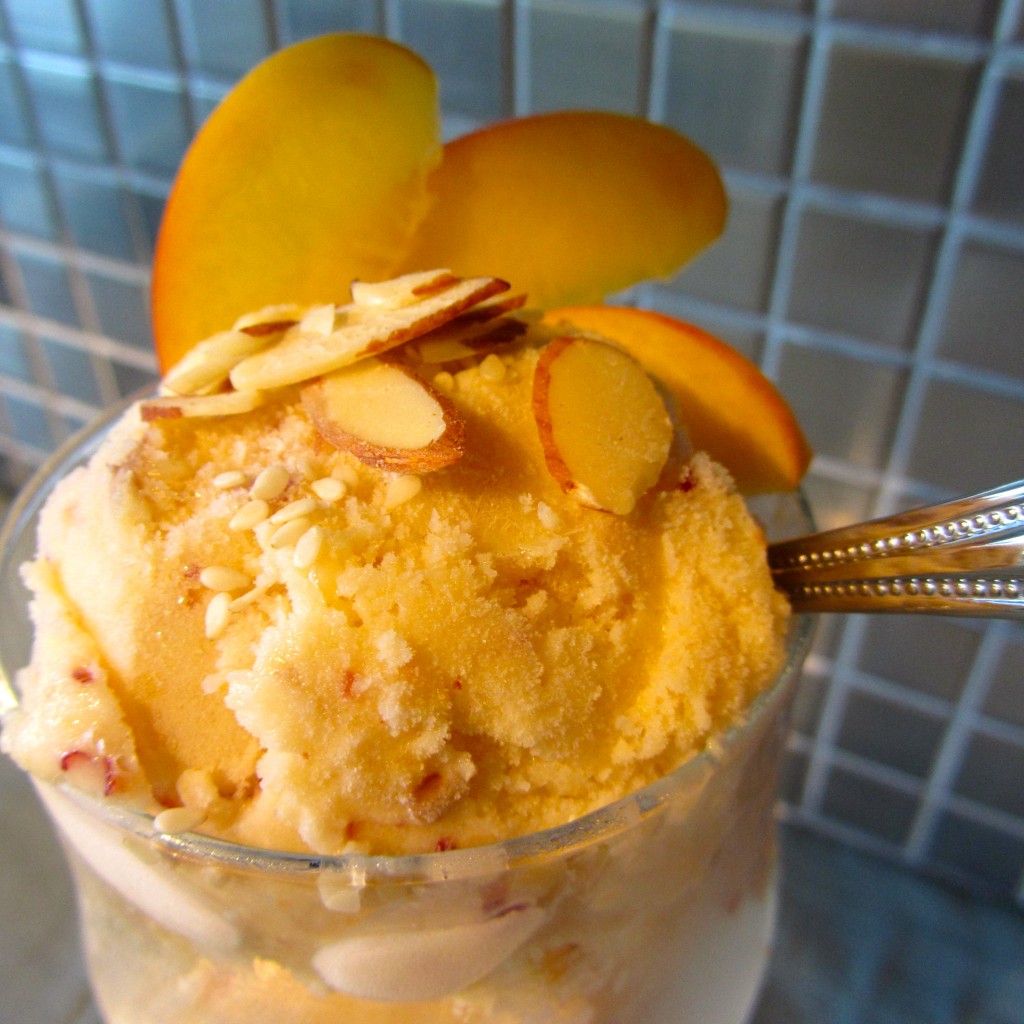 This post is dedicated to my dear food blogging guru Amy! You may remember Amy from February's Favorite Veg on the Web. She is the queen or ice cream (vegan and non-vegan) in my opinion. When thinking up my first ice cream of the season, I summoned my inner Amy and came up with this delicate, peach-sesame-almond ice cream. I wish that I had black sesame seeds, but I went to three stores and couldn't find them. Sigh. The white worked fine for crunch (although not for color contrast) and the almonds were lovely as well. We have a heat wave here in DC… so I'll be eating LOTS of this ice cream! Stay cool and stay tuned for June's Favorite Veg on the Web post on Saturday.
Peach-Sesame-Almond Ice Cream
Ingredients:
5 medium-large peaches (pitted and chopped, I left peel on)
1/3 cup white sugar
1 cup half-and-half
1/2 can sweetened condensed milk (7 oz.)
1/2 can evaporated milk (6 oz.)
1 cup milk (your choice, I used 2%)
1 teaspoon vanilla extract
pinch salt
3 tablespoons sesame seeds
1/2 cup sliced raw almonds
Method:
*Add all ingredients, except almonds and sesame seeds to a blender. Blend until smooth (~2 minutes). Add mixture to ice cream mixture and follow manufacturer's instructions. Once ice cream resembles soft serve (after ~15 minutes), add sesame seeds and almonds. Let the ice cream maker run for 5-10 additional minutes. Remove, add to freezer safe container, and freeze to desired consistency. Enjoy!