It's the last Saturday of the month, which means only one thing—time to feature my Favorite Veg on the Web! As most of you know, this year I decided to create a monthly feature where I highlight one of my favorite veg-centric blogger. This month I am featuring Amy from one of the first blogs that I ever followed–Fragrant Vanilla Cake. Amy is seriously one of the most creative veg-bloggers out there and is able to pair really complex flavors (especially in her ice creams!!!) in a sophisticated, coherent way. In short, she has a gift and I'm happy to introduce her to all of you!
*          *          *
Hello, nice to meet you all!  My name is Amy, and I have a blog called "Fragrant Vanilla Cake", mostly baking and dessert recipes, but the occasional special vegetarian savory recipe pops up as well.  I am a competitive long distance runner who also works in a deli at a health food store as a cook.  I also have a degree in studio Art from Bethel University, but fell in love with the art of cooking and baking after college so I have decided to use my creativity in that respect more than just simply painting and drawing.  After all, to me creating recipes is art.  I have been a vegetarian for 8 years, but just began to lean more towards the vegan way of eating in the last few years.  I am not a strict vegan, but I eat that way whenever possible. I was flattered when Tiffany asked me to do a guest post on her blog.  I am always admiring the beautiful and delicious things she is posting on here!  I wanted to make something special for her, that I felt reflected the spirit of her blog and decided to go with a savory but also a little sweet salad recipe, one using one of my all-time favorite ingredients, beets!  I have loved them in salads lately, and I thought this time I would pair them with citrus in the form of kumquats and oranges in vanilla hibiscus vinaigrette!  It is lovely, light and delicious!  The sweet beets are wonderful with the slightly tart kumquats and oranges and the dressing is fragrant with vanilla and a lovely shade of pink from the hibiscus.  The toasted almonds are a nice textural contrast as well.  It makes me forget all about the fact that it is winter, and think I am somewhere sunny.  If you wish to recreate it, I have included the recipe.  Hope you enjoy it as much as I did!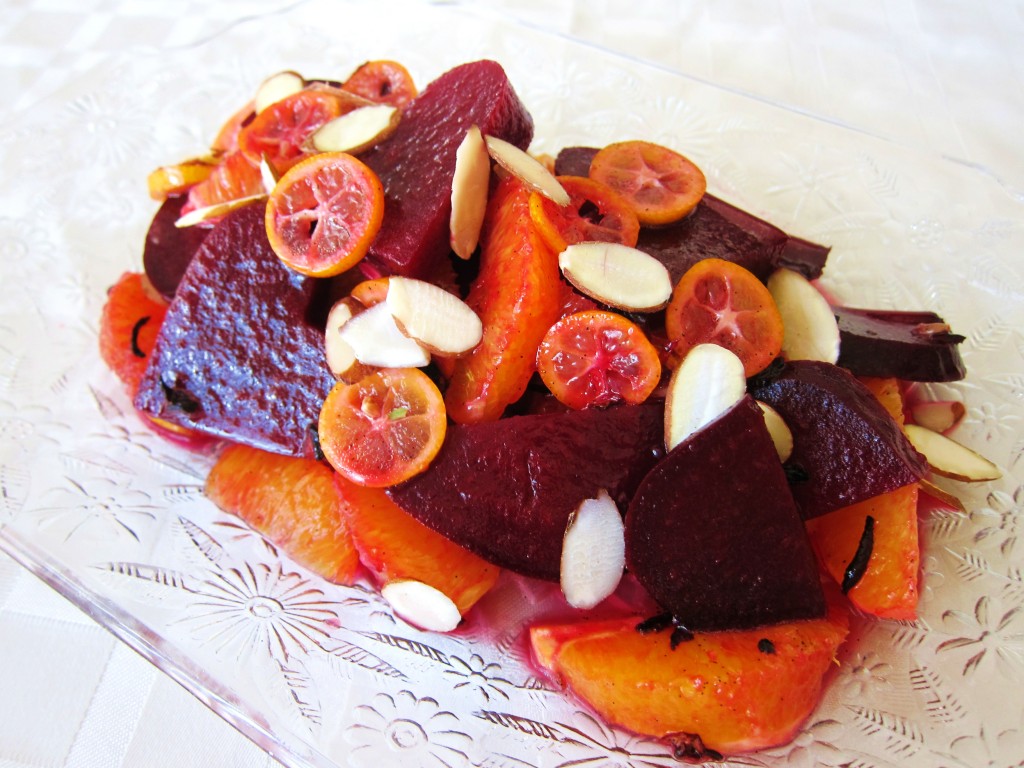 Vanilla Scented Beet Citrus Salad
Serves 4
Salad:
2 large cooked beets*, sliced
1 cup kumquats, thinly sliced
2 large oranges cut into supremes
1/2 cup toasted sliced almonds
Dressing:
1 Tbsp. avocado oil
2 Tbsp. lemon juice
1 Tbsp. orange juice
1 Tbsp. agave nectar
1 tsp. dried hibiscus flowers
1/2 tsp. pure vanilla extract
seeds of one vanilla bean
Method:
*In a large bowl, combine beets, kumquats and oranges and set aside.  In a small bowl, whisk together dressing ingredients and pour over salad tossing well.  Place on a serving plate and scatter toasted almonds over the top before serving!
*To cook beets, preheat oven to 475 degrees and wrap beets in foil.  Place in the oven and roast until tender, about an hour to an hour and a half, depending on how large they are.  Remove from oven and let cool, then peel.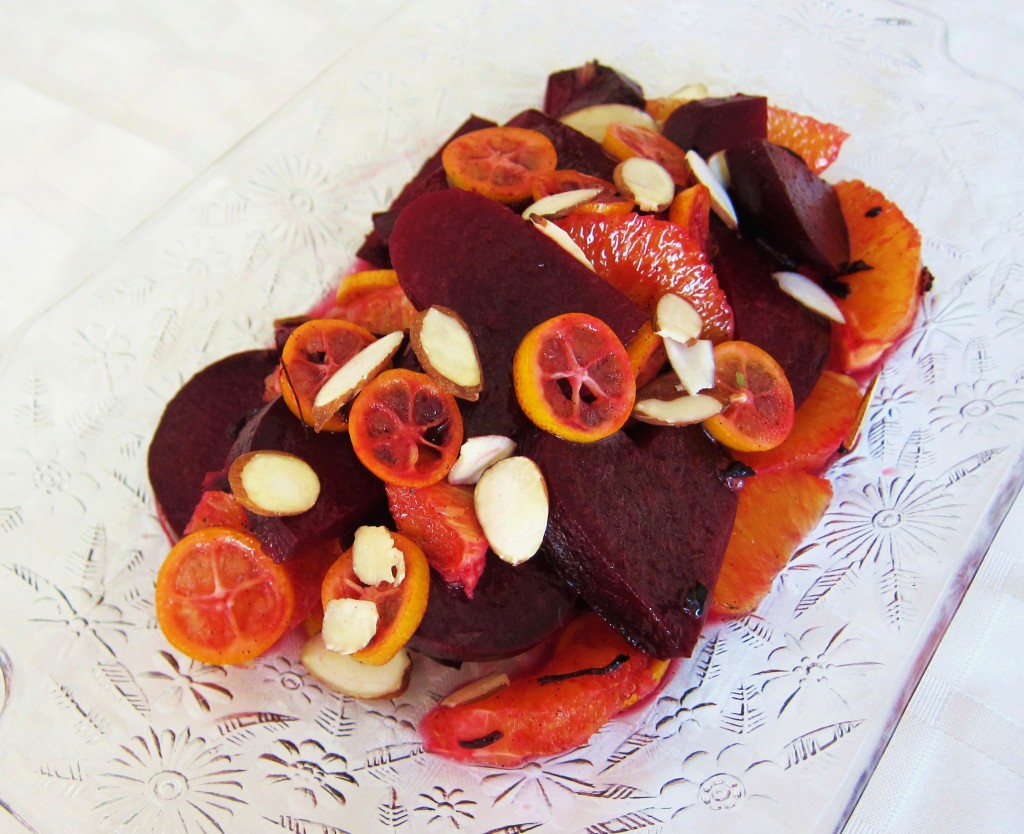 Well, there you have it folks! A lovely salad to close out these last few days of winter! I'll be back on Tuesday with the Como Water low down on the month of March. Oh, and thanks to all of you who wished me luck with this whole identity theft thing. I should be able to get it sorted out when I get back to DC. Happy Saturday everyone!!! 😀