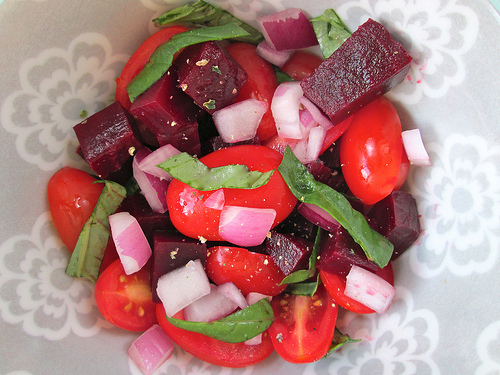 Well folks it's the last Saturday of the month, which means that it's time for me to introduce you to one of my favorite veg-centric bloggers. This month, I'm happy to introduce you to Laura from Sprint 2 the Table. Laura is an honorary vegetarian (/vegan) and comes up with some of the most creative, delicious, and healthy veg-centric dishes out there. What's more, she infuses her blog with helpful working out tips and updates her readers on her working out adventures. She is sure an inspiration to me (have you seen her triceps?!?!?!) and I absolutely adore her recipes, like this lovely summer salad below! Check it out! And I'll be back next week with a new popsicle recipe! Happy Saturday folks! 😀
*          *          *
Hi!  I'm Laura from Sprint 2 the Table! 
Sprint 2 the Table is a collection of recipes, food adventures, races, strength training, and general pontification.  Why the name? I live my life from meal to meal. Sometimes I think I'm just hustling through my daily activities so I can get to the next occasion for mastication. At bedtime some people count sheep, some people have lull-a-byes… I fall asleep at night thinking about what I'm going to eat for breakfast. It's a sickness, I know.
I was so excited when Tiffany asked if I would write a guest post for her this week.  She was one of the first blogs I started reading, and I am continually inspired by her recipes and learn something new in each post. Today I wanted to channel Tiffany's creativity and share a new take on a tomato-basil salad with you all.  While at the farmer's market last week I picked up a couple of massive beets to roast.  Beets are a relatively new addition to my diet.  
I like to eat a couple of beets each week for their health benefits.  They are a good source of betaine, which lowers homocysteine levels in the blood (thus lowering the risk of heart disease and stroke).  Beets are also an excellent source of fiber, Vitamin C, folates, niacin (B-3), pantothenic acid (B-5), pyridoxine (B-6) and carotenoids, iron, manganese, magnesium, and potassium. Many people balk at the root, and to be honest I never cared for their dirt-like taste before.  However, I discovered that when prepared correctly they are quite good.  Two tips for ensuring your beets are tasty: 1. Choose fresh beets that are bright and firm in texture… and… 2. When roasting, cook the beet until you think it's done… and then let it go 30 minutes more.  This makes it even sweeter, masking the "dirtiness." In this simple summer salad, the roasted beets with tomatoes, basil, onion, and feta create a satisfyingly sweet and salty combo.  With the warmer-than-usual weather we've been having, tomato season peaked early in Georgia. The cherry tomatoes I used here are some of the sweetest I have ever tasted!
We all know that basil is a great pairing with tomatoes, but how about feta cheese?  It added just the right amount of salt to this dish, highlighting the sweet notes in the beet and tomato.  If you are vegan just leave the cheese off, or replace it with your favorite "cheeze."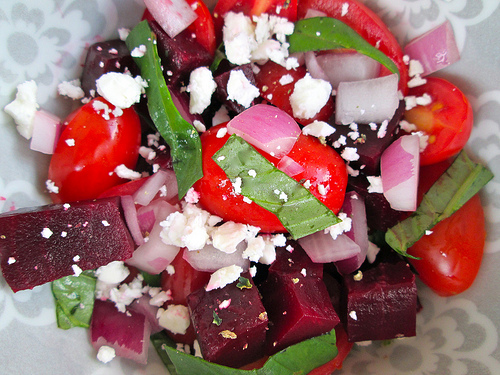 Tomato Basil Beet Salad
1/2 C roasted beets, chopped
10-12 cherry tomatoes, sliced in half
1 T red onion, diced
2 T fresh basil chiffonade
Juice from 1 lemon wedge
1/2 tsp olive oil
S&P, to taste
1/2 oz feta cheese (optional)
Place all ingredients in a bowl and toss to combine. Makes 1 serving (easily doubled).
*           *           *
I hope you all enjoy this recipe!  Please swing by my blog, Sprint 2 the Table, and say hello sometime. 🙂 Tiffany, thank you so much for allowing me to take over your blog today.  I hope you are having a fabulous time!
xo,
Laura