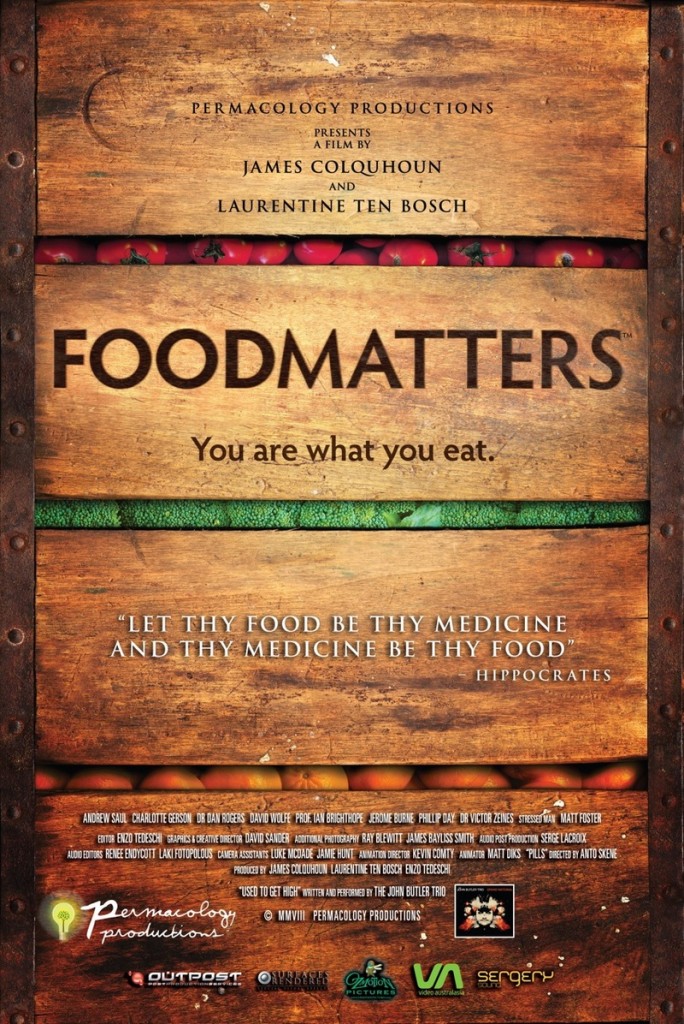 Each food documentary I watch has a slightly different angle. Fat, Sick, and Nearly Dead focused on the lives of two extremely relatable men and their food/health journeys. Forks Over Knives delved into the science behind the concept of "you are what you eat." If I had to summarize the 'angle' of Food Matters, I would say that it emphasizes the strong connection between food and medicine. The film makers trace this link all the way back to Hippocrates. And as one commentator states, "good health makes sense, but it doesn't make a lot of dollars." The film addresses this theme head on, essentially asking the rhetorical question–is it in the financial interests of some companies to keep us ignorant to the linkages between food and health, eating food that has traveled for miles and hence laden with compromised nutritional value, growing our food in depleted soil, resistant to vitamin and other forms of natural therapies, and plagued by chronic disease (and ever increasing healthcare costs)?
In addition to this overarching theme (and admitted run-on sentence!), the film discusses the nutritional value of a number of superfoods like spirulina and cacao, and also discusses a number of historical and contemporary models of vitamin therapy (which I had actually never heard of before). I won't belabor the point that you should watch this film :). Instead, I'll give you two additional points that peaked my interest while watching movie.
1. Cooking food is a 'process.' I know you might be saying, 'duh, Tiffany,' but when I think of 'processed' foods, I think of prepared foods–foods with a ton of sodium and fat, etc. I do not think of food that I make myself. The fact is though that cooking reduces the nutritional value of fresh fruits and vegetables, so when possible, it's better to eat them raw, in order to reap all of the nutritional benefits. Again, you might all have known this, but I didn't know the full extent (watch the movie for the deets!).
2. We have our values inverted. One of the commentators remarked (and I paraphrase), "we'd rather spend our money on rent, a car, clothes, etc. rather than on the best food ever, rather than on feeding our children the best superfoods and investing money into our families' health." For some reason that struck a cord with me. The power is in the purse and how we chose to spend our money has huge implications on our health. It made me think, how are YOU spending your money Tiff???
This film addresses everything from cancer to the benefits of prevention. The one part of the film that I felt was lacking was the theme of 'access.' In fact, one commentator stated, "One of the few choices we have is what we will and will not eat." I would have to respectfully disagree. For a growing number of Americans, there is very little choice about the food they eat and minimal access to fresh, healthy food. When you broaden that lens to the entire world, the picture gets even more bleak. I do not think Food Matters is alone in giving too little attention to the economic and social forces that prevent folks from eating healthy food. It's actually my critique of most food documentaries and it's a point I've discussed on Como Water before. Notwithstanding that caveat however, I would totally recommend the film and appreciated the candid discussion of how food, health, and our healthcare system (and those that stand to profit from illness) are intertwined.