"Some people say that eating a plant-based diet is extreme. But millions of people this year will have their bodies cut open, and a vein from their leg sewed onto their heart….Some might also say that's extreme." (Forks Over Knives, description of coronary bypass surgery vs. plant-based diet)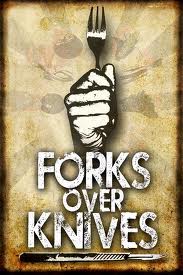 I watch a lot of food documentaries. I mean A LOT! Some are better than others, but in general I feel like there is so much to learn–about our food system and about how food shapes health. Recently, I watched a documentary that was unlike any that I had seen. It's called Forks Over Knives and what sets it apart from the rest is its heavy reliance on science to back up the many claims in the film.
The take home of the documentary–eat whole foods and a plant-based diet–is not all that novel. However, this film support that message in super interesting ways.
First, the movie discusses food and health from political, social disparities, cost, historical, energy and environmental, and quality of life perspectives. While some films touch upon bits and pieces of these themes, this is one of the few films to hit upon all of these themes in one coherent narrative (no easy feat!).
Second, the film highlights the lives of two plant-based diet converts–Dr. T. Colin Campbell and Dr. Caldwell Esselstyn. Dr. Campbell, a PhD, spent the bulk of his early career advocating for the increased consumption of animal protein. Dr. Esselstyn, a MD, spent his early career "treating" diet-related chronic disease via surgery. Through a most interesting chain of events, these two doctors' lives converged on a single, yet profound concept–plant-based food as medicine. This concept challenged not only the conventional wisdom of their respective upbringings, but also their early work.
Third, there is a fair amount of science/evidence in this film… in a good way… By the end of the film, you'll know about the CRP test that measures inflammation in the heart and blood vessels; stats on increased meat, dairy, and sugar consumption over time; what a coronary bypass graft really is; how groundbreaking studies in the Philippines, Japan, Norway, and China (with close to 9,000 statistically significant correlations between diet and disease!!!) illuminated hard to ignore facts about our contemporary diets and health; how the Farm Bill of 1973 helped shaped current obesity rates; how psychology and physiology intersect when we crave and eat food; how changing one's diet right now can reverse the damage we've already done to our cells; the irony of osteoporosis; and how farmer advocacy objectives of the USDA may be at odds with Americans' objectives to live healthier, more productive lives.
All in all, I absolutely loved this film and would recommend it to anyone who wants to live a healthier life. Sometimes the cold hard facts are enough to light a fire under your bum to make the changes you've wanted to make for oh, so long. This film provides the information needed to make those changes and the motivation to make those changes. One of the individuals featured in the film asserts that we all have the power to change our health destinies. We are not helpless victims, we must take more responsibility and stop being so dependent on doctors. I was really encouraged by this. And I hope you are too! 😀
P.S. I'll be reviewing two more films for Spring Cleaning month, but my next post will be a recipe … and a giveaway! 🙂