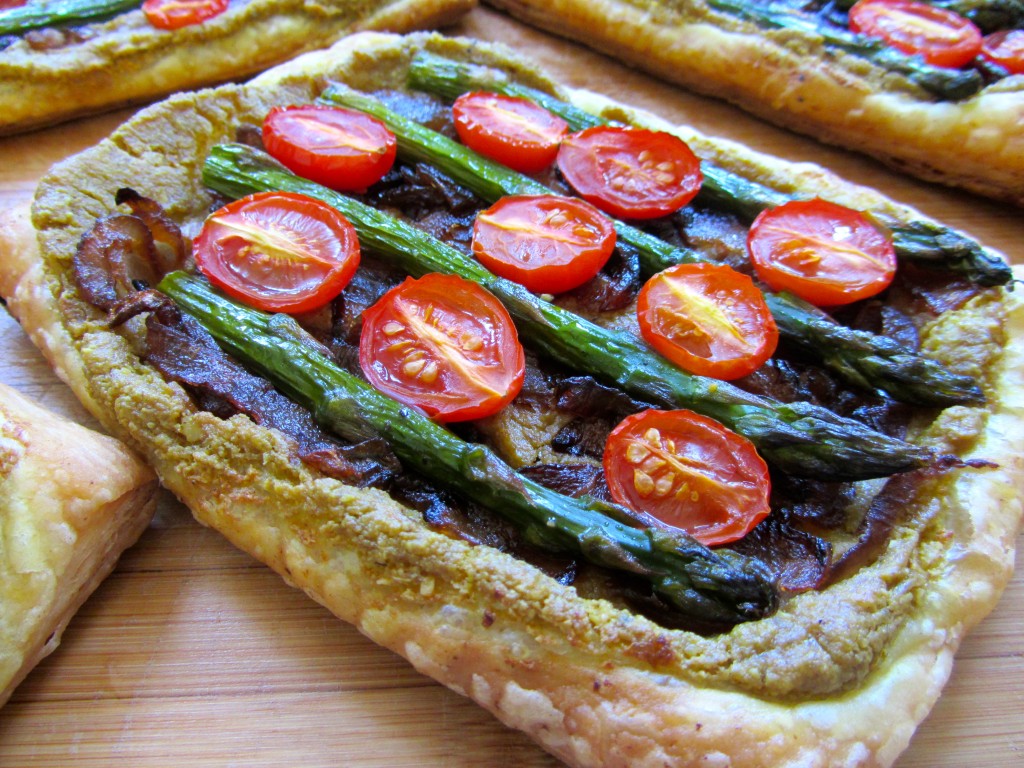 Out with the old and in with the new. And by that I mean, bye bye "diversify your grains month," and heeeelllllooooo June! So, the original plan was for June to be "frozen treats" month and that's still the plan, but my life is in disarray and I haven't had a chance to make the treats, take pictures of the treats, and draft posts of the treats (although I am happy to report that I have developed the recipes… and they are mighty tasty!). So, I am reaching back into my archives and posting non-frozen treats until I can get my act together. I hope you don't mind! 😀
You shouldn't…. at least as far as this tart is concerned. This tart totally rocked my world and could easily be made vegan if you made your own puff pastry with Earth Balance or some other vegan butter alternative. I cheated and used frozen puff pastry. But the curried cashew cream is vegan and obviously the veggies are vegan. This tart was absolutely perfect (and portable) for lunch on the steps of the Jefferson Memorial!
Curried Asparagus and Tomato Tart
Ingredients:
1 sheet frozen  puff pastry, thawed according to instructions
1 pound asparagus–washed and trimmed
1 cup grape tomatoes–halved
1 cup raw cashews–soaked overnight
1 tablespoon Earth Balance
1 tablespoon flour
1 cup almond milk
3 tablespoons nutritional yeast
1 tablespoon curry powder
1 onion–sliced
olive oil
salt
pepper
flour
Method:
*Preheat oven to 350 degrees F. Wash, trim asparagus. Saute 2-3 minutes in 1 tablespoon olive oil, with dash salt and pepper. Set aside. Caramelize the onions. See this post for tips and step-by-step instructions on caramelizing onions.
*Melt Earth Balance in medium size saucepan. Add flour, pinch salt and pepper. Cook roux for 1-2 minutes. Whisk in milk, curry powder, and nutritional yeast. Cook over medium low heat, stirring occasionally. Cook until thickened (~5-10 minutes). In the meantime, drain and rinse soaked cashews. Blend in blender until the cashews form a thick paste (you may have to stop the blender and stir occasionally). Whisk the cashew paste into the thickened curry mixture. Whisk until smooth. Set aside.
*Sprinkle flour onto counter. Roll out puff pastry to 1/8-1/4 inch thickness. Cut into four large rectangles. Add to nonstick baking sheet. Spread ~2-3 tablespoons cashew-curry mixture onto each rectangle leaving 1/4 inch border. (You will have some of the mixture leftover… I ate mine on top of whole wheat pasta. YUM!).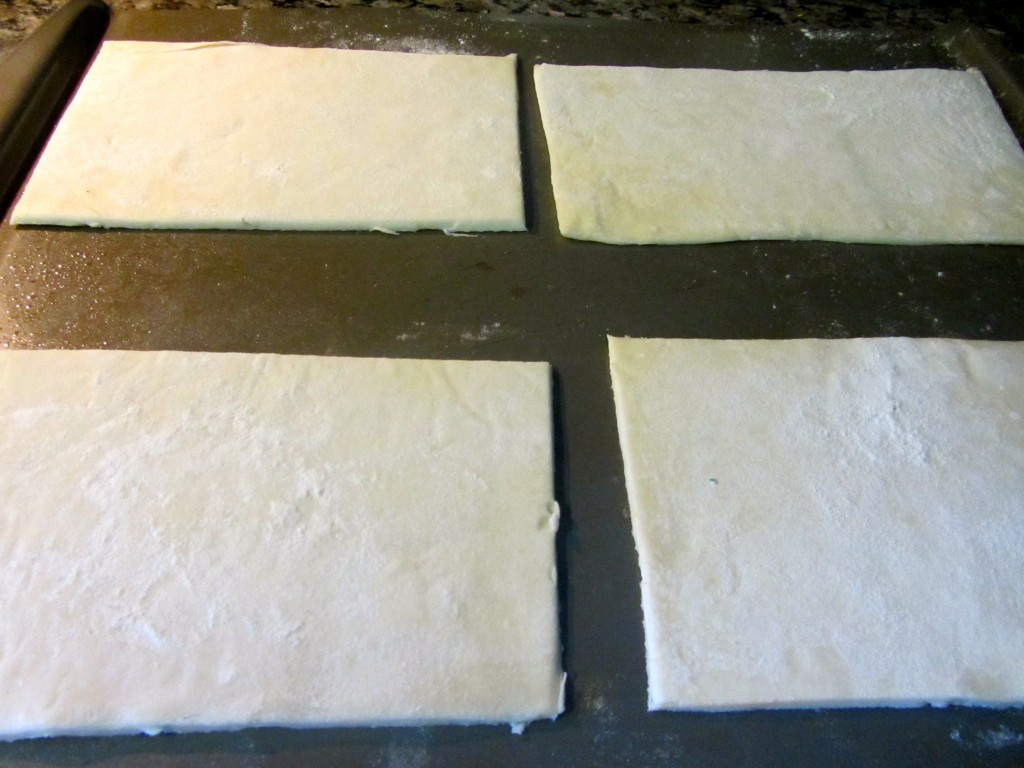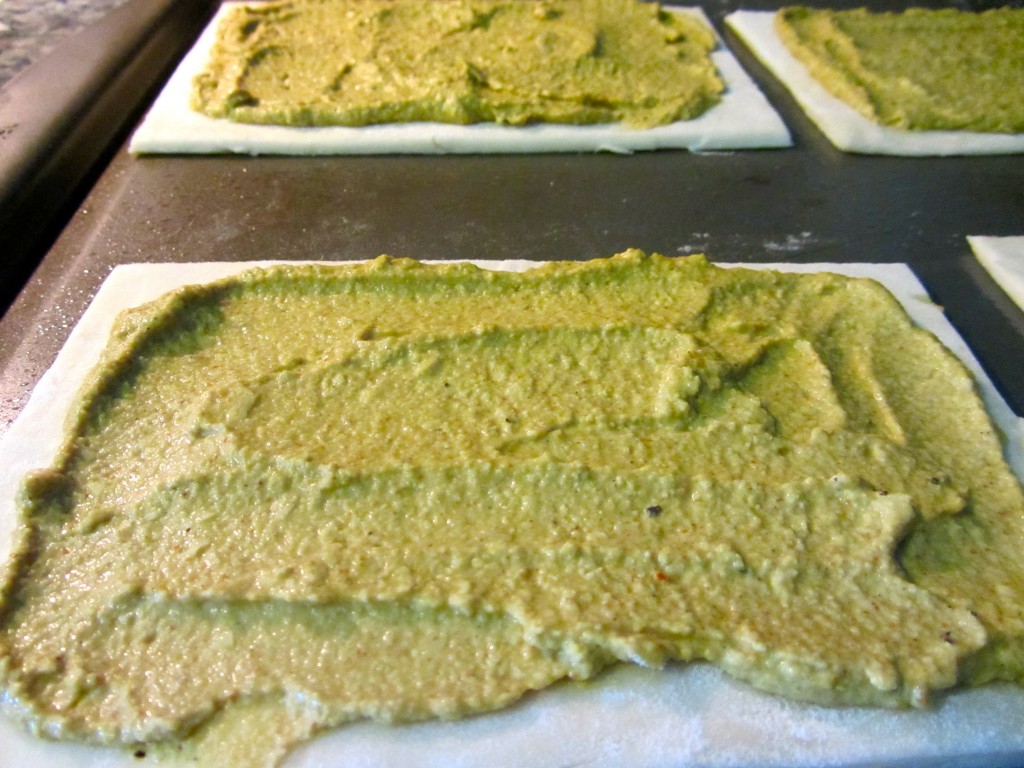 *Add onions, asparagus, and tomatoes to each rectangle. Bake ~20-25 minutes or until golden brown. Enjoy!