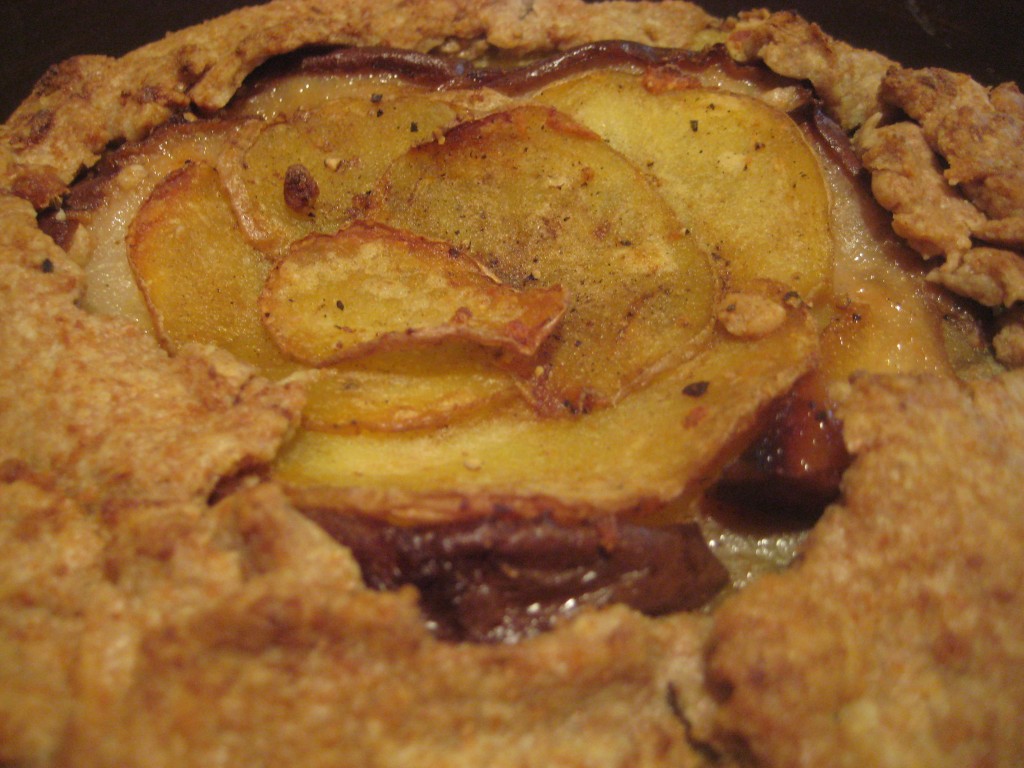 Before you read the rest of this post, I'm going to ask you to trust me when I say, "this crostata is worth all of the steps. It. Just. Is."
This is the savory vegan pie I made for the SEEDS social and while I'd love to say that it was inspired by something really special, I'd be lying if I told you that. The truth is, this crostata was inspired by my pantry. I was going out of town and had a few pears I wanted to use up. I always have onions and garlic, and thought to myself, "why don't I make a paradoxical crostata?" I'll prepare the pears in a savory way. And I'll prepare the onions and garlic in ways that heightened their sweetness. The thinly sliced potatoes would add delicate heartiness and I'll unite the whole pie with earthy thyme and pear white balsamic vinegar. In the end, I was completely ecstatic about this crostata. It was earthy, but light, slightly sweet, but definitely a savory pie. It was a hit at the pie social, and two days later, I made it again for dinner with a friend. Between the two of us, we devoured one whole crostata! So, yes, you have to believe me when I say, it's worth it!
A Rustic Savory Crostata (Printable Recipe)
Ingredients:
3 Bosc pears–roasted
juice from 1/2 lemon
2 Vidalia onions–caramelized
1 head of garlic–roasted
2 tablespoon Earth Balance–melted
5 small potatoes
2 pie crusts (see below for recipe/notes)
2 tablespoons + 1/3 cup pear-infused white balsamic vinegar
1 tablespoon agave
1 tablespoon orange juice
salt/black pepper/olive oil/dried thyme/flour
1 tablespoon Earth Balance (optional)
1 tablespoon sugar (optional)
Method:
*Roasting the pears: Preheat oven to 400 degrees F. Wash and dry pears. Add water to large bowl, along with lemon juice. Quarter the pears (leave the skin on) and remove the core. Add prepped pears to the bowl to prevent discoloration. Once all pears are prepped, add the pears to a large baking dish. Drizzle the pears with olive oil (~1 tablespoon) and 2 tablespoons of balsamic. Sprinkle lightly with salt, pepper, and dried thyme. Roast approximately 20-25 minutes until pears are just tender. Turn once during roasting. Once pears are cool enough to handle, slice each quarter in half. Set aside.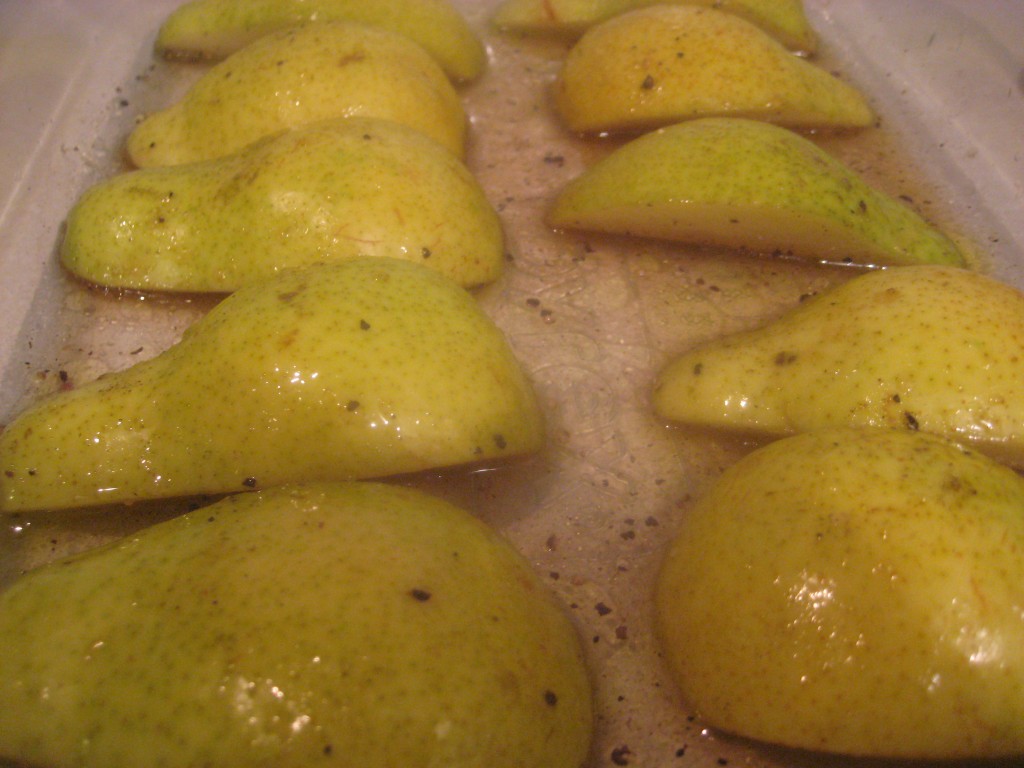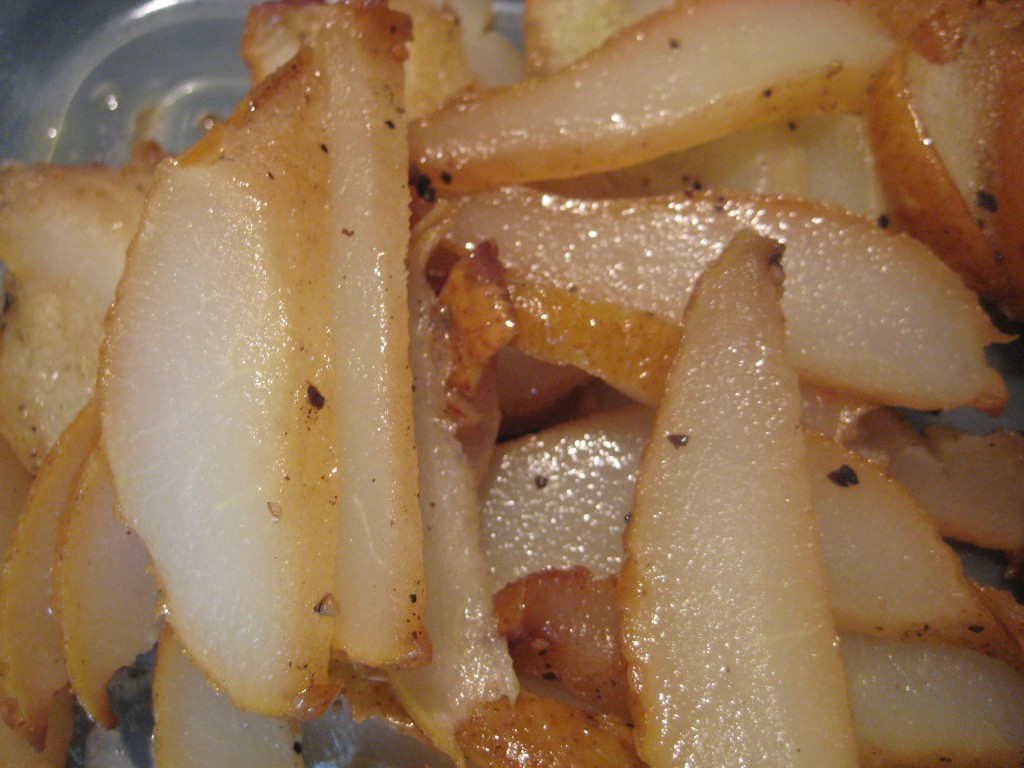 *Roasting the garlic: Preheat oven to 400 degrees F. Cut the top off of a head of garlic to expose the tops of the cloves (~ 1/4 to 1/2 inch). Add the head of garlic to a large piece of aluminum foil (large enough to completely cover the garlic). Drizzle with 2 tablespoons of olive oil; sprinkle with salt and pepper; massage into garlic. Cover completely with foil. Roast in oven for ~ 30 minutes or until the garlic is completely soft to the touch. Set aside to cool. Once cooled, squeeze out sweet, roasted garlic into a small bowl and smush into a paste with a fork. Mix with melted Earth Balance and set aside.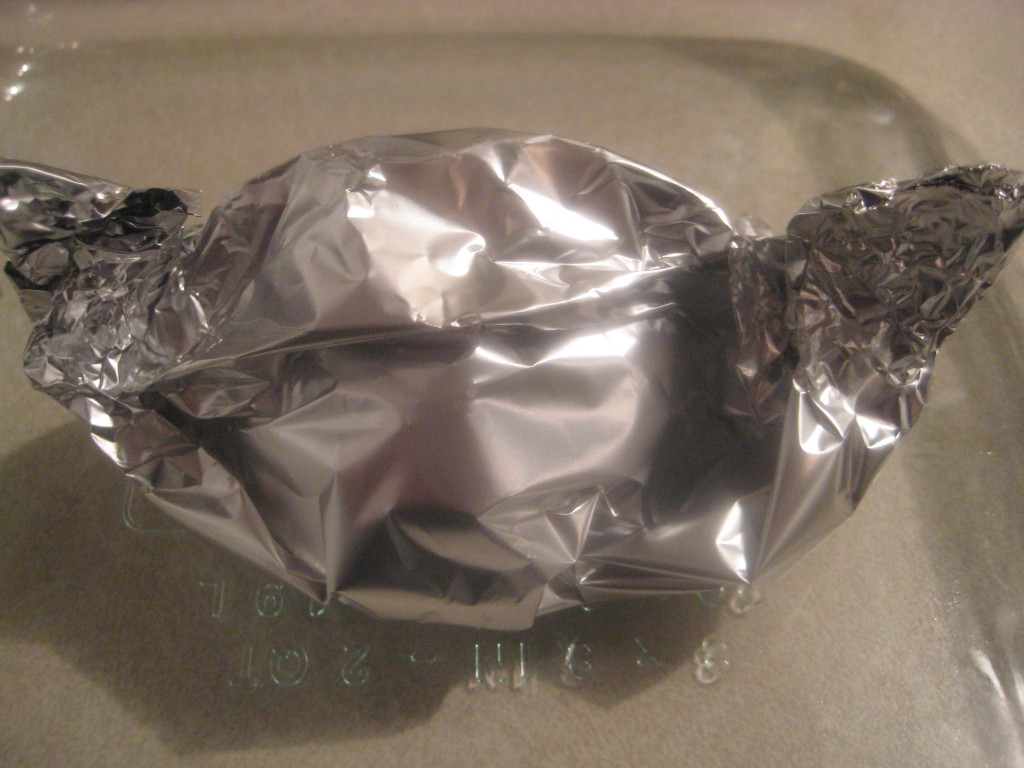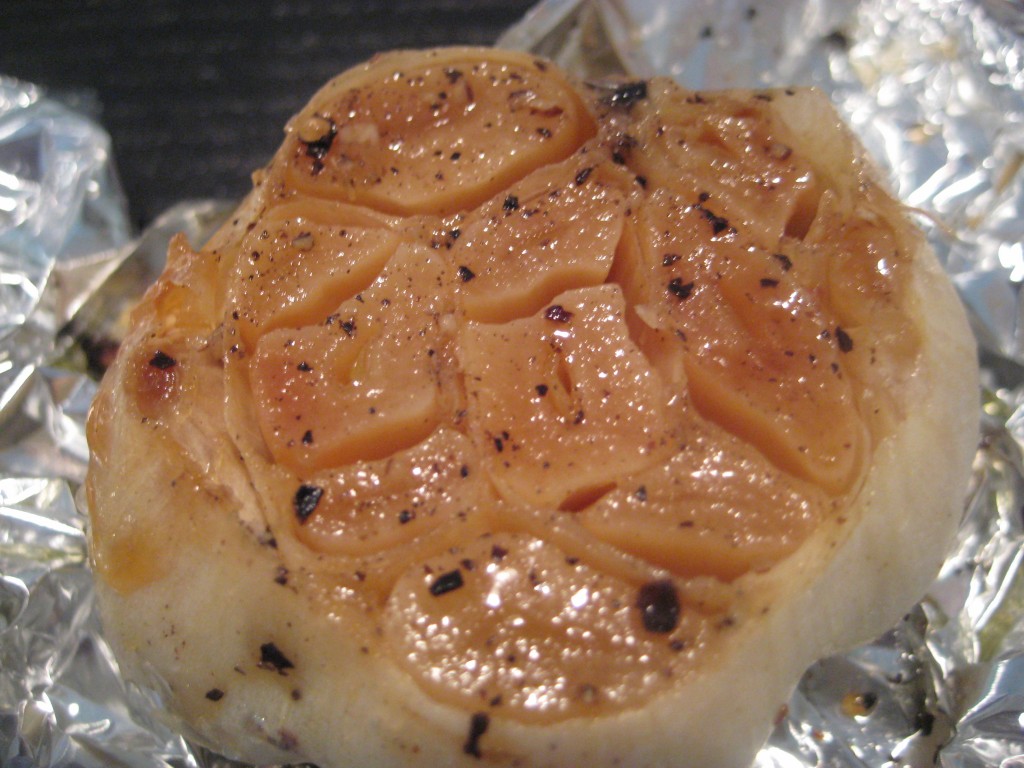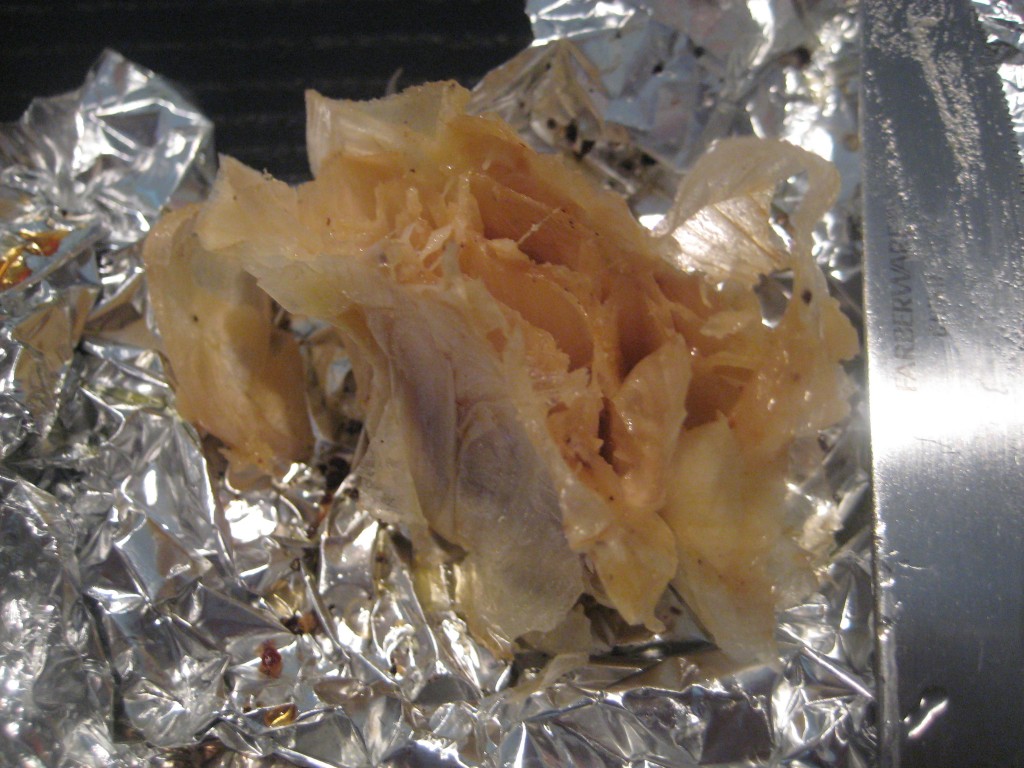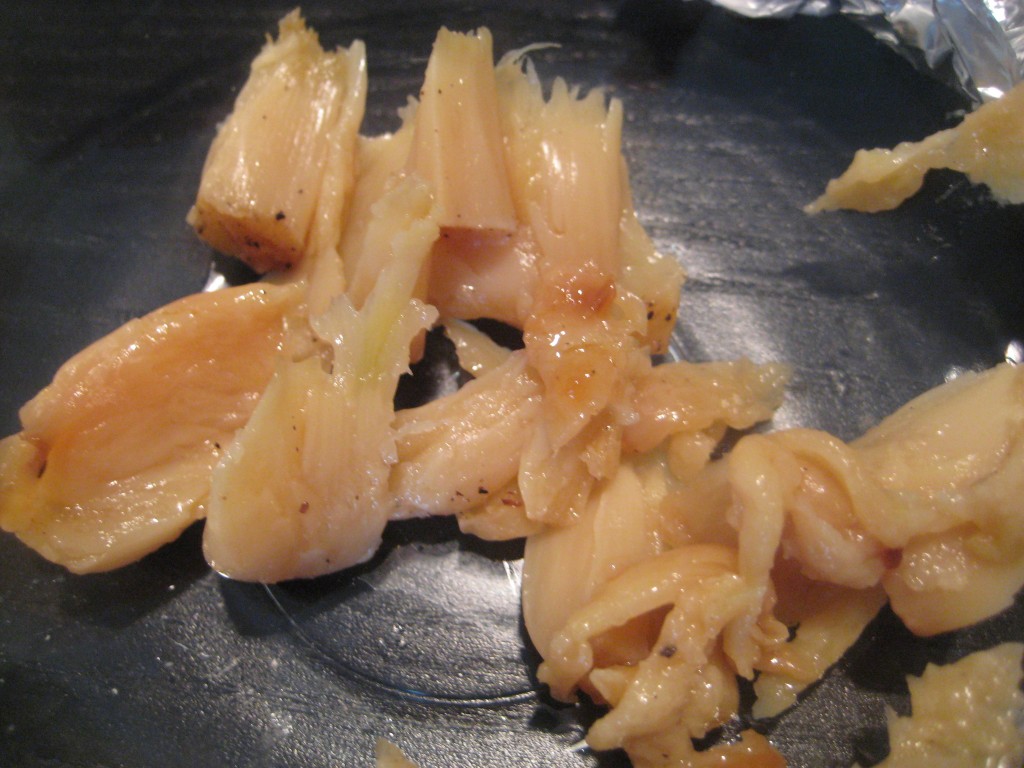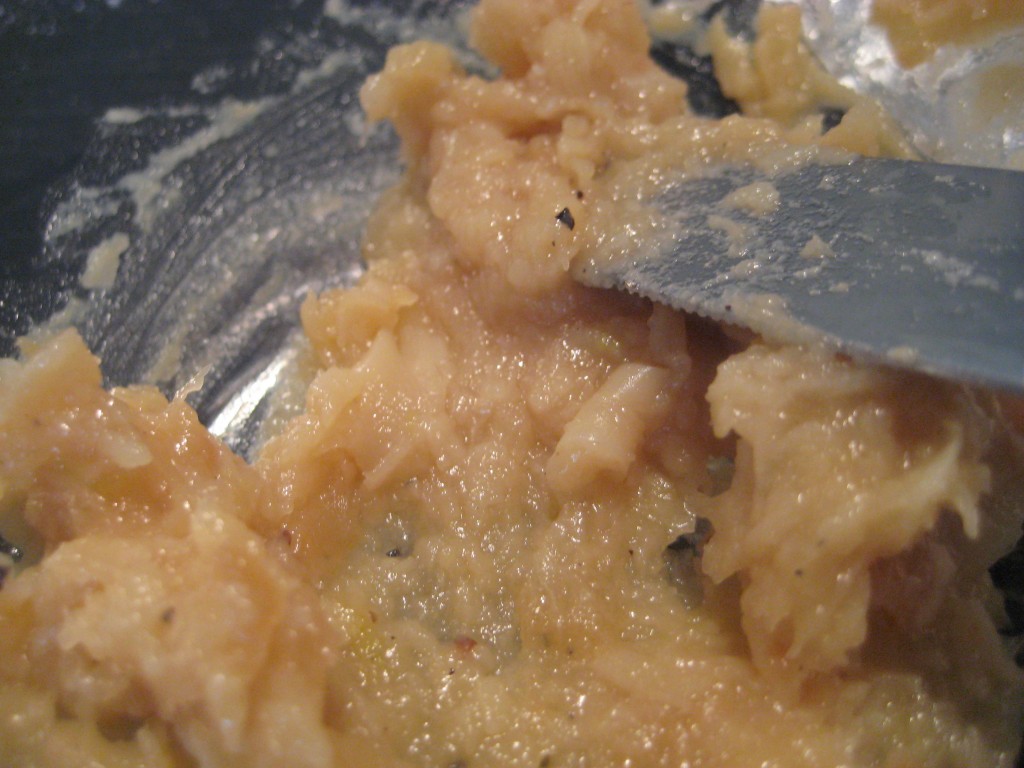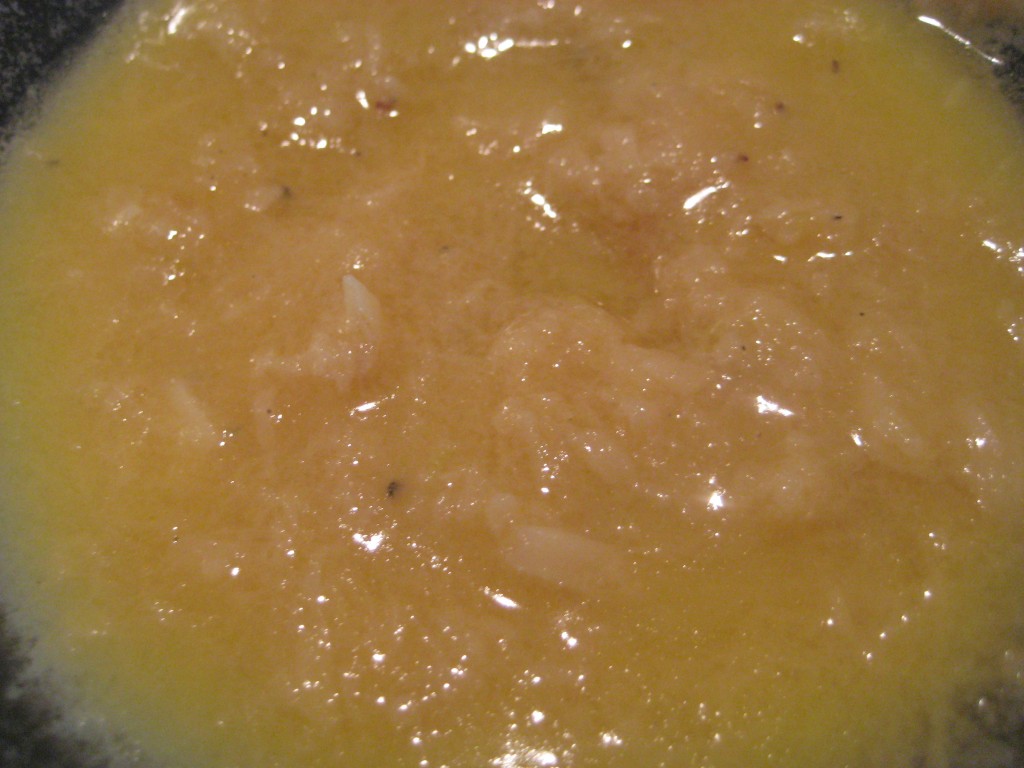 *Caramelizing the onions: Peel and thinly slice onions. Coat a large frying pan with about 2-3 tablespoons of olive oil, turn heat to medium high, add onions. Stir to coat the onions with oil. Spread the onions evenly and cook onions, stirring occasionally. After about 10 minutes, add a pinch of salt and a few grinds of black pepper. Add 1 tablespoon Earth Balance and sugar (optional). Turn heat to medium, cook approximately 30 minutes or until the onions are caramelized. Stir occasionally. The key to caramelizing onions (in my humble opinion) is the stirring. If you stir to often, they'll never caramelize. And if you do not stir frequently enough, they'll burn. I have a tendency to over-stir, so I try to multitask when I'm caramelizing onions. Laundry's good… fold shirts, stir. Hang skirts, stir. Hang pants, stir. You get the idea :D.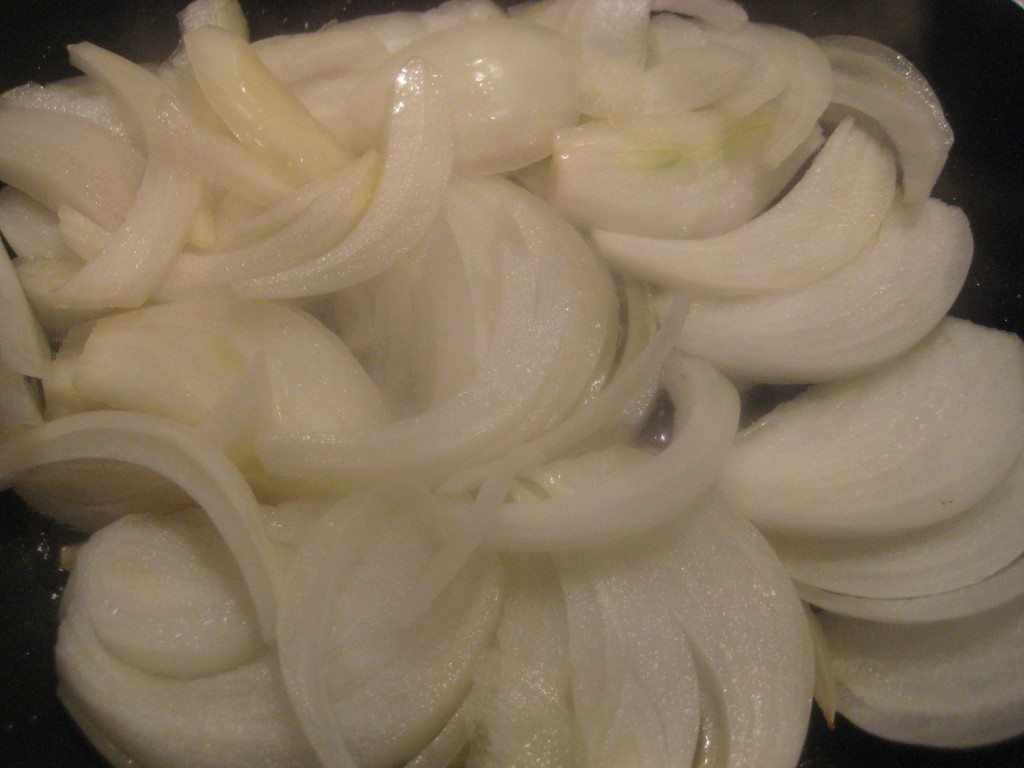 *Prepping the potatoes: Thinly slice the potatoes and add to a large bowl of water. Heat a few tablespoons of olive oil in a large frying pan over medium high heat. Dry potato slices with paper towel before adding them in one layer to frying pan. Add each slice to pan, making sure that slices do not touch. Once the last slice has been added, move through to flip the remaining slices in the order you added them. Once all slices have been flipped, remove the slices in the order you placed them in the pan. (Slices will cook quickly for about 1 minutes on each side). Cook all slices, set aside.
*Making the reduction: Add 1/3 cup of balsamic vinegar, orange juice, and agave to small saucepan. Add a dash of salt, pepper, and thyme. Stir. Reduce by about half until the liquid thickens, but is still pourable. Set aside.
*Putting it all together!: Preheat oven to 400 degrees F. Add flour to counter/table top. Roll out pie crust into circle (approximately 1/4 inch thick). Add crust to cookie sheet dusted lightly with flour. Brush 1/3 of melted Earth Balance/roasted garlic mixture onto pie crust, being sure to leave 1 inch border around the edge of the crust. Add 1/2 of caramelized onions. Arrange 1/2 of potatoes and 1/2 of pears on top of onions. Fold up the pie dough around the edges to encapsulate the filling. Repeat with second pie crust (Note: you'll still have 1/3 of the melted Earth Balance/roasted garlic mixture).
Bake in preheated oven approximately 20-25 minutes, or until pie crust is golden brown. When the crostatas are finished baking, remove from oven and immediately brush the crust with the remaining melted Earth Balance/roasted garlic mixture. Drizzle each crostata with 1/2 of the balsamic reduction and serve.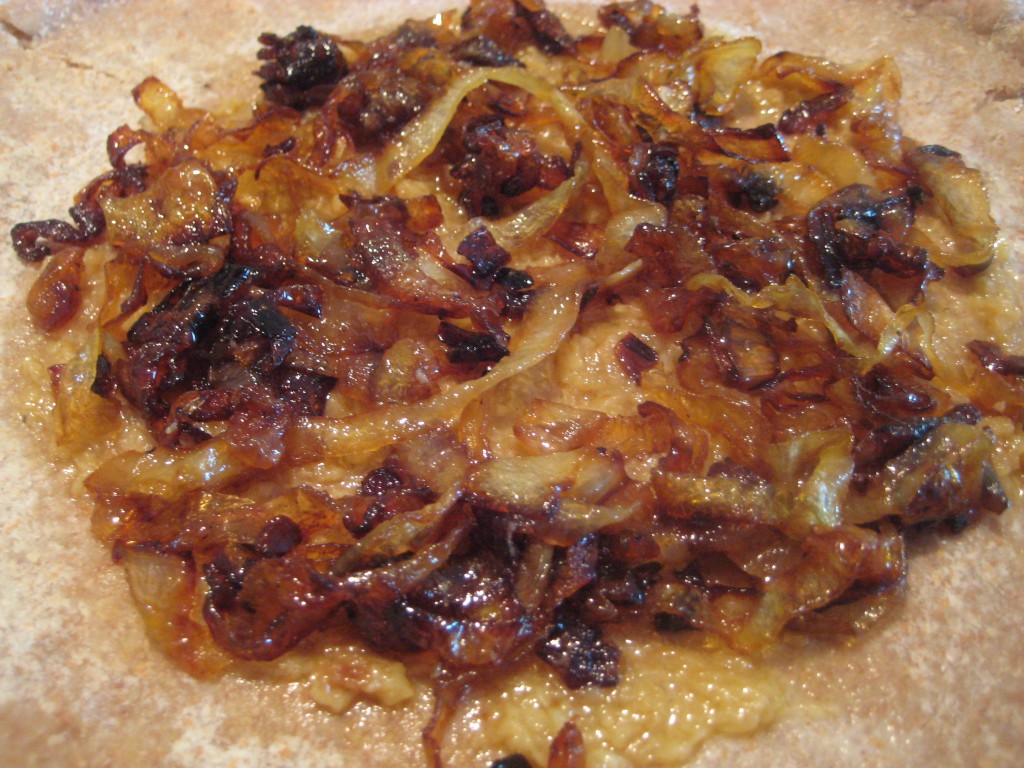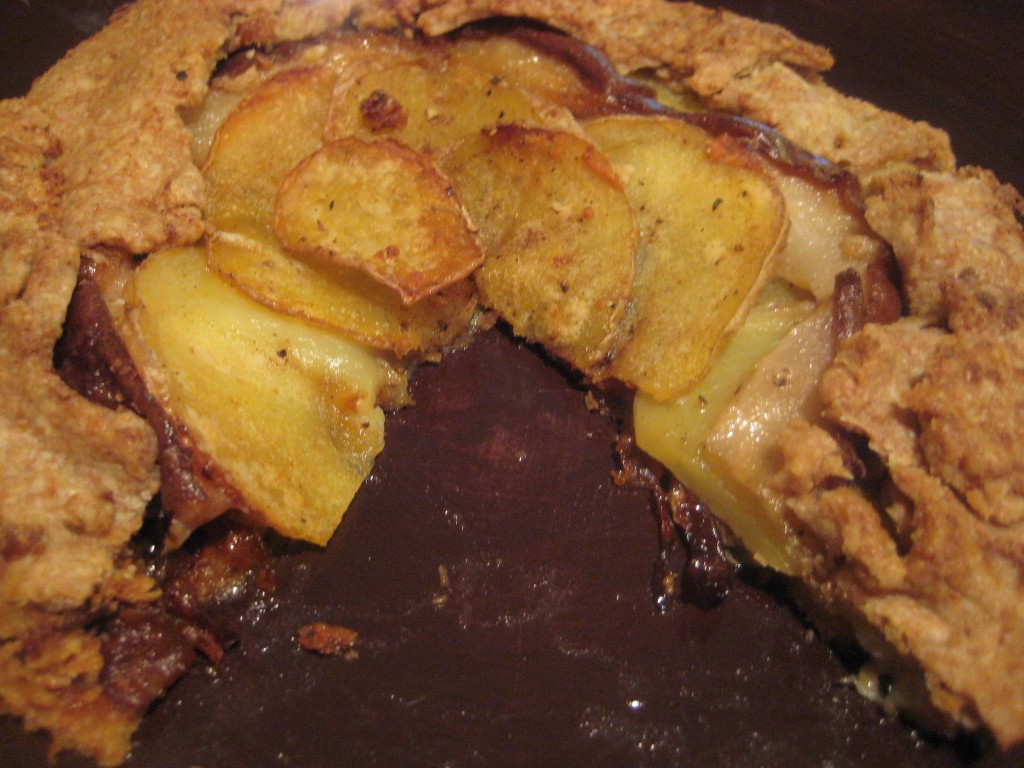 *The crust–recipe/notes: The first time I made this crostata, I made my own pie dough by adapting my recipe for the vegan pie crust I made on Christmas. I omitted the vanilla extract and orange zest. Instead, I used all cold water, and shifted in one teaspoon of dried thyme per crostata to the flour. I doubled this recipe to make two crostatas. The second time I made this crostata, I used a store bought, vegan whole wheat pie crust. I have yet to try the thyme crust, but it got rave reviews at the SEEDS social, so I'm going to advocate that you try it too! 🙂