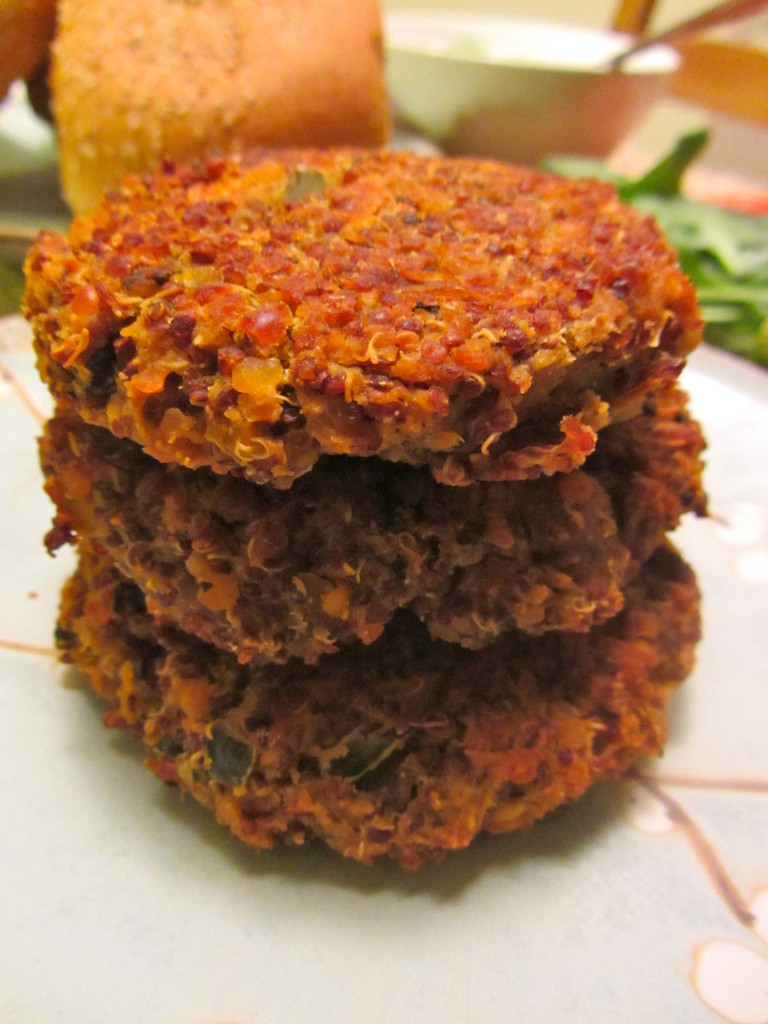 Thanks to everyone for your kind wishes after my bike incident! Today, I'm keeping this post all about these burgers! As you know, it's "Diversity Your Grains" month on Como Water. I kicked the month off with my wheatberry salad and now, I'm sharing a recipe with quinoa and rye. Although I have seen quinoa everywhere–from salad bars to breakfast bowls, before these burgers, I had never cooked it myself. Surprising, I know, because it has an extremely high protein content, and is high in fiber and iron (all especially important when you eat a veg-centric diet). Well, it was super easy to cook–just like rice and the taste on it's own was nutty and rich.
I wanted to keep these burgers vegan which meant that I needed some binding other than the traditional egg. I used oatmeal in my lima bean croquettes and wanted to try something different, so I paired the quinoa with lovely sticky red lentils and rye flour. I included rye flour, rather than wheat flour to emphasize the rich and nutty flavor in the quinoa–and quite simply to diversify my grains ;). In the end, I couldn't have been happier with these burgers. They were super hearty, packed with protein and veggies, and baked, not fried–I might add! 😀
Red Lentils-Red Quinoa Burgers
Lentils Ingredients:
1 cup dry red lentils
1 cup water
1 1/2 cups vegetable broth
1 tablespoon olive oil
salt
pepper
Lentils Method:
*Rinse dry lentils. Add all ingredients to medium-sized stock pot. Stir. Bring to a boil. Drop heat to medium low. Cook until lentils are tender (~20-30 minutes). Set aside.
Quinoa Ingredients:
3/4 cup dry red quinoa
3/4 cup vegetable broth
3/4 cup water
1 tablespoon olive oil
salt
pepper
Quinoa Method:
*Mix water, broth, oil, salt, and pepper in medium-sized pot. Bring to boil. Stir in quinoa. Cover. Drop to low. Cook ~15 minutes. Fluff quinoa with a fork. Set aside.
1 8oz container plain yogurt (soy, Greek, your choice)
1/8 teaspoon smoked hot paprika
1/8 teaspoon garam masala
1 teaspoon orange juice
1 mini-cucumber–diced
1 teaspoon-1 tablespoon mint (to taste)
Yogurt Sauce Method:
*Mix and serve with burgers.
Cooked lentils (from above)
Cooked quinoa (from above)
1/2 red onion–diced
1/4 green bell pepper-diced
1/2 jalapeño–minced
2 medium carrots–diced
2 cloves garlic–minced
olive oil
1/4 teaspoon garam masala
1 teaspoon orange zest
juice from 1/2 orange
mint (~2 tablespoons)
2-3 tablespoons nutritional yeast
1/3-1/2 cup rye flour
Burgers Method:
*Heat 1-2 tablespoons olive oil in saute pan over medium heat. Add onion, pepper, jalapeño, carrot, salt, pepper, and garam masala. Saute 6-8 minutes until vegetables soften. Add garlic. Saute until all veggies are soft.
*Preheat oven to 375 degree F. In a large bowl mix quinoa, lentils, cooked veggies, orange juice, zest, mint, nutritional yeast, and rye flour. Note: the mixture will be sticky, but this is ok!
*Grease the bottom of a large baking dish with olive oil. Form the burger mixture into eight burgers. Add to baking dish (make sure they are not touching). Bake 20-25 minutes. Flip. Bake an additional 15-20 minutes. Turn oven off and let stand in oven at least 5 minutes before serving. Serve with yogurt sauce, lettuce, tomato, buns and/or your favorite condiments!