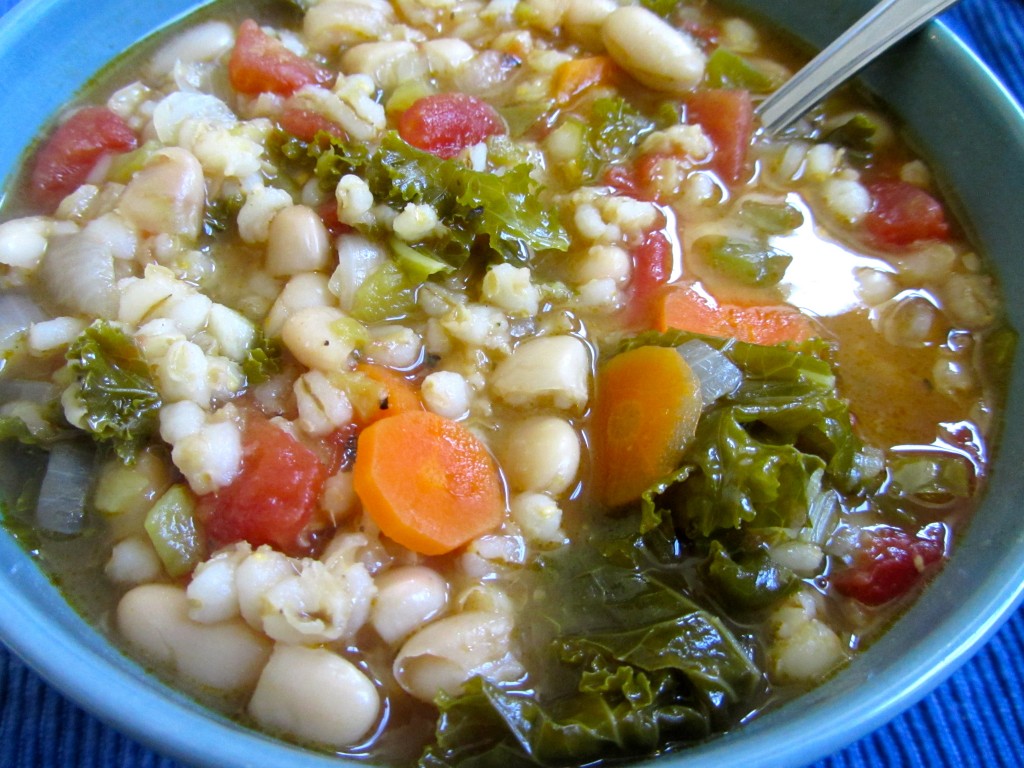 I found myself in my tiny, little kitchen with bags of bulk grains that I had never used before. It was chilly that day and sure to be chilly in my office that week, so I thought, "I ought to make soup with at least one of these grains." And then I remembered my coworker's soup from a few weeks prior:  green chile-chicken-brown rice soup. Nom. Obviously, no chicken for me, but green chile in a soup? Ah, heck yeah. So I created this vegan version to tickle my veg-centric tastebuds. Oh and did it tickle! With only half a jalapeño and a 4 oz can of hot green chiles, you'd be surprised how much sabor this soup packs. But flavor it does have–a lot of it! (If you're not a fan of spicy food, feel free to use mild green chile or to skip the jalapeño).
When most people think of barley, they likely think of beer, but independent of the libations that so many know and love, barley is a whole grain packing a ton of nutritional value. It's naturally low in saturated fat, a great source of fiber, packed with B vitamins, and full of other minerals like iron, zinc, and copper. There's also evidence that barley helps fight Type 2 diabetes and lower cholesterol. Barley, like quinoa, is a grain I had never cooked before. Also, like quinoa, I totally fell in love with it. It was hearty and chewy, similar to brown rice, but a bit silkier on the outside. I really liked the texture. It stood it's ground in this soup and will definitely find it's way into more of my dishes! And with that, I leave you with soup and wish you all a happy Friday (and weekend)!!! 😀
Green Chile Barley Soup
Barley Ingredients:
3/4 cup dehulled barley–rinsed
1 1/2 cups vegetable broth
1/2 cup water
1 teaspoon olive oil
pinch salt
black pepper
Barley Method:
*Bring all ingredients except the barley to a boil in a medium-sized saucepan. Stir in barley. Turn heat to low. Cover. Cook ~30 minutes. Turn off heat. Set aside. Fluff with fork before adding to the soup.
Soup Ingredients:
Cooked barley (from above)
1 small onion–diced
1/2 jalapeño–diced
1/4 green pepper–diced
3 carrots–peeled and sliced
2 cloves garlic–minced
2 stalks celery–chopped
3-4 cups loosely packed kale–chopped
1 4 oz. can hot green chiles
1 14.5 oz. can diced tomatoes
1 15 oz can drained and rinsed cannellini beans
1 bay leaf
olive oil
4 cups vegetable broth
1 cup water
salt
pepper
dash cumin
dash thyme
Soup Method:
*Cook barley (see above). Prep veggies. Add 2-3 tablespoons olive oil to large stock pot over medium heat. Add onion, celery, carrot, bell pepper, jalapeño, bay leaf, salt, and pepper. Cook ~10 minutes, stirring occasionally. Add garlic. Cook ~5 minutes. Drop heat to medium low. Add green chiles and diced tomatoes. Stir. Add broth, water, barley, salt, pepper, cumin, thyme. Cover. Drop to low. Cook ~60 minutes stirring occasionally. Add kale and beans. Cook additional 10-15 minutes, uncovered. Adjust seasoning. Enjoy!