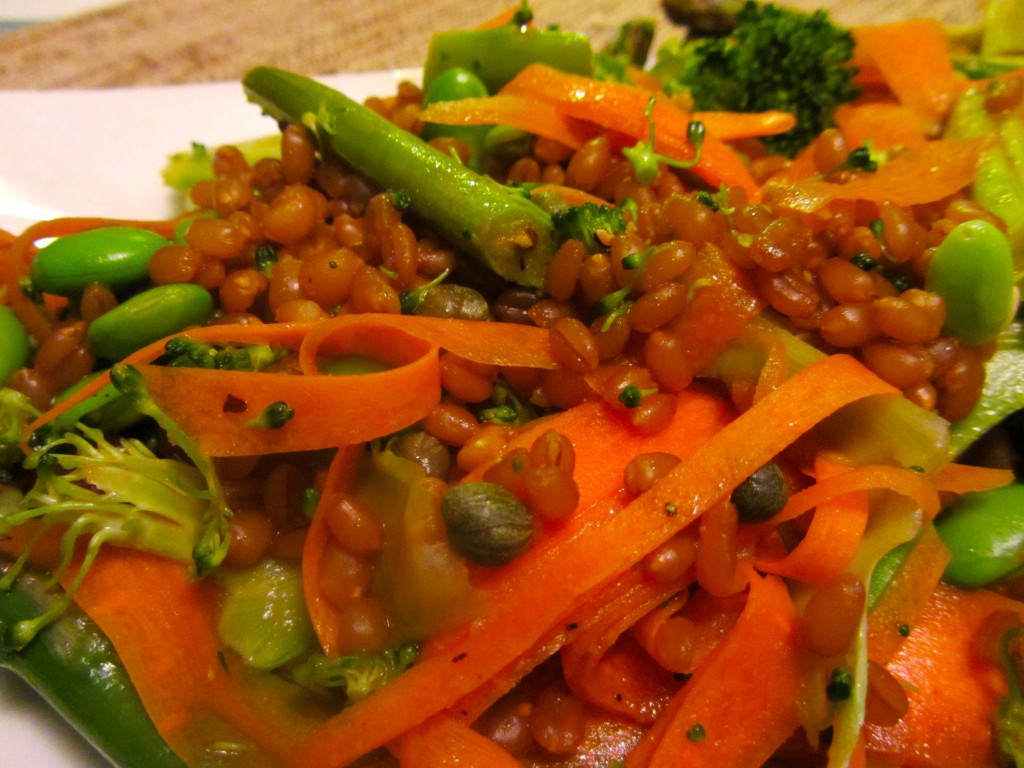 After an unseasonably warm winter, cherry blossoms that came early, and butterflies fluttering all around, I am ready for spring foods. And although the past few weeks had nights that dipped down into the 40s, spring foods sprang and I couldn't be happier. So, as an ode to springtime I give you this wheatberry salad.
In full disclosure, I actually planned to make a farro salad, but farro is 3-4 times the price of wheatberry, so guess what? Wheatberry it was! 😀 The next issue was whether to soak them before cooking. In my very limited online research, it seemed that the only real difference was cooking time. My sage advice would be–if you remember to soak, soak, and if you don't remember, make this salad anyway! 😉
All in all, I couldn't have been happier. There are various shades of green from the artichoke hearts, asparagus, broccoli, capers, and edamame, and all of the flavors scream spring. Given that wheatberries encompass the entire wheat kernel (except the hull), this salad is packed with fiber and whole grain goodness. Along with the hearty, chewy texture, this salad is sure to keep you full, but not too full to have seconds! 😉
Springtime Wheatberry Salad
Ingredients:
1 cup wheatberries–soaked at least 2 hours to overnight
1 cup vegetable broth
2 cups water
6 carrots cut into ribbons with peeler
1 6 oz jar artichoke hearts–drained
1 lb. asparagus–grilled and cut into 1-2 inch pieces
1 cup edamame–shelled
2 crowns broccoli–sliced/shaved
2 tablespoons capers
3 tablespoons olive oil (+ oil for sauteeing asparagus)
1 tablespoon balsamic vinegar
1 1/2 teaspoons dijon mustard
juice from one orange
salt
pepper
Method:
*Add water, broth, and drained and rinsed wheat berries to large pot with 1 tablespoon olive oil and large pinch of salt. Stir. Heat on high. Bring to boil. Drop down to medium low. Simmer until tender (approximately 30-60 minutes depending on how long you soaked them).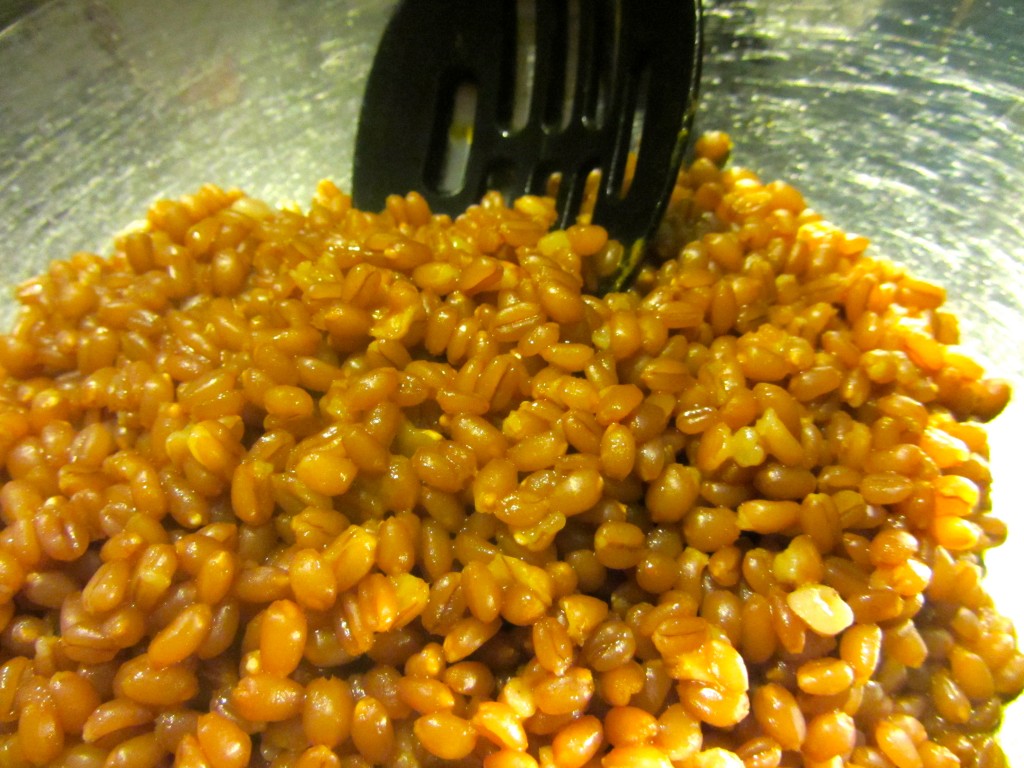 *Prep veggies. Whisk olive oil, balsamic, dijon, salt, pepper, and orange juice. Mix veggies, dressing, and drained warm wheat berries. Let sit at least 1 hour to allow flavors to marry. Serve room temperature. YUM!