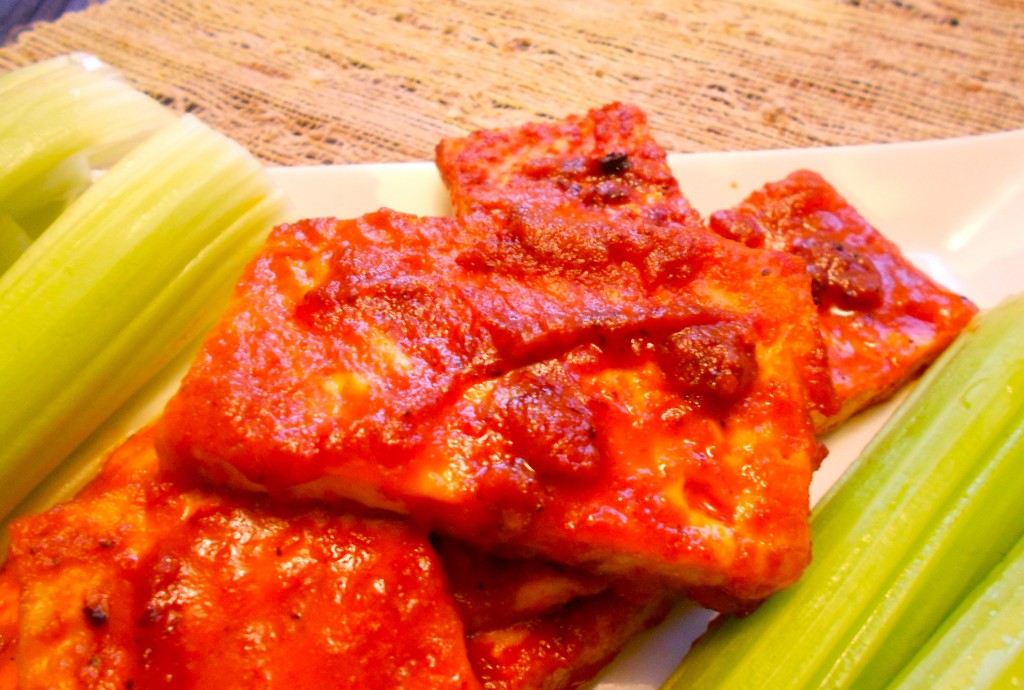 I had every intention of posting this buffalo tofu recipe last week. But even the best intentions can be thwarted by the unexpected. In this case, the unexpected was the hospitalization of someone I love very, very much. I stayed with her in the hospital and my mind contemplated–life, love, health, change, caring, rebirth and as much as I tried to avoid it, my mind inevitably also focused on the concept of death.
In the end, she was ok; most likely it was a nasty, nasty virus. And today, Easter Day, she is home. Thank goodness. So, on this day, of fellowship, friends, family, food, painted eggs, and cartoon bunnies, perhaps you too will have a moment to reflect. To reflect on those who mean the most to you. And to reflect on how your decisions (and indecisions) affect your health, your life, and those around you. And speaking of health, and the Como Water theme this month–'spring cleaning,' as promised, here are two strategies in starting any health/food-related cleanse.
First, decide why you are cleansing. Dick Gregory, in his writing on fasting, talks about three, not necessarily completely independent, reasons for fasting. I think they're also applicable to cleansing. The reasons are: a) spiritual/religious, b) political (i.e., protest), and c) rational/health/mental. So, before doing any cleanse, it's important to know why you're doing it. Really know why you're doing it. First of all, you cleanse differently depending on why you're doing it (more on that later). And secondly, when you start craving all of the foods that you can't have because you're cleansing, you'll want to remember your motivation for doing it in the first place. Sometimes, that's the only thing that gets me over the hump when I'm having an intense craving.
Second, determine your baseline and set goals from there. The key in that sentence is "your." Folks often set themselves up for disappointment because they set unrealistic goals. The key to attaining health-related goals is to push yourself from where you are today. If you eat meat with every meal, every day, a vegan cleanse for a month may be really hard to accomplish. A difficult, yet attainable goal in that case would be to eliminate meat from at least one meal per day. Do you drink 3 cups of sweetened coffee a day? If so, cutting out all caffeine might be tough. So make a plan where you cut out 1 cup and then move to half-caf and then to decaf and then start cutting the sweetener. Are you a vegetarian who loves sweets and even manages to eat dessert with breakfast (ahem, that's me!)? Cutting out all processed sugar might be unattainable then. So, try to eat a processed sugar dessert only once a day and replace other dessert cravings with mangos! (That's what I'm doing now). Setting goals from where you are now helps you be better at accomplishing your goals in the end.
And so, with that, I leave you with a slightly healthier version of one of my favs–buffalo wings. I've had the buffalo tofu at Whole Foods and it's delish! BUT, they deep fry it :(. So, this is my attempt at making a non-fried, buffalo tofu. The trick? Press your tofu! 🙂
Buffalo Tofu
Ingredients:
1 block extra firm tofu–sliced and pressed (see this post)
1/2 cup buffalo sauce (use your favorite)
2 tablespoons Sriracha
2 tablespoons Earth Balance
Method:
*Slice and press tofu. Mix melted Earth Balance, buffalo sauce, and Sriracha until fully combined. Set aside. Preheat oven to 425 degrees F.
*Heat grill pan over medium-high heat. Brush pressed tofu pieces with olive oil. Grill for 3-4 minutes on each side.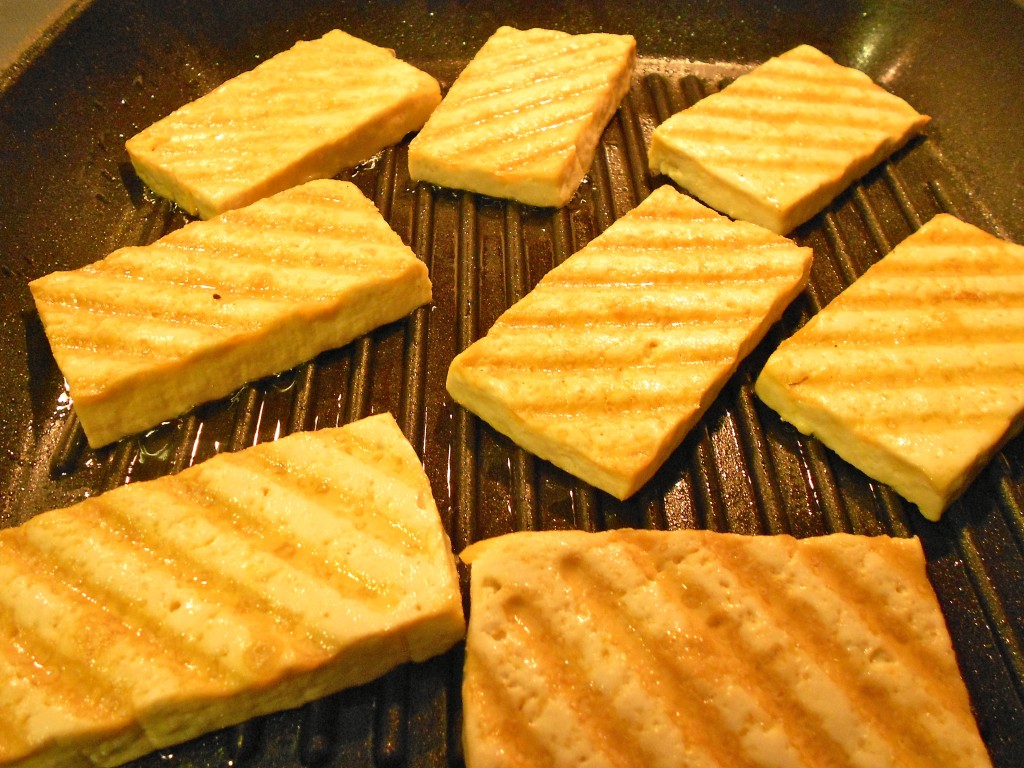 *Add half of sauce to 9″ x 9″ baking pan. Layer in grilled, pressed tofu. Top with remaining sauce. Bake covered with foil for 15-20 minutes, turning once. Remove foil and bake uncovered for 10-15 minutes. Serve with celery.