It's April folks, which means that there's a new theme for the month. This month the theme is 'spring cleaning' and I don't mean your casa. Every year, hundreds of thousands of people make resolutions to live healthier. They hit the gym in record numbers. They swear off calorie dense, fatty, and/or sweet foods. And they set ambitious goals. Most people however, slide back into old habits and by mid-spring have abandoned their goals all together. I am not exempted from this cycle, which is why I like to set goals throughout the year. Gently, I ask myself, what were my goals? How well did I come to achieving them? What were the barriers to achieving them? And what can I do right now to get closer to fully achieving them?
Anticipating that 2012 would be no different than any other year, I made April 'spring cleaning' month, as I thought it would be the perfect time to do some goal reassessing/realigning. So, throughout the month, I plan to provide resources on cleansing and on reassessing goals to get closer to achieving goals (I suppose this is where my training as a psychologist meets my love for food!).
In January, I made goals to get closer to eating a well-balanced vegan diet, drinking less, and eating fewer sweets. Since that time, my diet has been predominately vegan, but, I have noticed that when I get stressed and/or when work gets busier (ahem, the entire month of March), I a) eat out more, rather than cook and b) eat carbs and dairy. Sigh. So, now I am going to work on trying to eat healthy, despite the stress.
I also have consumed waaaaaay less alcohol than before the cleanse I did in January to kick of my healthy eating goals. And actually I am totally happy with my level of alcohol consumption. It's mindful, rather than reflexive, and that's all right by me.
Where I have totally fallen short in the healthy eating department though is on the sweets front. Ah, sweets! I really do like sweets (and love to bake). And consuming less sweets is definitely going to be a journey! It's a journey I am totally willing to take–especially given new, converging research showing the effects of sweets on the body. But it is going to be a tough journey nonetheless. More on that later this month…
So, to kick start my goals re-evaluation, I decided to do a 'vegan week' this week. It also consists of no booze and no refined sugar. Sigh. I'll go back to my regular diet on Sunday and hopefully when I do, I'll be ready to cut down on sugar more consistently. So with that, I'll leave you with some muffins, which I made by reusing the carrot pulp leftover from juicing (waste not, want not!!!)… 😀
P.S…. This is the first time I baked with Nutiva coconut oil. SCORE!!!!!!!!!!!! It's amazing and the texture was light and fluffy!
Roasted Carrot Poppy Seed Muffins
Roasted Carrot Ingredients:
3 cups carrot pulp (from juicing)
pinch salt
1 teaspoon cinnamon
1 tablespoon agave
5 tablespoons olive oil
1 tablespoon turbinado sugar
1/2 cup orange juice
1/2 cup almond milk
Roasted Carrot Method:
*Preheat oven to 375 degrees F. Mix all ingredients except juice and milk and add to a large glass baking dish. Cover with foil. Bake 40 minutes, stirring twice. Add juice and milk. Stir. Bake 20 additional minutes, stirring once. Let cool, covered in oven.
Muffins Ingredients:
3 cups flour
2 tablespoons baking powder
1 teaspoon baking soda
1/2 teaspoon salt
1 teaspoon cinnamon
1/2 teaspoon nutmeg
1/4 cup brown flax seeds
1/4 cup poppy seeds
1/4 cup brown sugar
1/4 cup molasses
1/4 cup agave
3 eggs
cooked carrot pulp (see above)
3/4 cup coconut oil
1/2 teaspoon vanilla (or almond) extract
1 1/2 cup almond milk
sliced almonds and turbinado sugar (for topping)
Muffins Method:
*Preheat oven to 350 degrees F. Prep muffin tins with liners. Mix flour, baking powder, baking soda, salt, flax seeds, poppy seeds, nutmeg, and cinnamon. Set aside.
*Beat agave, brown sugar, molasses, and coconut oil. Add eggs and carrot pulp. Beat until fully incorporated. Add 1/2 of dry mixture. Mix completely. Add 1/2 of almond milk (3/4 cup). Mix completely. Add remaining dry mixture. Mix completely. Add remaining almond milk. Mix completely.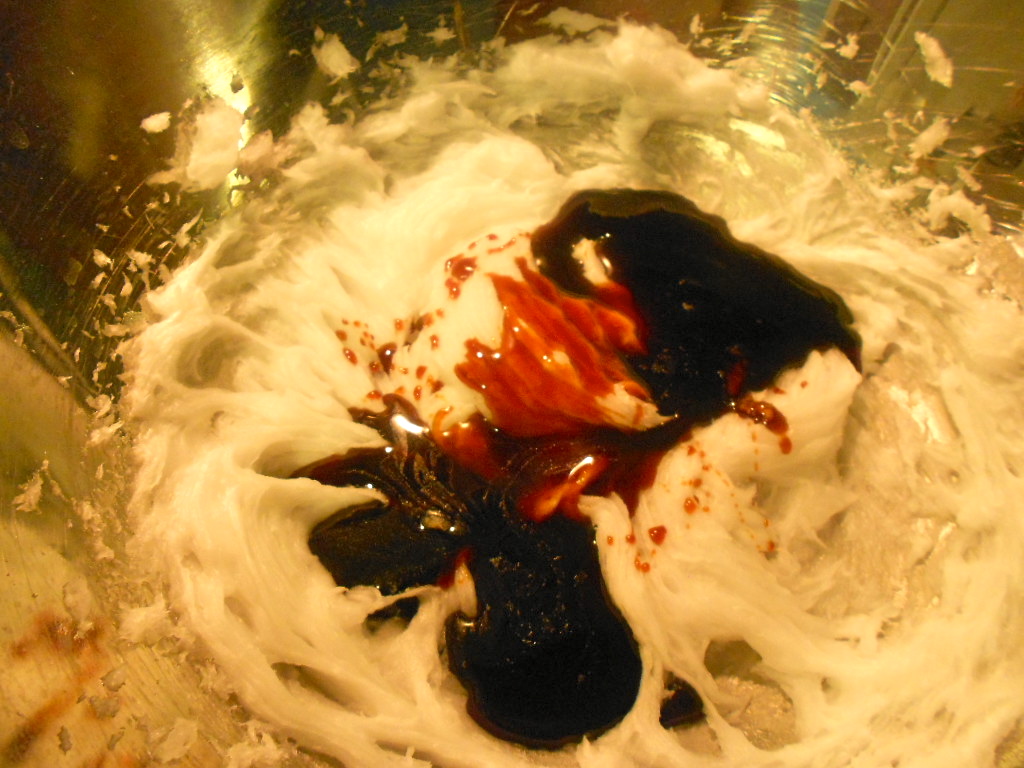 *Add mixture to prepped muffin tin. Top with almonds and sprinkle lightly with sugar. Bake 20-25 minutes. Enjoy! 😀