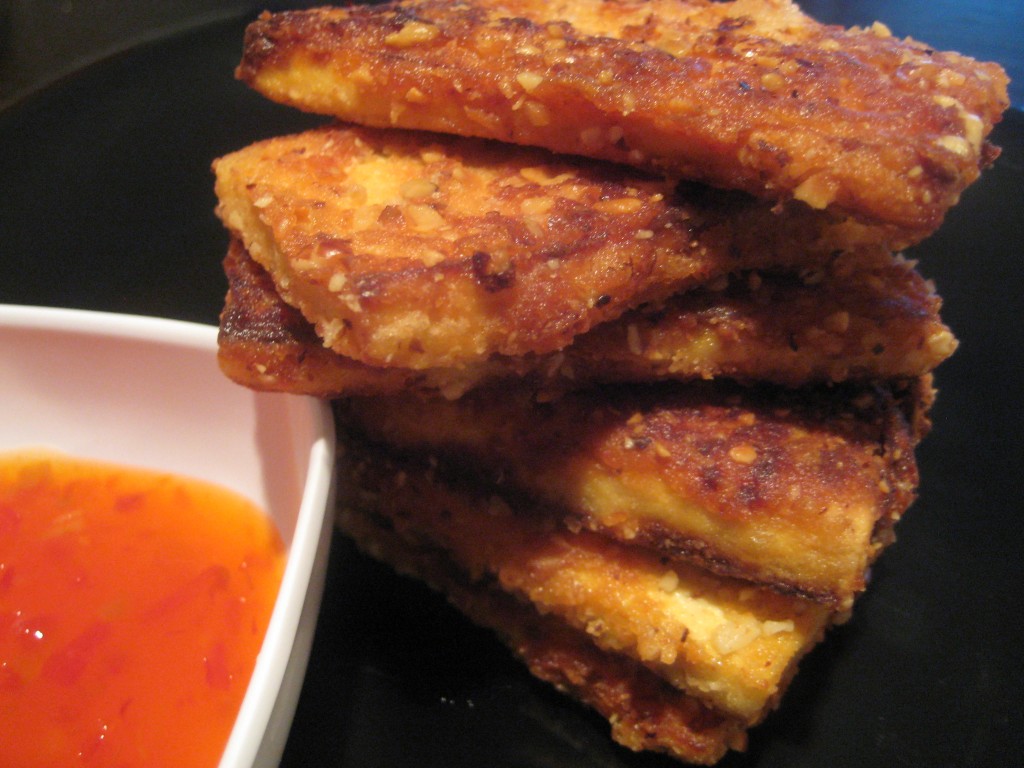 Folks either love or hate tofu, and I'm convinced that anyone who hates tofu just hasn't had it prepared in the right way. And by right way, I mean, treating tofu like a blank canvas. Keeping the painting analogy afloat (for all you artsy types out there)–this dish uses sweet chili sauce as a gesso of sorts, preparing the tofu for its thin, hazelnut crust. This tofu screams flavor and is really hard not to like.
On a totally unrelated note, I wanted to say thanks to everyone who validated my use of Thai tea in my oatmeal :). Damaris at kitchencorners.com actually mentioned that she makes her oatmeal with coconut milk. So… guess what I did this morning??!?!? Yep. I made my oatmeal with 1/2 water, 1/2 light coconut milk, and threw in 5 semi-sweet chocolate chips at the end to make an "almond joy oatmeal!" (Thanks Damaris for the tip!!!). I am totally loving this creative oatmeal kick I'm on. But now, back to the tofu!
Hazelnut-Crusted Sweet Chili Tofu
Ingredients:
1 block extra-firm tofu (sliced and pressed)
1/4 cup flour
1/3 cup hazelnuts (finely chopped)
sweet red chili sauce
oil for frying (I used canola)
Method:
*Slice tofu into 1/4 inch slices. Place 2-3 paper towels on a plate. Add one layer of tofu slices. Add another layer of paper towels, and repeat until all tofu is layered between paper towels. Place a kitchen towel over the final layer of paper towels and place a heavy pot or pan on top of the kitchen towel. Press tofu for at least an hour, which will create a firmer, heartier texture for the final dish. (see also Guava-Jalapeno Tofu).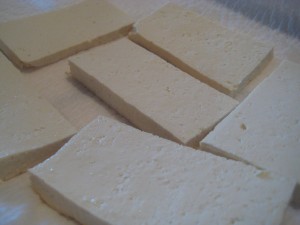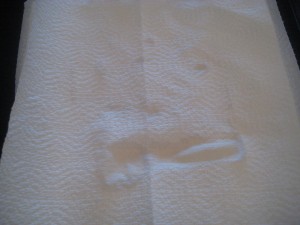 *Chop hazelnuts and combine with flour in shallow dish (for dredging). Brush both sides of tofu with sweet red chili sauce. Coat both sides of tofu slices with hazelnut-flour mixture.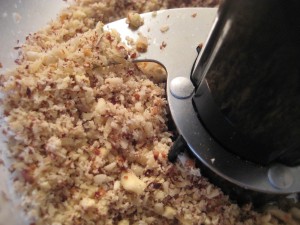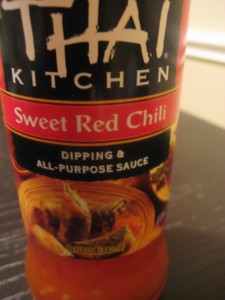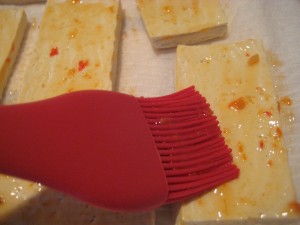 *Heat oil over medium heat. Lay coated tofu in oil. Fry on one side until golden brown (approx. 3 minutes). ***Do not touch/play with the tofu, or the coating will come off, and oil will seep into the tofu, and you'll have a not-so-appetizing mess. :D*** Once the first side is golden brown, flip and fry for another 2-3 minutes. Drain on paper towel (or use your preferred draining method) and serve with sweet chili sauce.