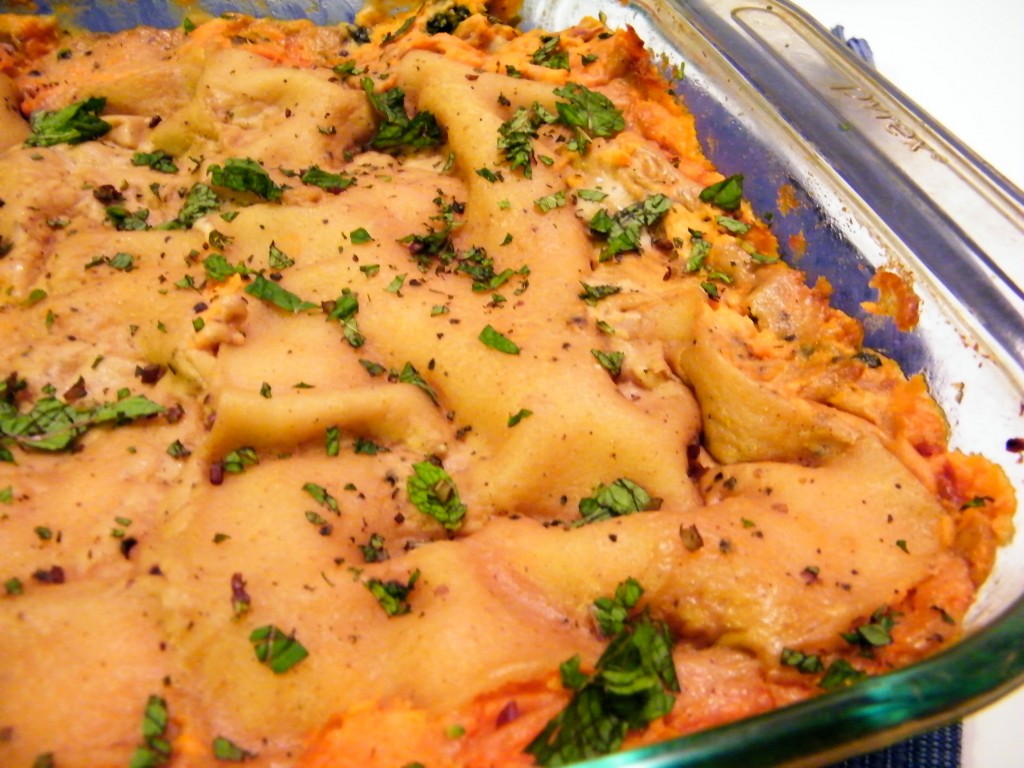 It's almost Friday and I couldn't be happier. For obvious reasons… and… because I finally got a new camera! As many of you know my camera died on NYE, mid-meal prep. Since that time, I've used my iPhone, a friend's camera, and a super cheap-o camera (that I ended up returning!) to hold me over until I could save enough cash to buy a new one. While I still was not able to buy a super-duper-fancy camera, I did get one that I am really happy with. It's a Canon and I can't wait to cook this weekend! I still have a few posts to get out that feature pictures from my not so nice camera, but verrrrrrrry soon, I'll be posting lovely pictures again with my new camera!
And now… onto the Farm Bill 101, Part 3: If you missed it, check out Part 1 and Part 2, which give overviews of the bill. In this third part, I want to provide some resources for those who want to get involved. The Farm Bill is a comprehensive and arguably the most important food policy bill in the US. It guides policy on everything from nutrition to farmers' markets to agricultural research to agribusiness. If you want to learn more about the Farm Bill and/or if you'd like to have a say in how food policy gets designed and implemented in this country, check out the following resources:
I hope these resources help and as the legislative process unfolds, I'll be sure to update folks via my Facebook page. Until then, have a great night, eat lasagna, and visit me again on Saturday when I have a surprise for all of y'all! 😉
Sweet Potato-Poblano Lasagna
Ingredients:
1/2 red onion–thinly sliced
1 poblano chile–thinly sliced
2 cloves garlic–minced
1 6 oz. bag baby spinach–roughly chopped
1/2 box no boil lasagna noodles
1 large sweet potato–cooked and mashed
2 tablespoons Earth Balance (or butter/margarine)
2 tablespoons flour
3 cups unflavored, unsweetened almond milk
5-10 tablespoons nutritional yeast (I used 7)
olive oil
salt
pepper
dash thyme
dash nutmeg
dash cayenne
dash chili powder
Method:
*Bake sweet potato until soft. When cool enough to handle, mash and set aside.
*Add 2-3 tablespoons of olive oil to medium sized sauté pan and heat over medium low. Add onion and poblano. Saute for 10 minutes. Add garlic. Saute until onion, chile, and garlic are soft. Set aside.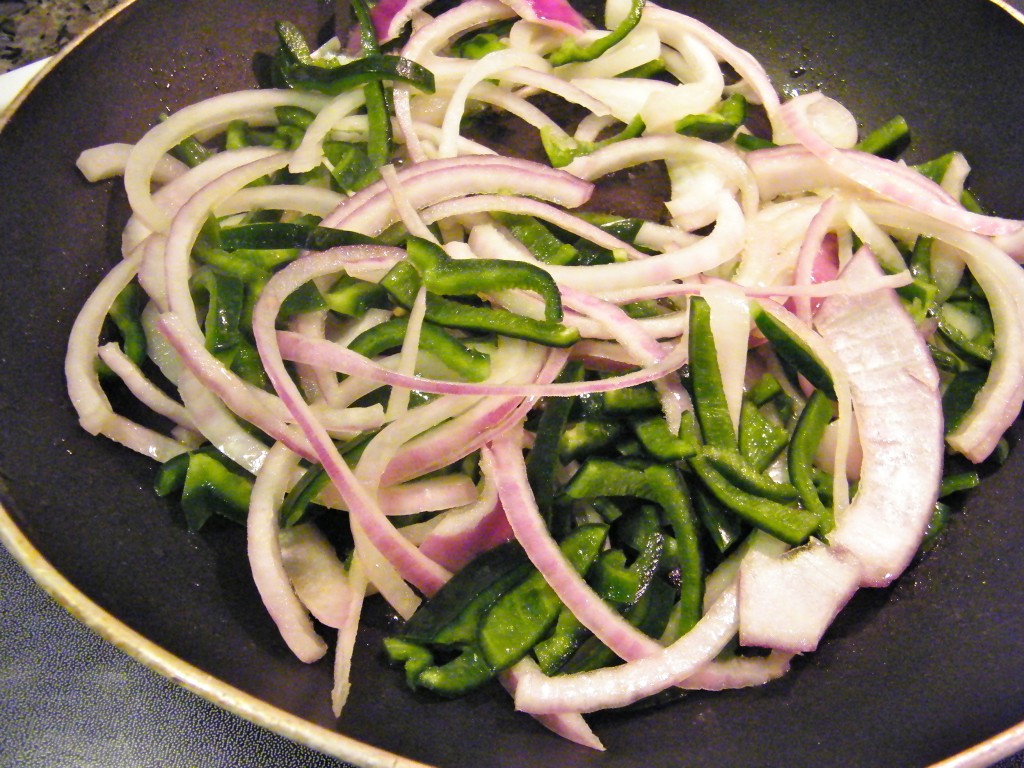 *Saute spinach in 2 tablespoons of olive oil over medium heat. Set aside. Preheat oven to 350 degrees F.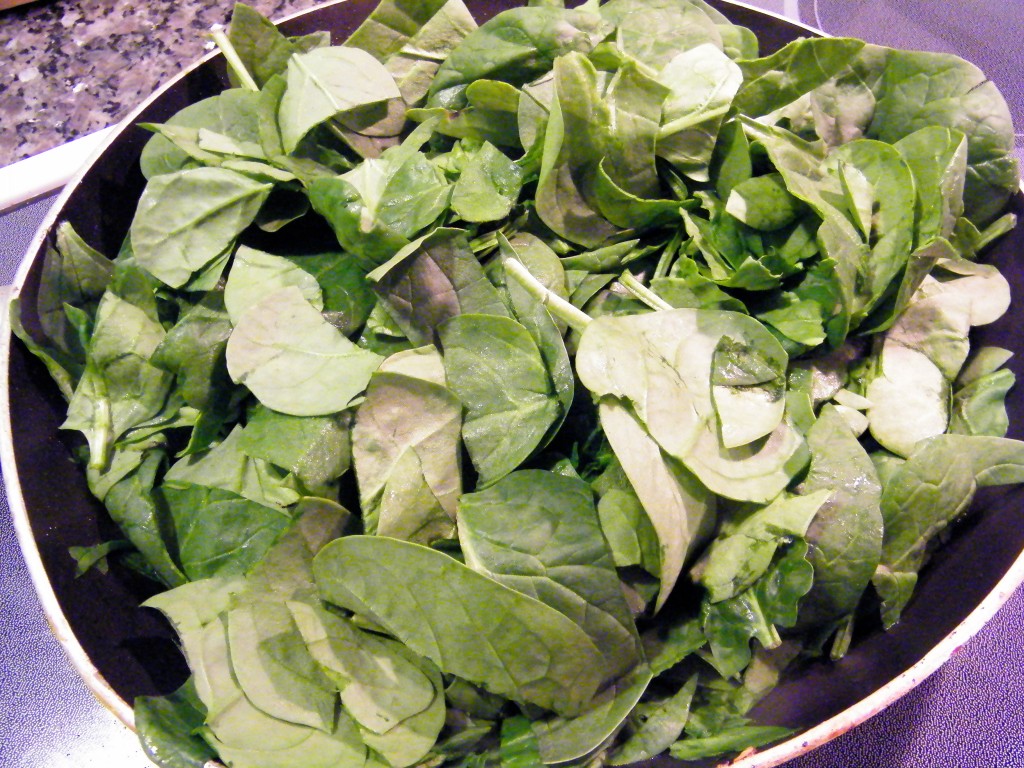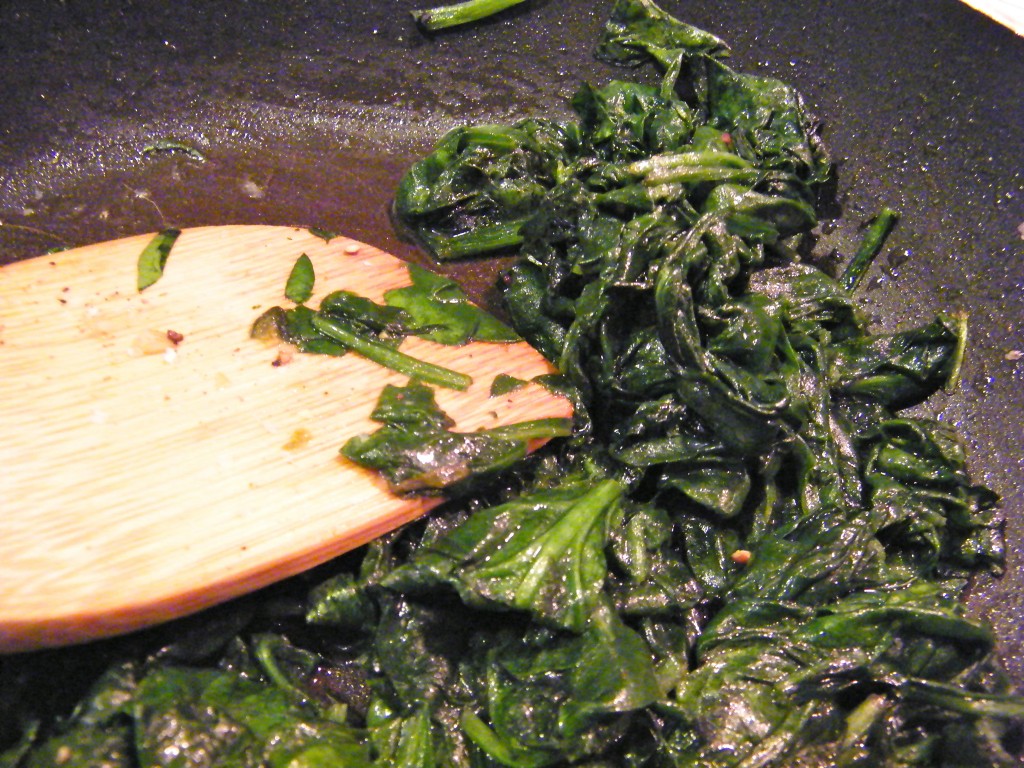 *Melt Earth Balance in large saucepan over medium low heat. When completely melted, stir in flour until the flour is completely incorporated. Cook the roux for 1-2 minutes, stirring constantly. Whisk in almond milk until the roux is completely dissolved in the milk. Add salt, pepper, thyme, nutmeg, cayenne, and chili powder. Whisk occasionally until mixture is thick enough to coat the back of a spoon. Whisk in nutritional yeast to taste. Keep sauce over low heat.
*Add 1/4 cup of sauce to mashed sweet potato. Mix completely.
*Butter 9″ x 9″ baking dish. Ladle sauce onto the bottom of the baking dish just to coat. Place one layer of noodles onto sauce. Spread 1/2 of sweet potato mixture onto the noodles. Ladle sauce over sweet potato to cover completely. Add onion, chile, garlic mixture. Ladle sauce to cover veggies completely. Add one layer of noodles. Ladle sauce to cover noodles. Add spinach. Add layer of noodles. Spread remaining sweet potato onto noodles. Top with noodles. Pour remaining sauce over the top noodle layer.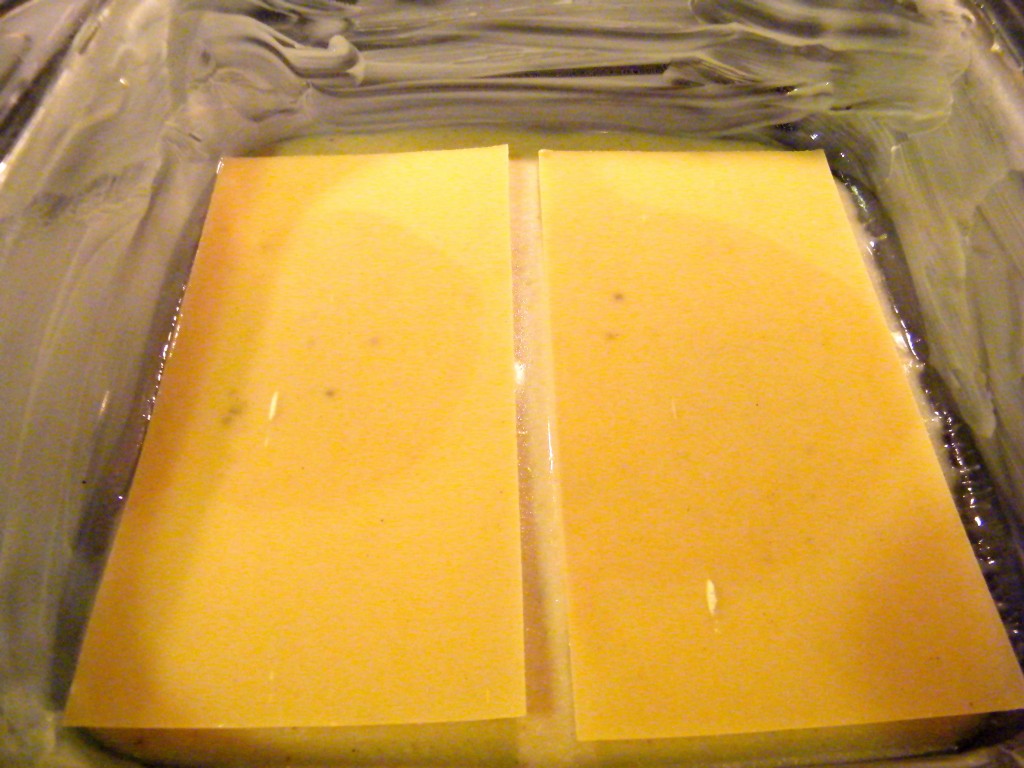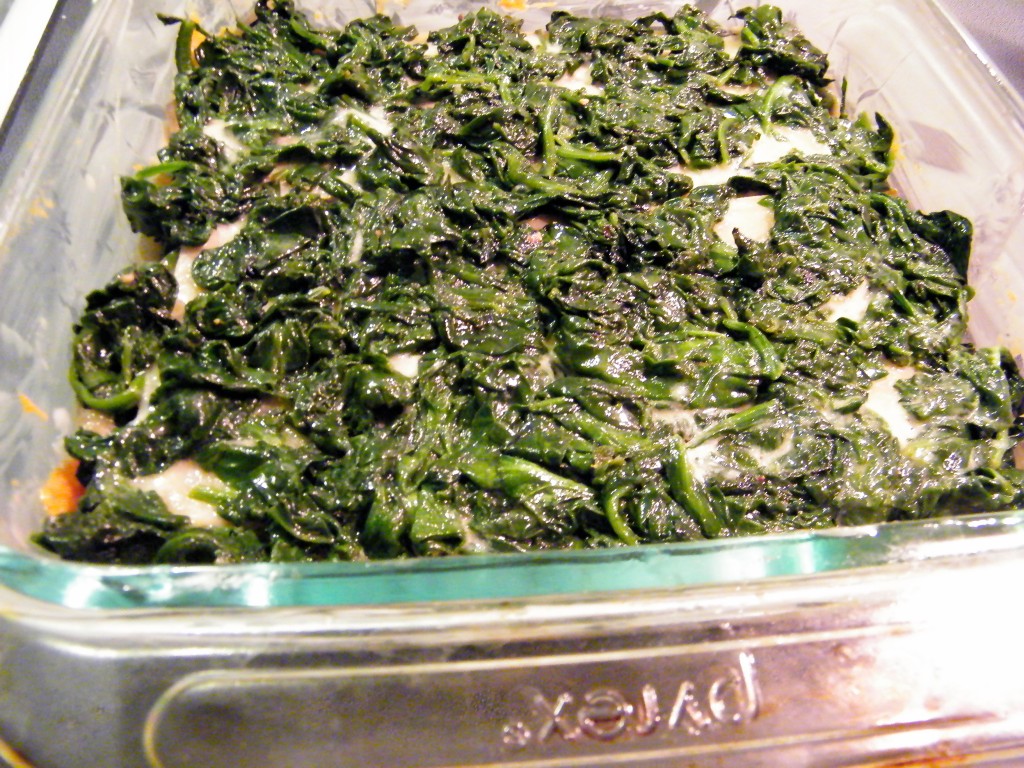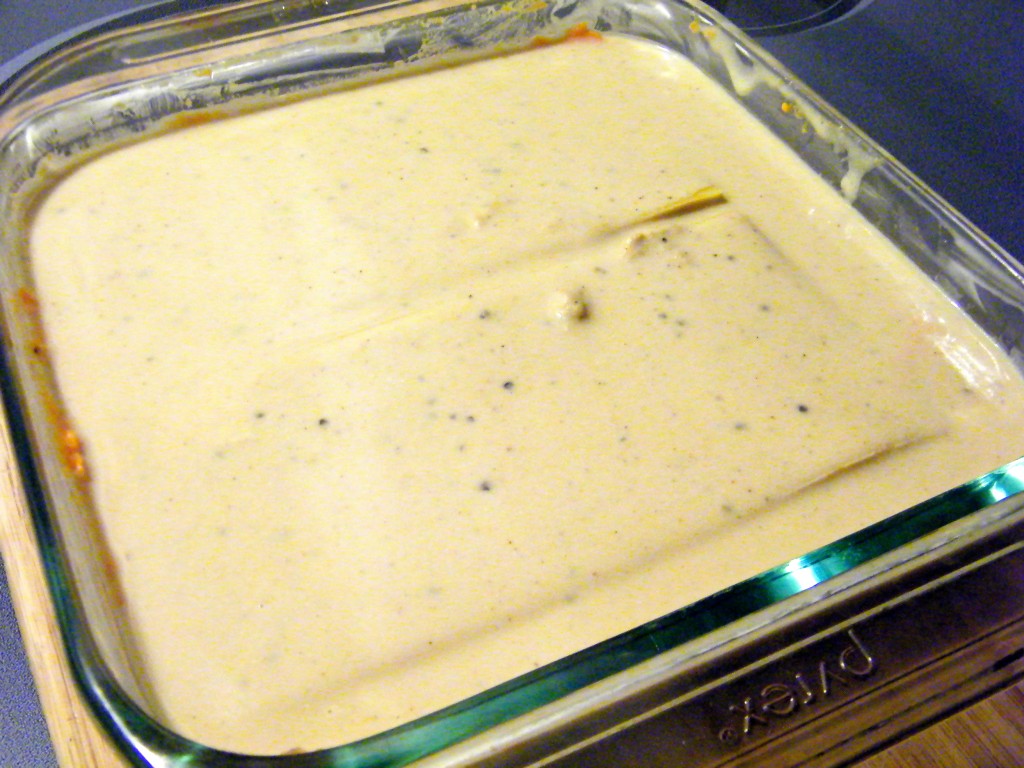 *Bake, covered in preheated over for approximately 20-25 minutes. Uncover, bake for additional 10-15 minutes. Serve warm.