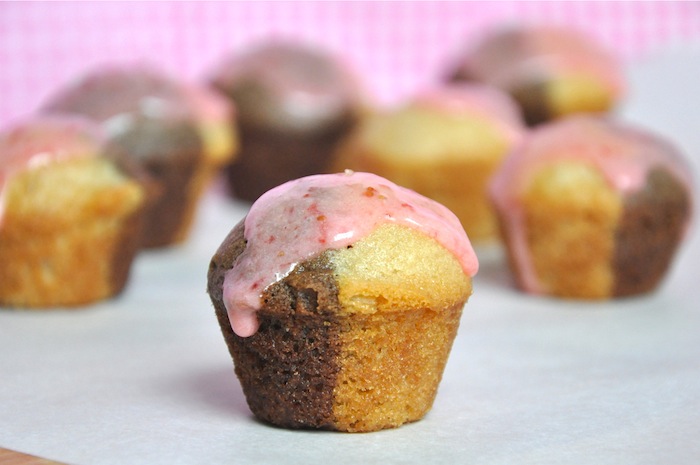 Back in 2004, I made a "tea date" with a woman in my statistics class who has become one of my dearest friends. Upon arrival at the tea house we chatted about the last stats exam, how the Red Sox had finally one the World Series, and other generalities. By the end of that conversation, we were laughing and sharing like old friends. I confessed, "I don't know why I wanted to have tea. You just seemed cool. And I wanted to be friends for some reason." I felt like a groupie with an unfounded connection. I felt a little silly. Then she confessed, "Me too! I totally had a friend crush on you!" Relieved, I realized that there is something to be said for like attracting like.
Fast forward to 2010 when I decided to start Como Water. I had no idea that there was a world of food bloggers. I had never even read a food blog. I hadn't seen Julie and Julia. And I had no clue that I would build such a supportive community of like-minded food lovers. Very early on I received a comment from a woman named Nikki. I checked out her blog, The Tolerant Vegan. It was friend crush at first click! And since that day, Nikki and I have shared recipes, stories, pictures, and our fair share of 'YUM!' comments. It's been one of those very special 'law of attraction' moments where a common love of veg-friendly food has forged what I consider to be a special cyber-friendship. And so without further delay, I introduce to you… Nikki!!! 😀
*          *          *
Hi, everyone! My name is Nikki and I write a vegan food blog called The Tolerant Vegan. I am honored to be your guest over here in Tiff's part of the world. I love Tiff, don't you? I am a huge Como Water fan! Tiff inspires me with her cooking, writing, kindness, grace, intelligence and all-around awesomeness.  I'm so excited for the chance to share some sweets with you all today.
I live in Brooklyn with my husband and our three cats, and I have a slight obsession with eating desserts and watching hockey. Please note that I said "watching" hockey, not playing hockey. The closest I have ever come to playing hockey was the time I used a hockey puck as a guide for slicing up vegan Hostess ding dong knock-offs. I also like to do yoga, travel and watch a ridiculous amount of television. I cook a lot of things over at The Tolerant Vegan but I'm hesitant to put a label on the kinds of food that I make. I guess you could say that I make what makes me feel good. Many days, that means I'm making a dessert. Some days I throw together pizzas and other days I'm all about fresh veggies. I just try to "keep it real," as the kids say. If you see it on the blog, it's because I'm eating it and I'm probably stuffing it into tupperware and eating it again for lunch the next day. It's real life. And in my real life, I really like Neapolitan ice cream. I have fond memories of pulling apart a box of Neapolitan ice cream as a kid and scooping out some creamy goodness to share with my grandma. There's a place in my heart for the chocolate, vanilla and strawberry combo. These mini cupcakes are an ode to the classic combination. I really hope that you like them!
Vegan Neapolitan Mini Cupcakes
Cupcake recipe adapted from Amy Sedaris via Epicurious
Makes 36 cupcakes
Cupcake Ingredients:
2 1/2 cups all-purpose flour
2 1/2 teaspoons baking powder
1 teaspoon baking soda
1/4 teaspoon sea salt
1 1/2 cups refined sugar
3/4 cup vegan butter substitute, softened
1/2 cup unsweetened applesauce
1 1/4 cups vanilla almond milk
2 teaspoons vanilla extract
1/4 cup unsweetened cocoa powder
1 tablespoon distilled white vinegar
Strawberry Glaze Ingredients:
2 cups confectioners' sugar
1/2 cup frozen strawberries, thawed
Directions:
Preheat your oven to 375 degrees Fahrenheit.
Spray a mini cupcake tin with nonstick spray or line with mini baking cups.
In a large bowl, whisk together the all-purpose flour, baking powder, baking soda, sea salt and refined sugar.
In a separate bowl, whisk together the vegan butter substitute, unsweetened applesauce, vanilla almond milk and vanilla extract.
Add the wet ingredients to the dry ingredients, stirring until fully combined.
Pour half of the batter back into one of the bowls.
Stir the unsweetened cocoa powder into one of the bowls. You now have one bowl of chocolate cake batter and one bowl of vanilla cake batter.
Stir 1/2 tablespoon of distilled white vinegar into each batter.
Using two spoons, dip one spoon into each of the batters.
Place both batter-covered spoons side-by-side in the tin and let the batter drip off of each of them until the cup is 3/4 of the way full. You can also do chocolate on bottom and vanilla on top, or a swirl method. The design of the cupcakes is totally up to you.
Place the cupcake tin in the oven for 10-12 minutes or until a toothpick can be inserted and removed cleanly.
Make the glaze while the cupcakes cool to room temperature by combining the confectioners' sugar and thawed strawberries in a bowl and whisking together until the two are fully combined.
Let the glaze sit for 5 minutes and then spoon over top of each cupcake.