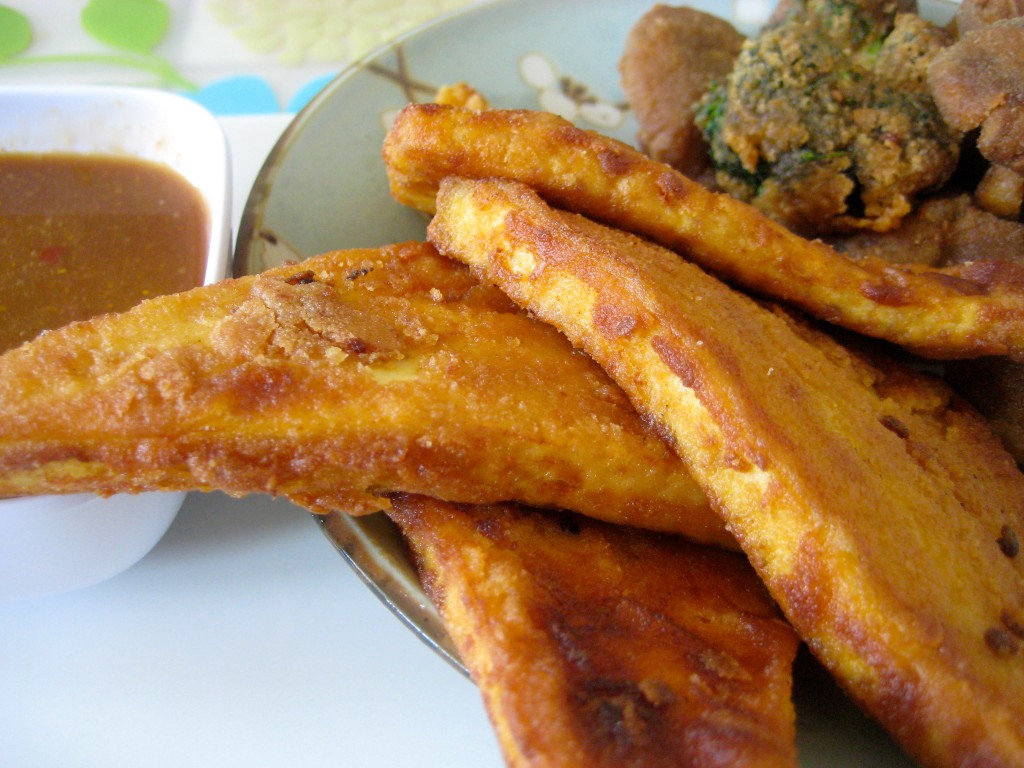 After college, I took two years off before going to graduate school and during that time, I lived a dual life. During the day, I was a HIV researcher at a Boston hospital. At night I waitressed at a sushi restaurant where my love for Japanese food grew and grew and grew… So when presented with the chance to sample a new Kikkoman product a couple of weeks ago, I was all over it!
As part of the Foodbuzz Tastemaster Program, I received a free sample of Kikkoman Karaage. Karaage is a Japanese cooking technique (similar to tempura) where food–usually meat, is coated and fried (I had actually never heard of Karaage before!!!). In fact, the package says "great for chicken and fish." Ah, I don't eat meat… but I love a challenge, so I was determined to make a super tasty veggie Karaage dish. And not to toot my own horn, but I nailed this one ;).
The Karaage package calls for the food to be dipped in water and coated with their soy-ginger seasoned coating mix. But, I know all too well that when cooking veggies and tofu, you need to take every opportunity possible to infuse flavor into the dish. So, I sidestepped the water and made a concoction of Thai chili sauce, coconut milk, and other goodness. I then mimicked these flavors in the dipping sauce I made and a new tasty treat was born! Although I'm not the biggest fried food fan, I will say that I'll definitely use this Karaage mix again. It was super easy, the prep was quick, the flavors melded together nicely, the texture was airy and crisp, and get this… from the ingredient list, it looks like the mix is vegan!
Thai Chili Karaage Tofu and Veggies (Printable Recipe)
Ingredients: 
1 box (2 packets) Kikkoman Kara-Age Seasoning Mix
1 block extra firm tofu–drained, sliced, and pressed (see this post for details on pressing tofu)
1 large broccoli crown
1 cup shiitake mushrooms
2 tablespoons Thai chili sauce
1 tablespoon Tamari (or soy sauce)
1 teaspoon seasoned rice vinegar
1/2 teaspoon sesame oil
1/2 cup light coconut milk
vegetable oil
Thai Chili Dipping Sauce (see below)
Method:
*Press tofu (at least 1 hour ahead of time). Wash, dry, and cut veggies.  Whisk chili sauce, Tamari, sesame oil, vinegar, and coconut milk; set aside. Add one Kara-age packet to a large zip lock bag. Add the second Kara-age packet to shallow dish or pie plate.
*Paint chili sauce mixture onto veggies, allowing excess liquid to drip off. Add veggies to zip lock bag with Kara-age mix. Close bag and shake until veggies are fully coated. Delicately remove coated veggies from dry mix. Set aside.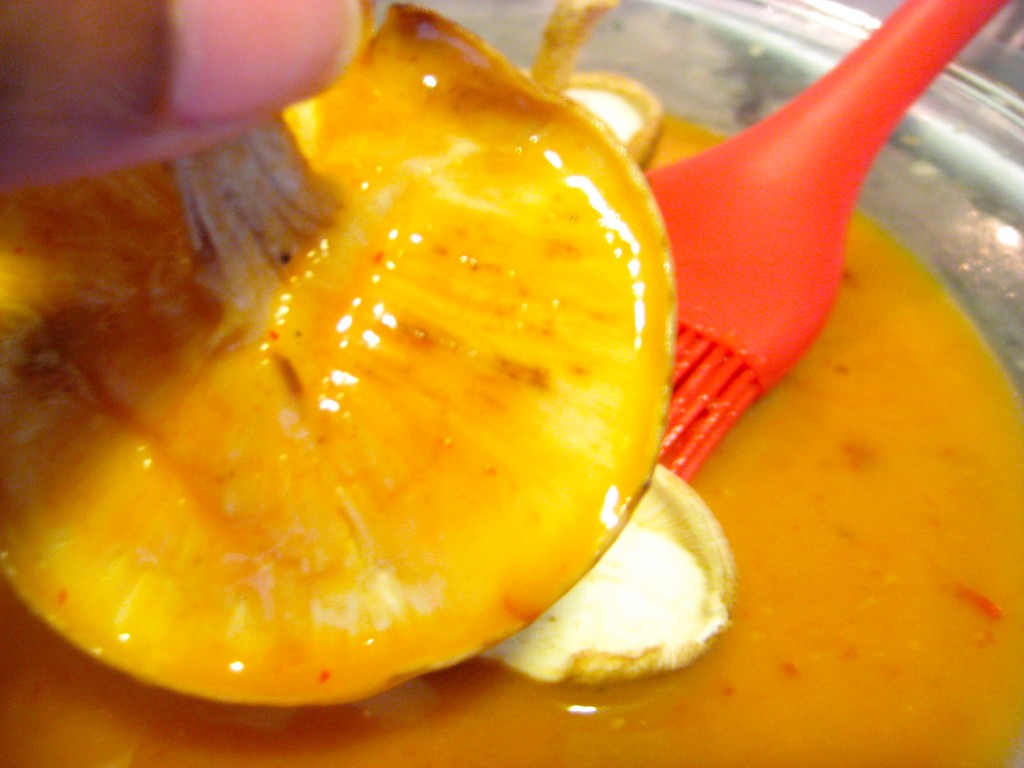 *Heat vegetable oil (enough so that the oil is about 1 1/2 inches deep) in large, heavy frying pan over medium/medium high heat to about 350 degrees F. Fry veggies in oil, turning frequently for 2-4 minutes. When golden brown, remove veggies from the frying pan and drain on paper towels.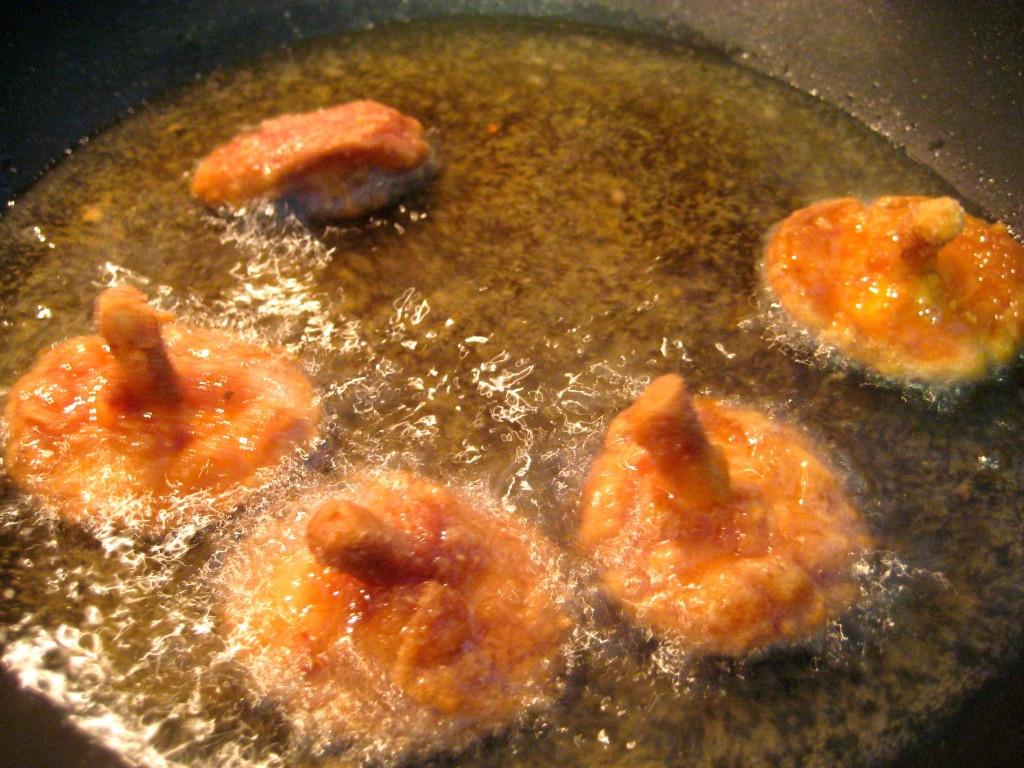 *Paint all sides of the pressed tofu with the chili sauce mixture, allowing excess liquid to drip off. Lightly dredge the tofu in the Kara-age that is in the shallow dish/pie plate, being sure to shake off excess mix. Fry, turning frequently for 2-4 minutes. When the tofu is golden brown, remove the tofu from the frying pan and drain completely.
*Serve the Karaage Tofu and Veggies with Thai chili dipping sauce, or other sauce of choice.
Thai Chili Dipping Sauce
Ingredients:
1 teaspoon Thai chili sauce
1 squirt Sriracha
2 tablespoons Tamari (or soy sauce)
1 teaspoon seasoned rice vinegar
1/4 teaspoon sesame oil
2 tablespoons agave
1 tablespoon orange juice
4 tablespoons light coconut milk
large pinch curry powder
Method:
*Whisk all ingredients and serve!