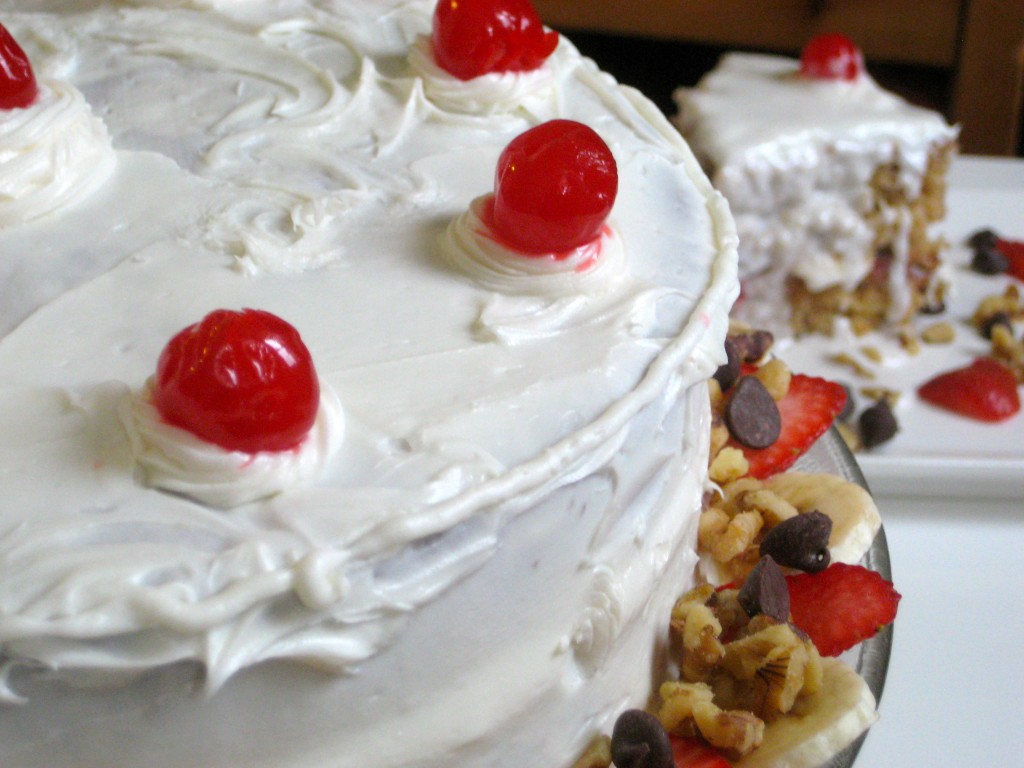 It's my birthday! It's my blogiversary! It's my birth-i-versary! :D. Anyone who has seen my empamosas post knows that I kinda LOVE combining words to make new words. So, I hereby declare this my birth-i-versary–celebrating 31 years of life and 1 year of Como Water.
On August 13, 2010, I could have never imagined how starting Como Water would change my life. All I knew was that I loved food, and that my friends and family loved eating it. So, with their encouragement, I started Como Water as a reservoir… a vessel to document what I was cooking on a semi-daily basis. Since that time, I have taken my culinary experimentation to another level and have gained more than foodie friends, I have gained a community! And to say thank you for your encouragement, support, hilarious comments, and constant positive energy, I decided to host my first giveaway!!!
BUT…. before I get to the giveaway, I want to tell you about this cake. Oh, this lovely, sweet, decadent, heavenly, and yes, my friends, VEGAN cake! Originally, I planned to make a tart for my birth-i-versay. But last night, after my weight lifting class, and zumba, and the amazing veggie pizza I made for dinner, all I wanted was a banana split. Luckily, I had some Ben & Jerry's Banana Split ice cream in the freezer. With my taste buds satiated, my birth-i-versary tart ambitions transformed into banana split cake ambitions. With bananas, pineapple, strawberries, walnuts, chocolate chips, coconut cream, and vanilla icing, I know that I made the right choice! I'll be posting the recipe later this week, along with my "goals" for my next year of Como Water blogging.
But now, I'll give you the details on my giveaway! To show love to my Durhamites (where Como Water began), although I now officially live in DC, I will be giving away two, yes folks, two items from local vendors in Durham, NC!
The first is a vintage 1950s bundt pan from Scatterbugs Vintage!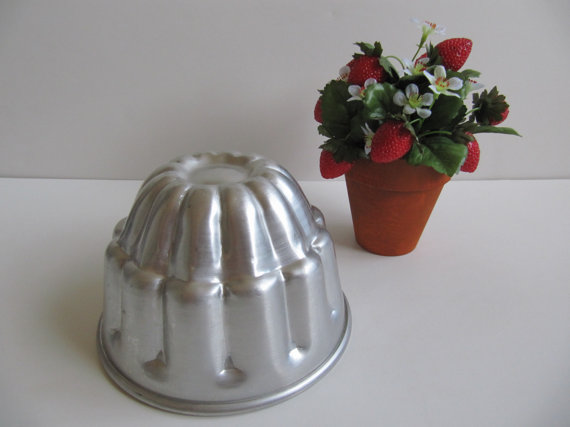 And the second is a 12 x 16, hand signed print of Sriracha by my dear friend, and amazing Durham artist Franco!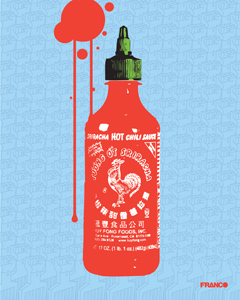 Here's how you can win (you have 6 chances!):
1. Leave a comment letting me know what dish you'd like to see me "veganize" in the next year.
2. Become a fan of Como Water on Facebook.
3. Follow Como Water on Twitter.
4. Tweet this giveaway.
5. Tell your friends about this giveaway on Facebook (via a status update).
6. Mention this giveaway on your own blog, if you blog.
Be sure to leave a separate comment for each of the 6 ways to enter. Then, next Friday, August 19th, I'll draw two names using an online random number generator. The first person will win the bundt pan and the second will win the print! Just a small thank you for being so awesome! Now… a certain someone is about to have some cake! 😀