Last Friday, I took a break from my Lightlife series because Chef Dennis at More than a Mount Full asked me to write a guest post for him (the salted apricot-mango baklava!). This week, I'm back, and unbelievably excited about these empamosas!
I woke up craving something spicy and savory, flakey and light. I wanted samosas AND I wanted empanadas. I wanted garam masala and coriander potatoes. I wanted flakey pie dough that was baked, not fried. So, I did what anyone would do in that situation… I combined the concepts of empanadas and samosas to make empamosas! 😀
I included Lightlife's smoked sausage to make them heartier and some corn for brightness (and because I was out of peas and didn't feel like going to the grocery store!). Warning for those who do not like spice… these empamosas have kick, so feel free to tweak the amount of cayenne and red pepper flakes, if you do not like it hot. Also, a confession: I used store bought pie dough. I'm in the context of moving, trying to sell my car, leaving my current job, and transitioning to a new city. Sorry folks… I just didn't have it in me to make my own dough. BUT, I have posted recipes for pie dough on Como Water before, so I felt like I wouldn't completely lose my street cred by using store bought. And besides with flakey, savory, spicy, hearty, cute mini-sized deliciousness like empamosas who cares if the dough is store bought?!? 🙂
Empamosas = Empanadas + Samosas! (Printable Recipe)
Ingredients:
2 Yukon gold potatoes–cubed
2 Lightlife smoked sausages–chopped
4 pie crusts
1/4 cup olive oil, plus 1-2 tablespoons
2 cloves garlic–minced
1/2 Vidalia onion–chopped
1/2 cup frozen corn
1 teaspoon curry powder
1/2 teaspoon cayenne pepper
1 teaspoon garam masala
1/2 teaspoon mustard powder
1 teaspoon black mustard seeds
1 teaspoon red pepper flakes
1/2 teaspoon cumin powder
1/2 teaspoon celery seed
1/2 teaspoon coriander powder
1/2 teaspoon fennel seed
1 inch chunk fresh ginger–peeled and sliced
salt/pepper
1 egg–lightly beaten
Method:
*Preheat oven to 375 degrees F.
*Add cubed potatoes to large pot. Cover with water. Bring to boil. Simmer until potatoes are tender. Drain and set aside.
*Heat olive oil over medium low heat in large frying pan. Add mustard seeds, fennel seeds, red pepper flakes, and ginger to oil. Infuse oil with spices for 10 minutes. Add onion. Saute onion for 10 minutes. Add garlic. Cook onion and garlic until soft. When onion and garlic are soft, remove and add to large bowl. Discard ginger.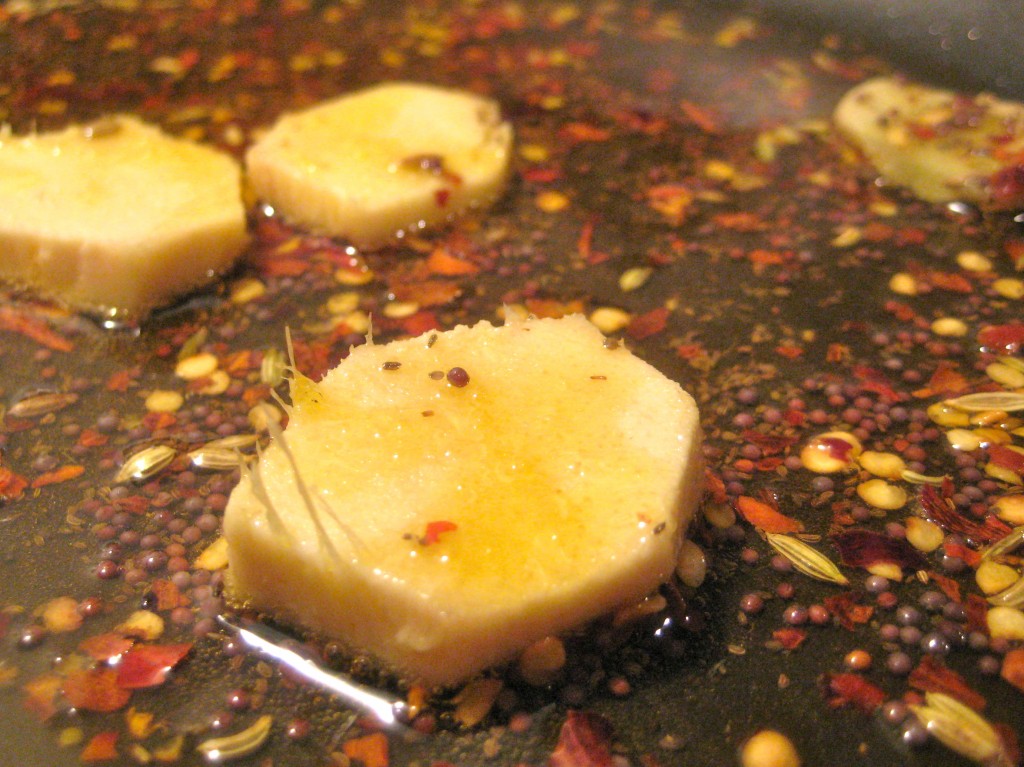 *Add curry powder, cumin powder, coriander powder, mustard powder, garam masala, and cayenne pepper to frying pan that previously had the onion and garlic. Add large pinch of salt and a few grinds of black pepper. Cook 1 minute. Turn the heat to medium. Add the drained potatoes. Cook the potatoes in the flavored oil for 3-5 minutes until soft and potatoes are slightly toasted. (You may need to add 1-2 tablespoons olive oil if pan is very dry). Mash large chunks of potatoes into smaller pea size pieces. Add potatoes to bowl with onions and garlic. Add frozen corn to bowl.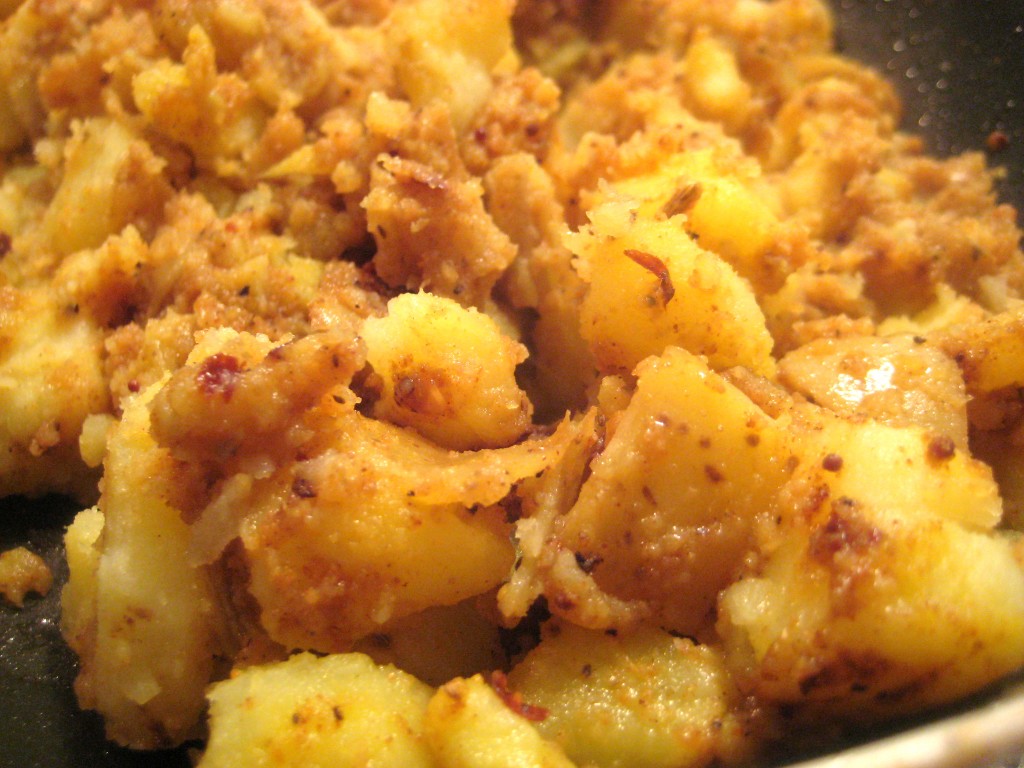 *Add 1-2 tablespoons olive oil to separate frying pan. Heat oil over medium heat. Add sausages and brown on one minute per side. Turn to medium low. Cover. Cook until heated through and brown all around. Set aside. When cooled enough to handle, roughly chop sausage. Add chopped sausage to bowl with potato mixture. Mix all ingredients until fully incorporated. Adjust seasoning to taste.
*Lightly spray cookie sheet with cooking spray. Lightly flour counter. Roll out pie dough to 1/4 inch thick. Cut out circles of desired size. Add filling to center of dough circle, leaving a 1/4-1/2 inch border around the edge of the dough. Wet the edge of the dough slightly with water. Top with second dough round and seal the empamosa closed. Lightly beat egg with 1 tablespoon of water (or milk). Brush the top of the empamosa with egg wash. Add the empamosa to the cookie sheet. Bake approx. 15 minutes, or until golden brown. Let cool and enjoy!