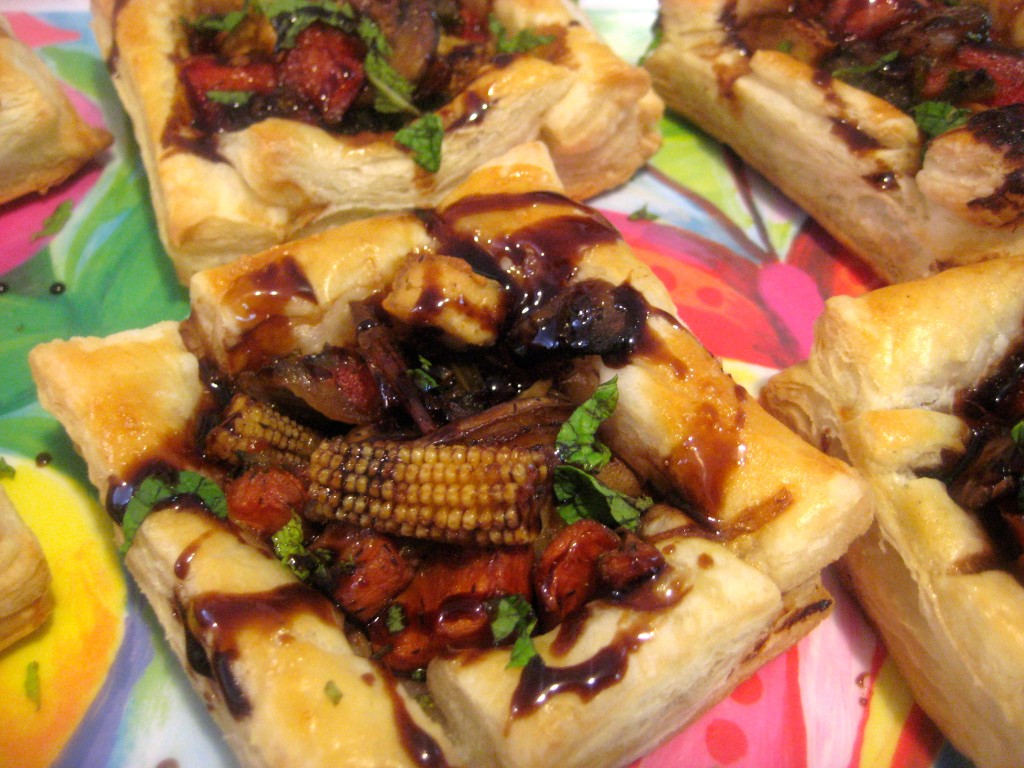 So, I've made it to the 4th season of the Cosby Show on Netflix, made some major headway in my overly dramatic dispute with Fed Ex (at least 1/3 of my kitchen items arrived broken :(), found a new gym, took my first yoga class in DC, and went to the most amazing drumming circle ever on Sunday. All in all, I have to say… life is good! And you know what makes life even better? Veggies. No, no, veggies with soy glaze. No, no, no, veggies with soy glaze in puff pastry!
My family and I made these little puffs of goodness when I was home in Springfield last month. Really, it's almost embarrassing how easy this was… just sauté the veggies, make the glaze, and bake… but the lovely taste definitely transcended the ease of preparation. AND we didn't even have to persuade my little cousins to try them. All of the colors from the veggies and the flakey pastry did all of the talking for us!
Okie dokie… Happy Tuesday folks and stay tuned to Como Water towards the end of the week. I have a surprise for you!!! 😀
Soy Glazed Veggies in Puff Pastry (Printable Recipe)
Ingredients:
1 Vidalia onion–chopped
1 red pepper–chopped
1 Anaheim pepper–chopped
4 cloves garlic–minced
2 stalks celery–chopped
3 broccoli crowns–chopped
2 carrots–chopped
1 cup mushrooms–sliced
1-2 inch chunk of ginger–peeled and sliced
1 teaspoon red pepper flakes
1 8 oz. can water chestnuts
1 can chopped baby corn
1/2 cup soy sauce
2 tablespoons brown sugar
dash cayenne
1 tablespoon white vinegar
olive oil
black pepper
salt
1 block tofu, drained and cubed
2 packages frozen puff pastry sheets (thawed according to directions on box)
flour
1 egg–lightly beaten
mint–cut into small strips
Method: 
*Preheat oven to 35o degrees F. Thaw puff pastry sheets according to the directions on the package.
*Add 4 tablespoons of olive oil to frying pan. Add ginger slices and red pepper flakes. Heat over low heat for 5 minutes. Add onion, peppers, carrots, and celery. Saute over medium heat for 5 minutes. Add a pinch of salt and a few grinds of black pepper. Add the broccoli, mushrooms, and garlic. Cook veggies until they are al dente. Remove ginger. Stir in baby corn and water chestnuts. Set aside.
*Add soy sauce, brown sugar, cayenne, and vinegar to sauce pan. Heat over medium low heat. Stir to dissolve brown sugar. Reduce by at least half, stirring occasionally, or until the sauce becomes a lovely, sticky syrup. Set aside.
*Add 2-3 tablespoons of olive oil to frying pan. Heat over medium heat. Lightly sauté tofu until it's golden brown. Drain and mix with the sautéed veggies. Set aside.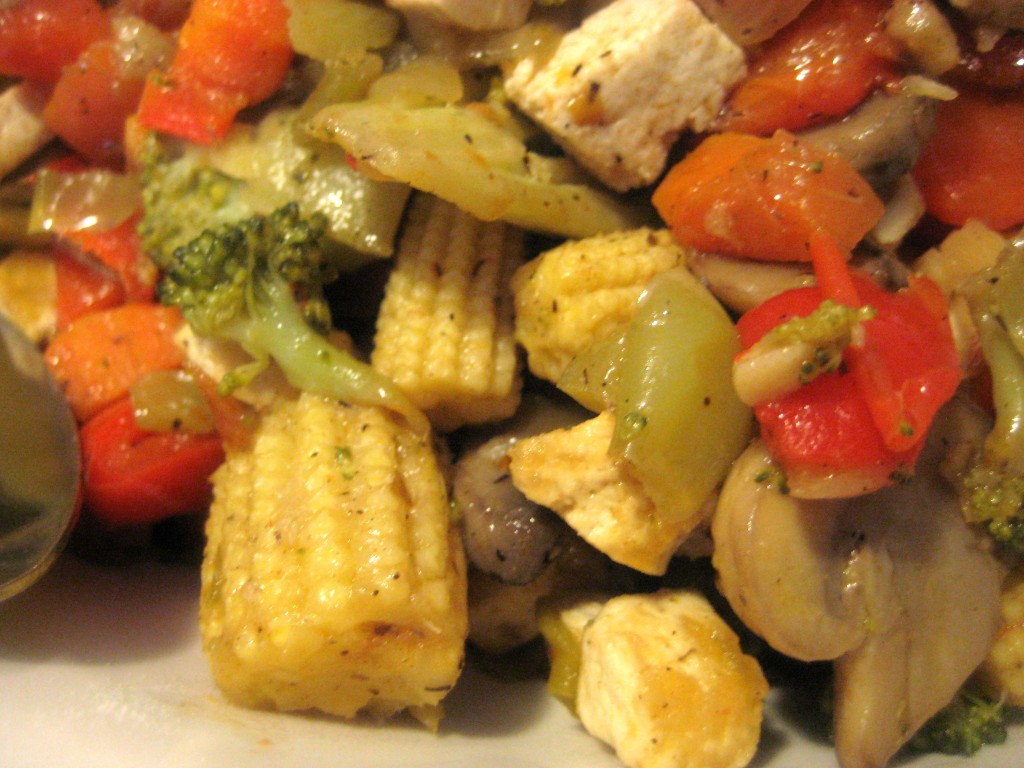 *Lightly dust work surface (i.e., counter or table) with flour. Place 1 puff pastry sheet on floured surface. Cut the puff pastry into 9 squares (2 slices down, 2 slices across). Add squares to a cookie sheet. Dollap 1-2 tablespoons of the veggie/tofu mixture in the middle of each square, being sure to leave a 1/2 inch border around the edge of each square. Brush exposed dough with the lightly beaten egg wash. Repeat until all dough is used. Bake for 25-30 minutes or until the dough is light brown. Let cool slightly. Drizzle with soy glaze and sprinkle with mint.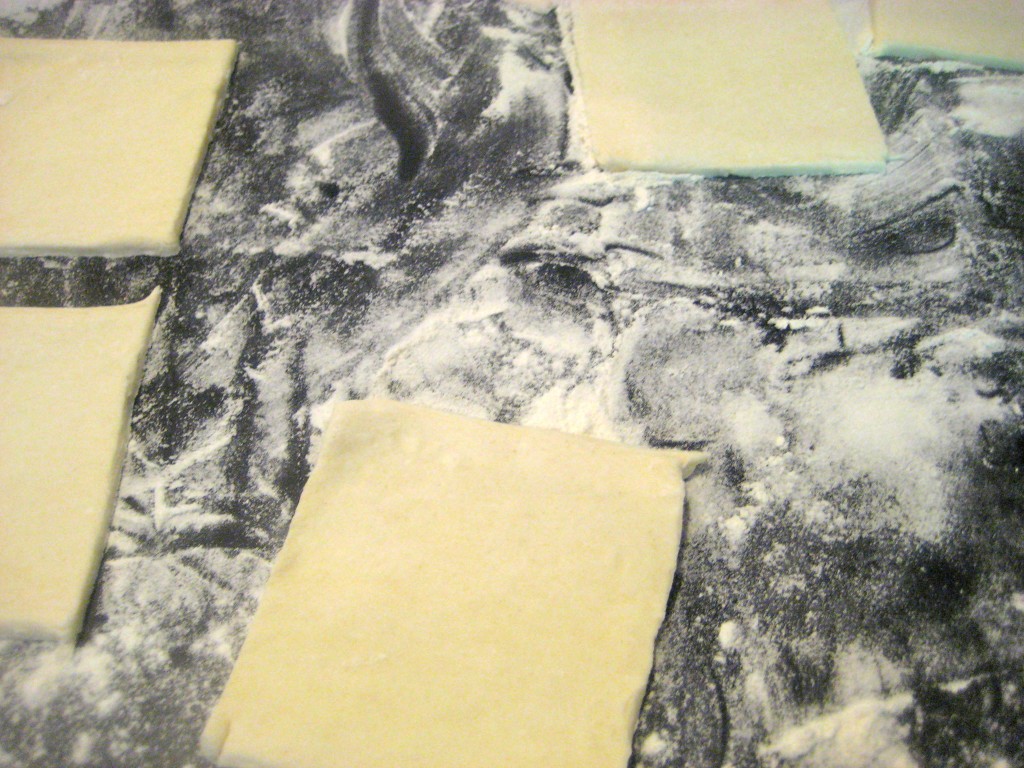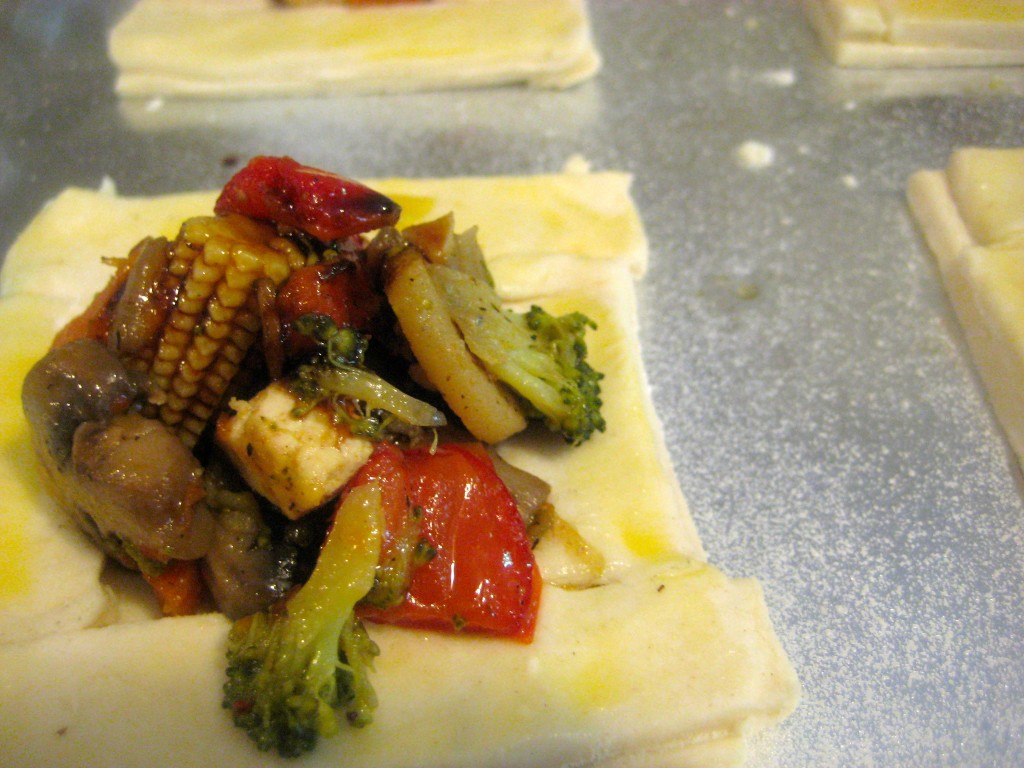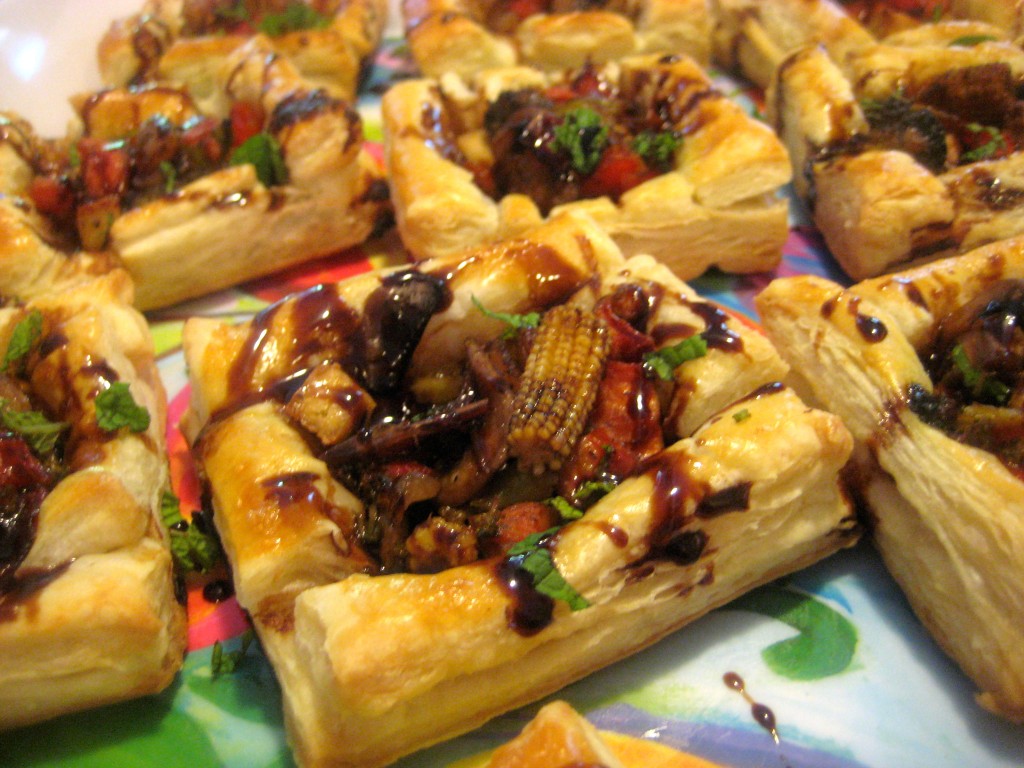 We also made chocolate-peanut butter cookies:
and we made pina colada sodas… but these were kind of a flop…. I'm still working on the recipes and will share once they're 'perfect'!!!