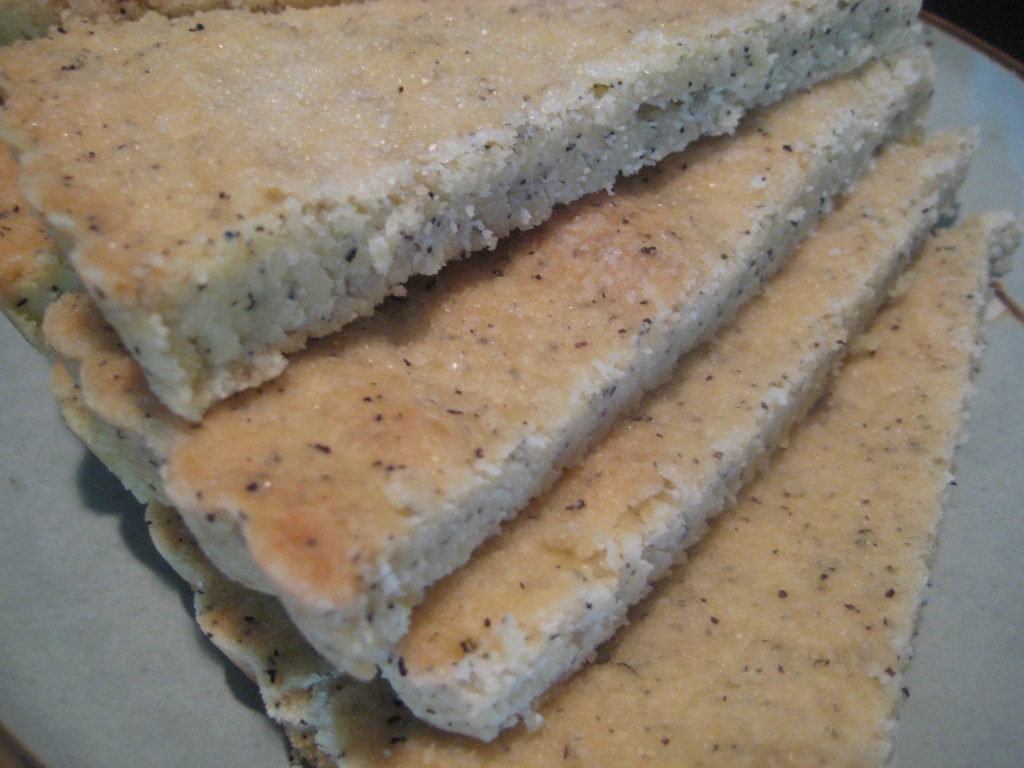 I'm going to go back. Way back. Back into time. I made this shortbread for the Triangle Share Our Strength Bake Sale back in May. It's adapted from my vanilla saffron shortbread and is just as aromatic and fragrant as I hoped it'd be. If you've been following for awhile, you know that I was on a major shortbread kick this spring. Now, that kick is coming in handy, as my hectic life hasn't allowed me to cook much in the past week. This shortbread is great straight up, and also with a nice cup of tea (although if you're experiencing this insane heat wave, a cup of tea is probably the last thing on your mind right now).
Three other random things (admittedly, I'm a bit scatterbrained today… sorry this is an incoherent post!).
1. Are there any Mac users out there who have already switched to the new operating system (Lion)? Ah, I'd just like to vent … I hate these new invisible scroll bar and mission control thingies! I'm sure I'll get used to it… but until then–urg!
2. The reality of my move is finally setting in. I got super emo in yoga today. I think it was being in a space where my mind was truly quiet or maybe it's just the proximity of the move, but savasana brought me to tears today. Sigh. The good and the bad of change!
3. Check out Natalie at Food Blog and the Dog! She jazzed up the watermelon granita I made earlier this summer!
Happy Friday to you allllllllllllll! 😀
Earl Grey Tea Shortbread (Printable Recipe)
Ingredients:
1 cup Earth Balance (softened)
1/2 cup sugar
2 cups flour
1 teaspoon cornstarch
1/4 teaspoon salt
1 1/2 teaspoons orange extract
Earl grey tea leaves from two tea bags
sugar for sprinkling
Method:
*Preheat oven to 325 degrees F. Cream butter, sugar, and orange extract. Stir in tea leaves. Sift in flour, cornstarch, and salt. Stir until fully combined.
*Press dough into a 9 1/2 inch tart pan with removable bottom. Sprinkle lightly with sugar (~ 1 teaspoon – 1 tablespoon). Bake for approximately 20 minutes or just until shortbread turns light golden brown. Cut shortbread into slices while warm. Remove bottom of tart pan and let cool completely.