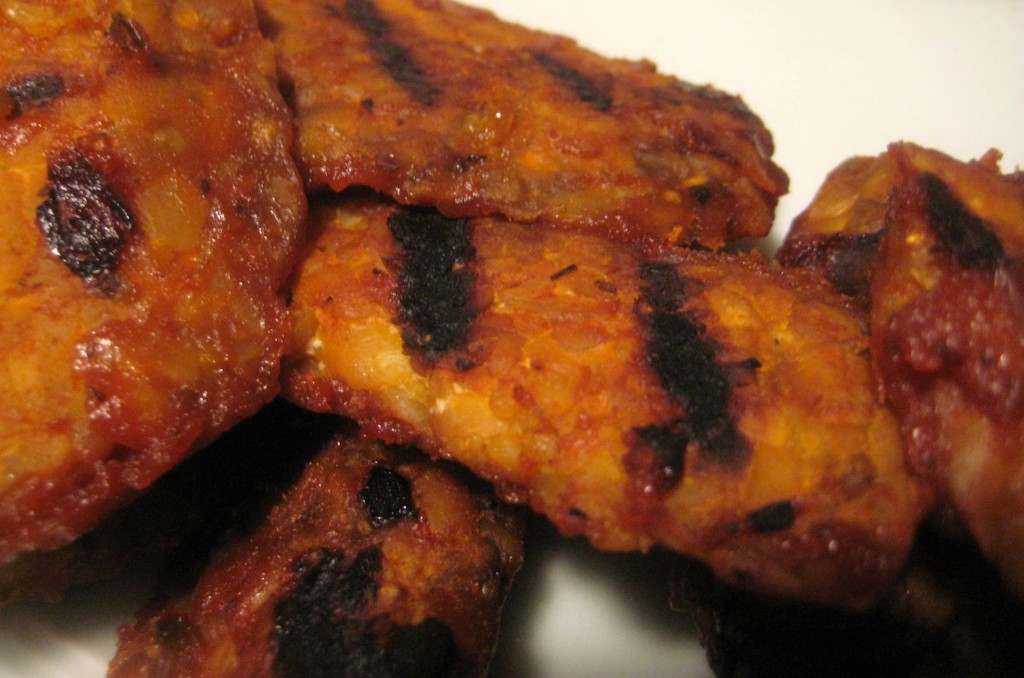 Nope, those are not ribs. Nope, nope, nope, they're not little pieces of chicken. And no, they're not even pieces of tofu or glutenous faux meat products. Those, my friends, are slices of tempeh. Three grain tempeh to be exact. Three grain tempeh doused in the most lovely BBQ sauce I've made since by jalapeño-guava BBQ sauce oh so long ago.
It all started when Lightlife offered to send me some of their products to try. In addition to the faux meat products, I requested tempeh. Because I like a challenge. But, truth be told, when I asked for tempeh, I was actually thinking of seitan. When the tempeh came, I realized that I had never cooked with it before. I called my little brother–he doesn't like tempeh. I called Keyla–she doesn't like tempeh either. Then I called CW. Yes, you guessed it. She doesn't like tempeh. Sigh. I was on my own with this one.
My first inkling was to make a sofrito tempeh mofongo, mainly because I was really craving mofongo (oh, don't you worry… I'll be making and posting a recipe for vegan mofongo soon!). But I was afraid that the tempeh wouldn't hold up to the saucy, spicy, sofrito I was envisioning. It was nearing the fourth of July and my friends and I planned to cook out, so I eventually decided on a BBQ grilled tempeh. This BBQ sauce is everything a good tomato based sauce should be (sorry NC, I still can't get down with these vinegar and/or mustard based sauces)–sweet, spicy, and hearty. The passionfruit–or maracuja, as it's called in Portuguese–added a depth of flavor and tartness that complemented the brown sugar and jalapeño. The end result was a grilled tempeh dish that meat eaters and vegetarians alike devoured (even CW!) and now I can say that I've prepared tempeh!
Passionfruit BBQ Sauce and Grilled Tempeh (Printable Recipe)
Ingredients:
2 tablespoons olive oil
1/2 teaspoon mustard powder
1/2 teaspoon celery seed
1 large shallot–finely chopped
2 medium jalapeños (1 sliced in half lengthwise; 1 finely chopped)
2 cloves garlic–minced
1 cup ketchup
1/2 cup yellow mustard
1/4 cup brown sugar
1/2 teaspoon salt
1/2 teaspoon black pepper
1 cup passionfruit nectar
juice from 1 lemon
1 package Lightlife 3-grain tempeh
Method:
*Add olive oil to medium saucepan over medium heat. Add celery seed and mustard powder. Cook for one minute. Add shallot and chopped jalapeño. Cook 8-10 minutes. Add garlic. Cook 2 minutes. Turn heat to medium low. Cook for 10 minutes, or until veggies are soft.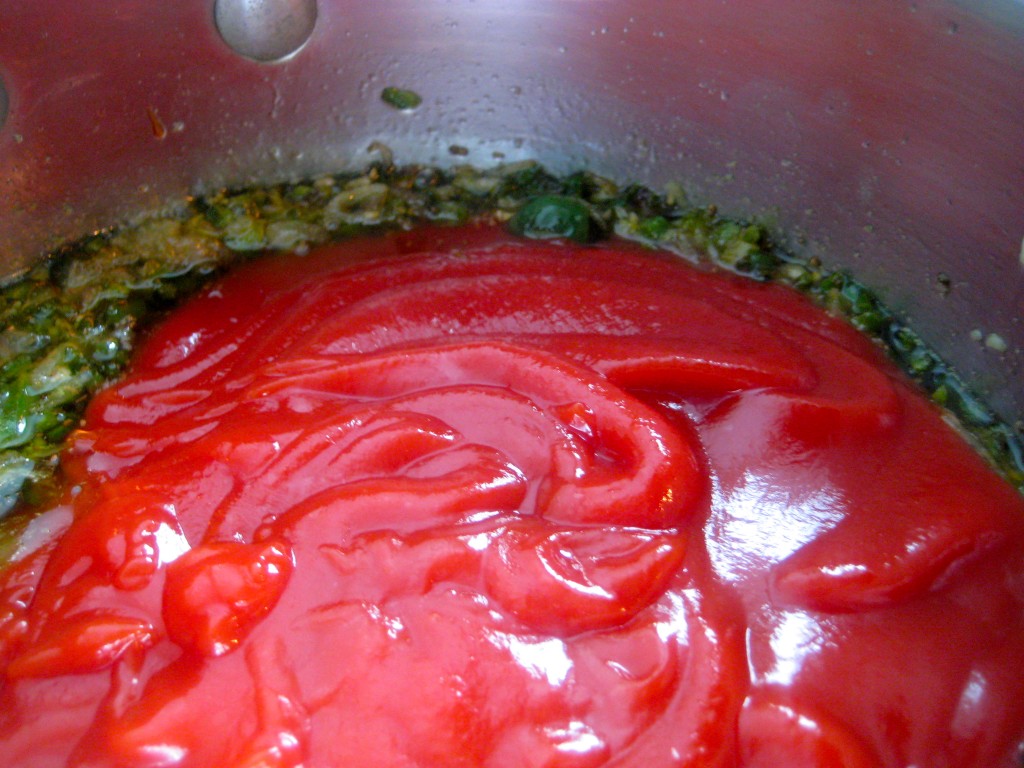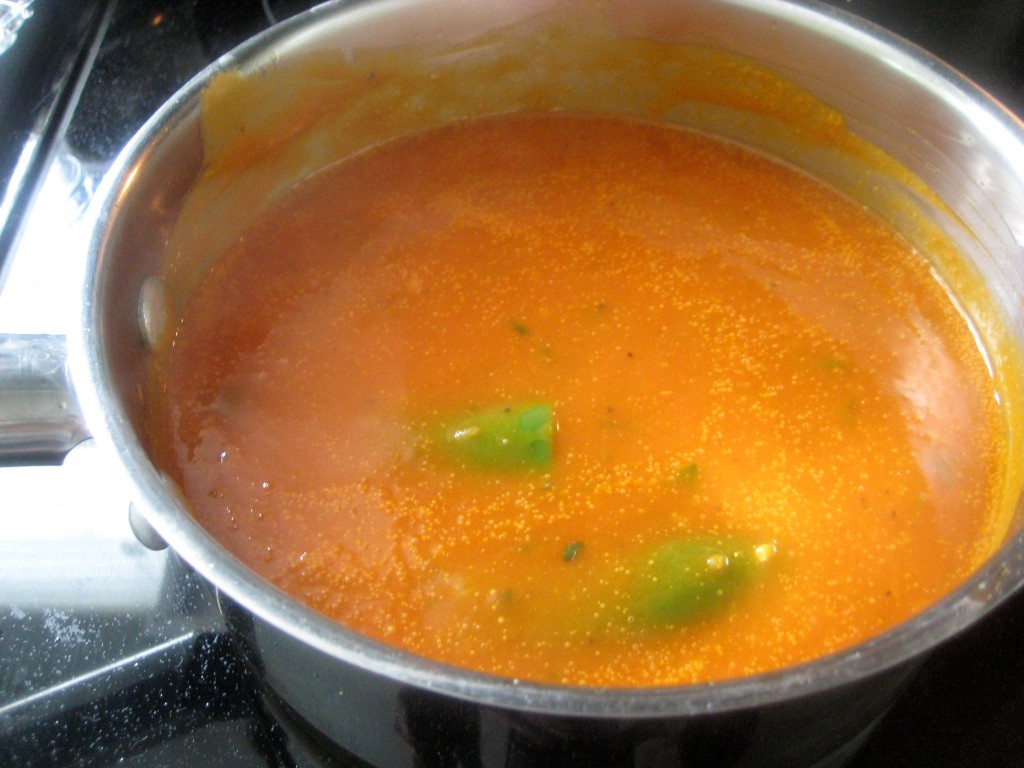 *Add ketchup, mustard, halved jalapeño (seeds and ribs removed), brown sugar, salt, and pepper to pan. Stir. Stir in passionfruit nectar and lemon juice. Heat over medium low heat for 40-70 minutes, or until sauce has reached your preferred state of thick and stickiness (remove halved jalapeño).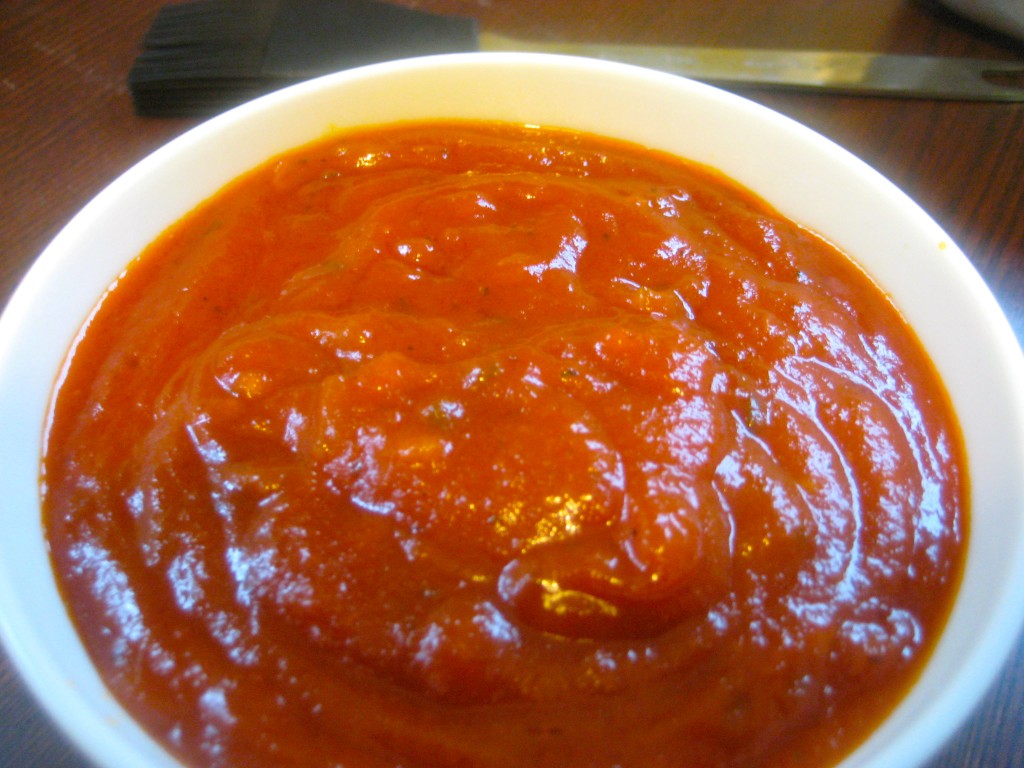 *Preheat oven to 375 degrees F. Slice tempeh into 1/4 – 1/2 inch slices–on the bias (I froze my tempeh first to aid in slicing). Add 2-4 tablespoons of BBQ sauce to bottom of a small baking pan. Add tempeh. Brush BBQ sauce on the top of the tempeh. Bake for 20 minutes. Remove from oven. Preheat grill (indoor or outdoor). Grill tempeh slices for 2-3 minutes per side. Serve with additional BBQ sauce.