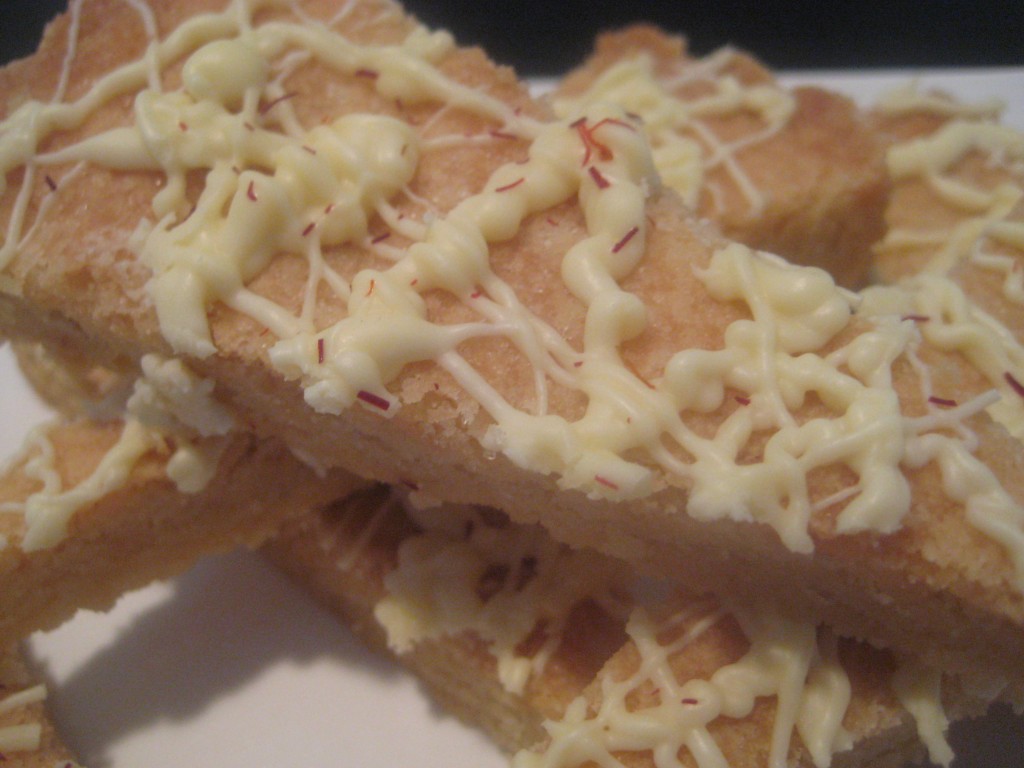 Why is it when we get stressed, or sad, or overwhelmed, we drop the very things that keep us centered and balanced and happy? Even as a psychologist, I cannot answer that one. And even as a food blogger, I cannot say why, if sharing with the blogosphere makes me so happy, I haven't done it in days, despite my time opening up after the 24 x 24 La Primavera party. If and when I discover an answer, I'll be sure to share ;). In the meantime, I am simply relishing in the fact, that something clearly has snapped (in a good way!) because here I am blogging, sharing, and smiling while doing so. It may have been the super supportive conversations I had with friends last night, or the message I received just before going to bed from a friend who had no idea what space I was in. The text was long, but one line sticks out. She wrote, "Life isn't about waiting for the storm to pass, it's about learning to dance in the rain." Her message, so timely, has motivated me to dance, and by dance, I mean blog again!
Before getting to the first of many recipes to come from the La Primavera party, I wanted to thank Irena at My Wandering Spoon and Manu at Manu's Menu for the lovely blogger awards they bestowed onto me. You ladies make me smile and I LOVE your blogs! I also wanted to update folks on the Online Bake Sale for Japan that I blasted on Como Water, facebook, and twitter last week. You'll be happy to know that we raised over $8000 for Second Harvest Japan–THREE TIMES the amount we set out to raise. Collectively, we can make change, and efforts like this are reminders of the life force that lives in us when we join together.
And now…. onto the shortbread… For the party, I really wanted something light for the dessert, which was preceded by a heck of a lot of savory food. So, I went with shortbread. One, it can easily be made vegan, by using Earth Balance, rather than butter. Two, shortbread is crazy simple to make. Three, you can easily fancy shortbread up by adding melted chocolate. Four, shortbread takes to different flavors really well, so you can be super creative. This recipe is for the vanilla-saffron shortbread. That night, I also made orange-vanilla shortbread (using 1 1/2 teaspoons each orange and vanilla extracts), almond-lemon shortbread (using 1 1/2 teaspoons each almond and lemon extracts), and orange-Earl Grey shortbread (using 1 1/2 teaspoons orange extract, along with the tea leaves from the inside of one Earl Grey tea bag). They were hits and I'm already thinking of other flavor combinations to make in the future. I served the shortbread with fresh strawberries and amaretto cream (soy whip whipped with almond extract). This ended up being the perfect light dessert following our decadent meal.
Vanilla-Saffron Shortbread (Printable Recipe)
Ingredients:
1 cup Earth Balance (softened)
1/2 cup sugar
2 cups flour
1 teaspoon cornstarch
1/4 teaspoon salt
1 tablespoon vanilla extract
1 teaspoon saffron (divided)
sugar for sprinkling
chocolate for drizzling (optional)
Method:
*Preheat oven to 325 degrees F. Cream butter, sugar, and vanilla extract. Stir in 1/2 teaspoon crushed saffron. Sift in flour, cornstarch, and salt. Stir until fully combined.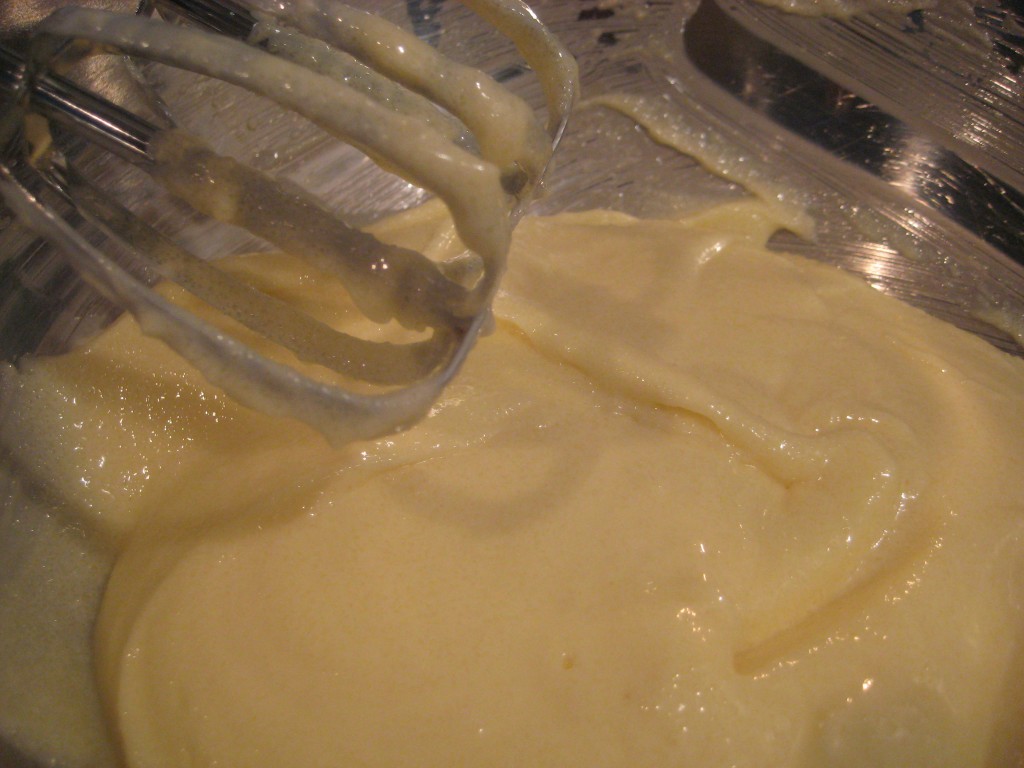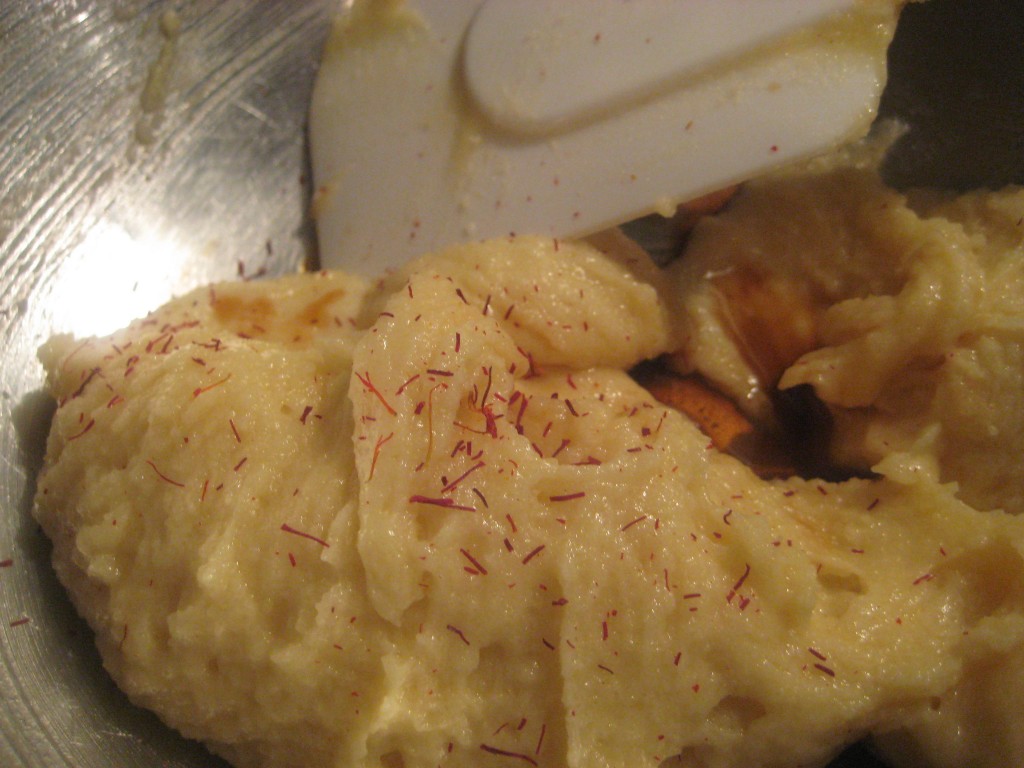 *Press dough into a 9 1/2 inch tart pan with removable bottom. Sprinkle lightly with granulated sugar (~ 1 teaspoon – 1 tablespoon). Bake for approximately 20 minutes or just until shortbread turns light golden brown. Cut shortbread into slices while warm. Remove bottom of tart pan and let cool completely. As an optional step, warm chocolate and drizzle/dip shortbread in chocolate of choice. If dipping/drizzling with chocolate, sprinkle remaining 1/2 teaspoon of saffron onto the shortbread while the chocolate is warm (if not using chocolate, add all of the saffron to the batter before baking).