This is my second granita of the summer and I adored it just as much as the first. Well, in actuality, this is the second granita I made and didn't devour before taking pictures! And I'm dedicating this granita to my Nana. When I was younger, Nana ate watermelon with salt on it and I thought it was the strangest thing in the world. In adulthood, now I realize that tons of people eat their watermelon with salt. So, in thinking about flavor combinations, I thought a salted-watermelon granita would be awesome (I also thought that a salted-watermelon margarita would be awesome! lol :)). I had some fresh herbs on hand, so I put that in the mix and viola! — another awesome granita–sweet, salty, and fragrant! If you're looking for a really easy way to use up the season's juiciest and sweetest watermelon, I definitely recommend this granita!
And in other news, I wanted to tell you all about a relatively new blog on healthy eating: Know Food Now. On this blog, Marsha, features recipes on healthy eating from around the food blogging world, as well as information about seasonal food, making sustainable changes to one's eating habits, and food politics. Check it out and tell her Tiff sent ya :).
Finally,  this weekend, I'm heading back to the new city I'm moving to next month to try to secure housing (once again). Wish me luck! And now… onto catching up on my food blog readin'…
Salted-Herbed Watermelon Granita (Printable Recipe)
Ingredients:
1 cup water
1/4 cup sugar
3-4 basil leaves, plus extra basil for garnish (sugar coated basil leaves)
1/4 of a whole watermelon (~ 1.25 pounds)
1 1/2 teaspoons salt
1/2 teaspoon fresh basil
1/4 teaspoon fresh thyme
1/4 teaspoon fresh oregano
sugar for sprinkling
Method:
*Make sugar-coated basil leaves: wash basil leaves. Sprinkle with sugar. Place on plate and freeze.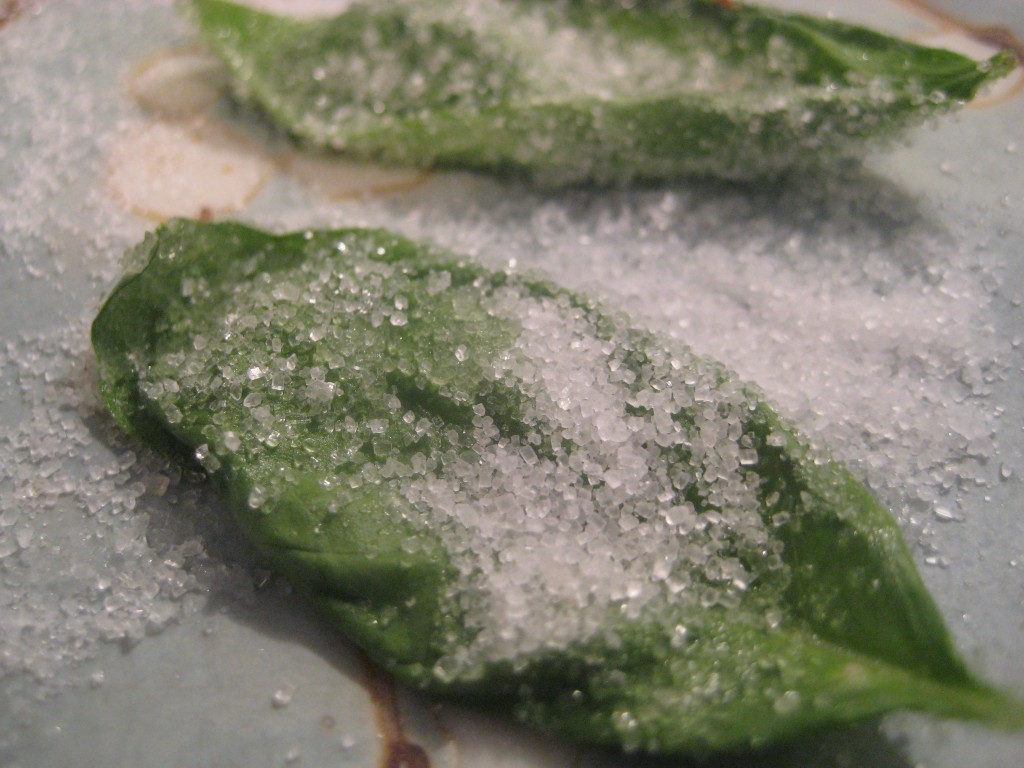 *Make herbed syrup: Bring water, basil leaves, and sugar to a boil. Reduce to 1/2 cup of liquid. Let cool.
*Blend watermelon and herbed syrup until smooth. Add to pyrex dish. Freeze until solid. Scrape mixture with fork until completely scraped. Freeze at least two hours. Scrape again. Freeze at least two hours. Scrape.
*Mix salt and fresh herbs. Serve granita with sprinkled herb salt and sugar-coated basil leaves. Stay cool!