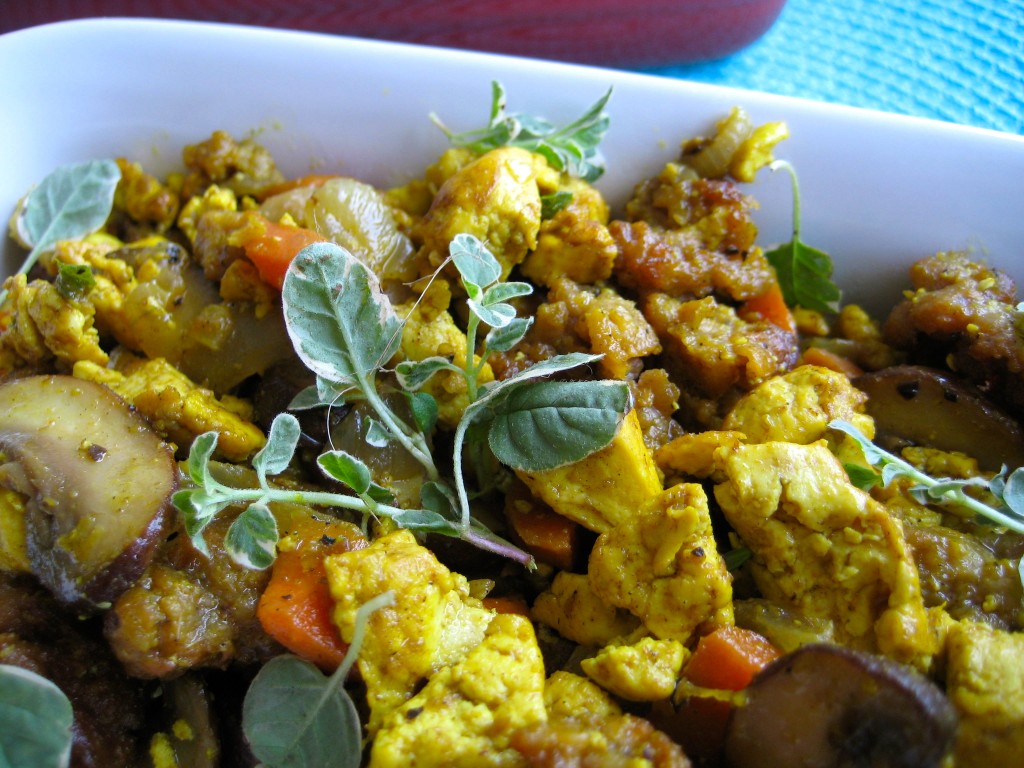 Before getting into this post, I want to say thank you to all of my foodie friends for voting my strawberry chamomile granita Top 9! That's two in one month… June's been good to me, June's been real good. LOL.
Now onto this dish… This post is the last in my Lightlife Fridays series. And although my sister is the queen of tofu scramble, I tried my hand at it, and think that I did a pretty good job! Adding the Lightlife Gimme Lean sausage ramps up the protein and with onions, carrots, and mushrooms, this dish is a great way to sneak veggies into breakfast! (Free free to tweak and add in your favorite veggies!).
Lastly, I wanted to thank all of you who left kind comments wishing me a smooth transition out of NC. So far, so good. A lovely couple bought my car (another hint, I'm moving somewhere where I will not need a car) and I moved out of my apartment this afternoon. I still haven't found anywhere to live in my new city, but I'm going there tomorrow to look at 5 places, so please cross your fingers! And I'm heading home to Western Mass on Monday. I have stockpiled a bunch of recipes, so I plan to stay up on my blogging over the next two semi-hectic months. I also have a great guest post coming up from a community gardener in Durham, and some interesting musings I look forward to sharing with you all. Oh, yes, people… the summer has just begun! Happy Friday! 😀
Tofu Scramble with Sausage (Printable Recipe)
Ingredients:
1 14 oz. block of tofu, drained and pressed
1 package Lightlife Gimme Lean sausage
1/2 Vidalia onion–chopped
1 clove garlic–minced
1 jalapeno–chopped
1 carrot–diced
2 1/2 cups sliced Cremini mushrooms
1/2 teaspoon tumeric
1/2 teaspoon cumin
1/4 teaspoon dry thyme
2 tablespoons water
1 teaspoon Tamari
a few dashes of hot sauce
2 tablespoons nutritional yeast
salt
black pepper
olive oil
Method:
*Drain and press tofu (see this post for more detailed instructions). Chop/prep veggies. Add 2-3 tablespoons of olive oil to a large frying pan. Saute onions, jalapeno, and carrot for 5 minutes. Add a small pinch of salt and a few grinds of black pepper. Add garlic. Saute 2 minutes. Add mushrooms. Saute until veggies are soft. Set veggies aside.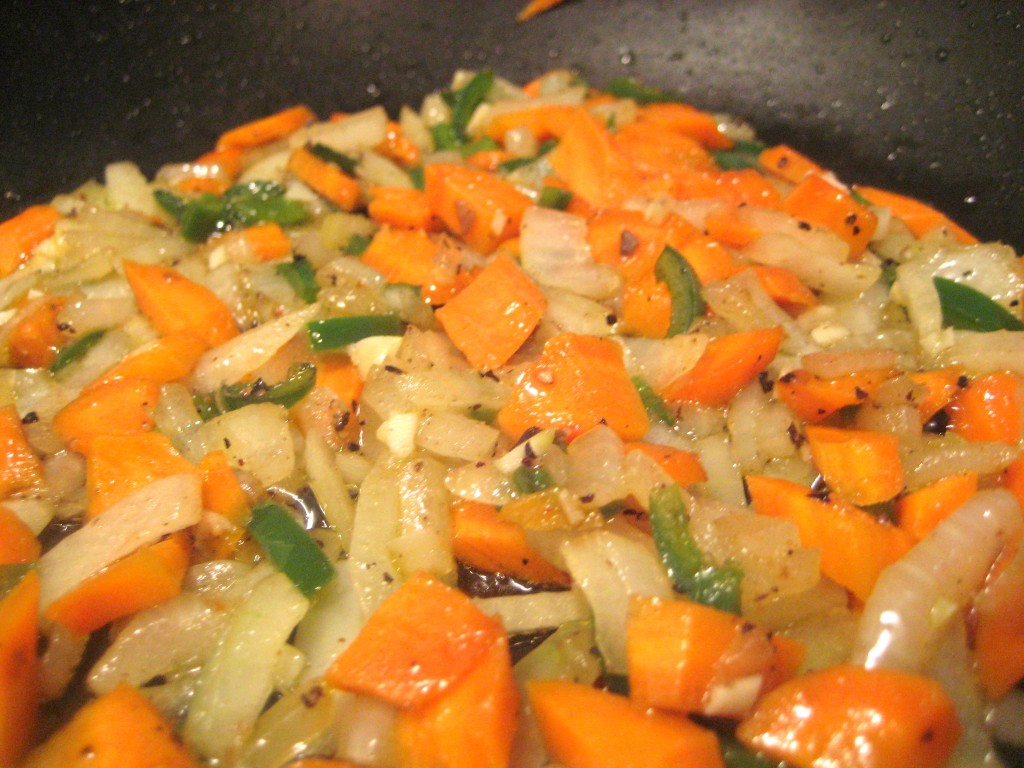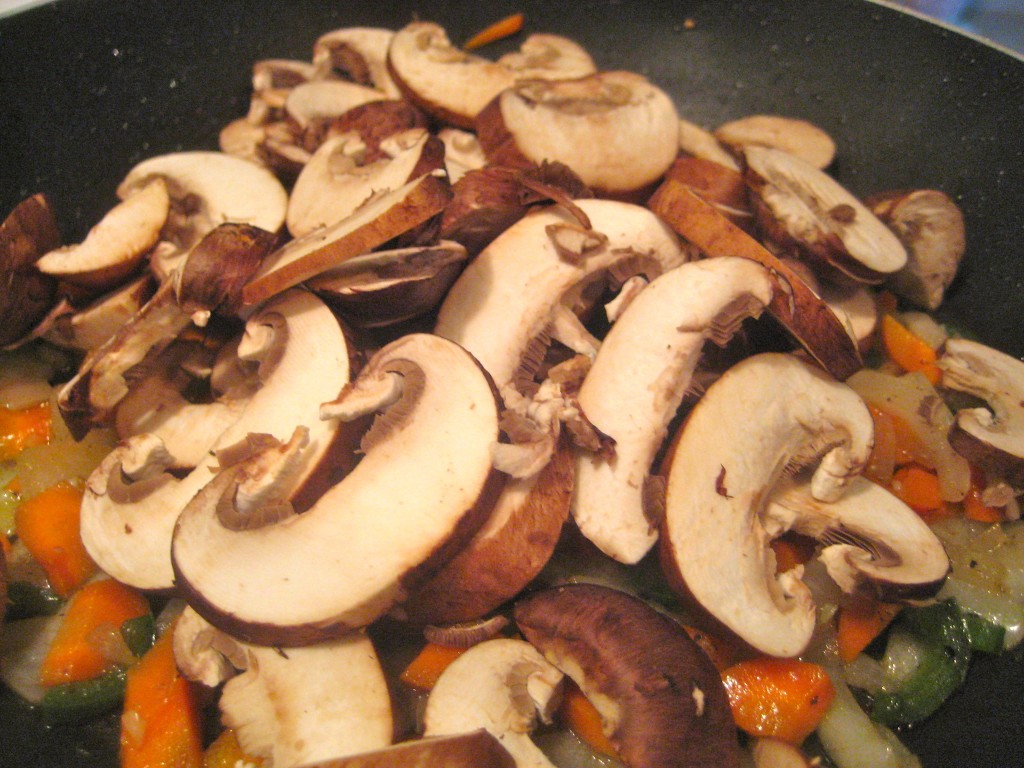 *Add 1-2 tablespoons of olive oil to same pan. Break Lightlife sausage into crumbles. Saute sausage crumbles until they are crispy. Set sausage crumbles aside.
*In a small bowl, mix tumeric, cumin, and thyme. Add water, Tamari, and hot sauce. Mix throughly. Set aside.
*Add 1-2 tablespoons of olive oil to frying pan. Add tofu to frying pan in crumbles. Saute approximately 10 minutes until the tofu is golden brown. Add spice mixture and nutritional yeast. Stir to combine. Cook 2-3 minutes. Mix in sauteed veggies and cooked sausage. Serve with fresh herbs!