I have a tendency to go on kicks…  and I'm on two kicks right now. Kick #1… a Cosby Show kick. While in Ann Arbor, I met up with a friend who said that she was watching the Cosby Show from first episode to last. I was intrigued… and found myself on Netflix following suit. Now, after making my way through Season 1 in less than a week, I think it's safe to say, I'm on a kick. Like many folks, I watched the Cosby Show growing up, but I was Rudy's age, so I watched it from the kids' perspectives. Now, an adult (albeit an adult who doesn't yet have children), I am watching it from Cliff and Claire's perspectives. Hilarious. HILARIOUS, I tell you! 😀
Kick #2… you guessed it… a granita kick. I made my first granita two years ago for a dinner party I was having. I served it as a palate cleanser of sorts–that first granita was a watermelon-ginger granita with vanilla vodka and frozen blood oranges. I've been hooked ever since. So, when a few days ago I found myself too hot to think, I knew a nice, icy granita would cool me down. I had some fresh strawberries in the fridge and chamomile tea in my cabinet. The combination exceeded my expectation and if taste was a feeling, this granita would be like a gentle feather gliding again the back of your hand. I'm not exactly sure why, but something about the chamomile made the granita taste soft. This recipe is a keeper… for sure. Stay tuned for my other granita creations!
Strawberry Chamomile Granita (Printable Recipe)
Ingredients:
3 cups water
6 chamomile tea bags
2 tablespoons sugar or agave
1 cup fresh strawberries–pureed
Method:
*Bring water to boil in large pot. Add tea bags and sugar/agave. Steep the tea bags in the water until the liquid cools to room temperature. Puree strawberries. Blend pureed strawberries with cooled tea. Add the chamomile-strawberry mixture to a 8 x 8 glass dish. Freeze until completely solid.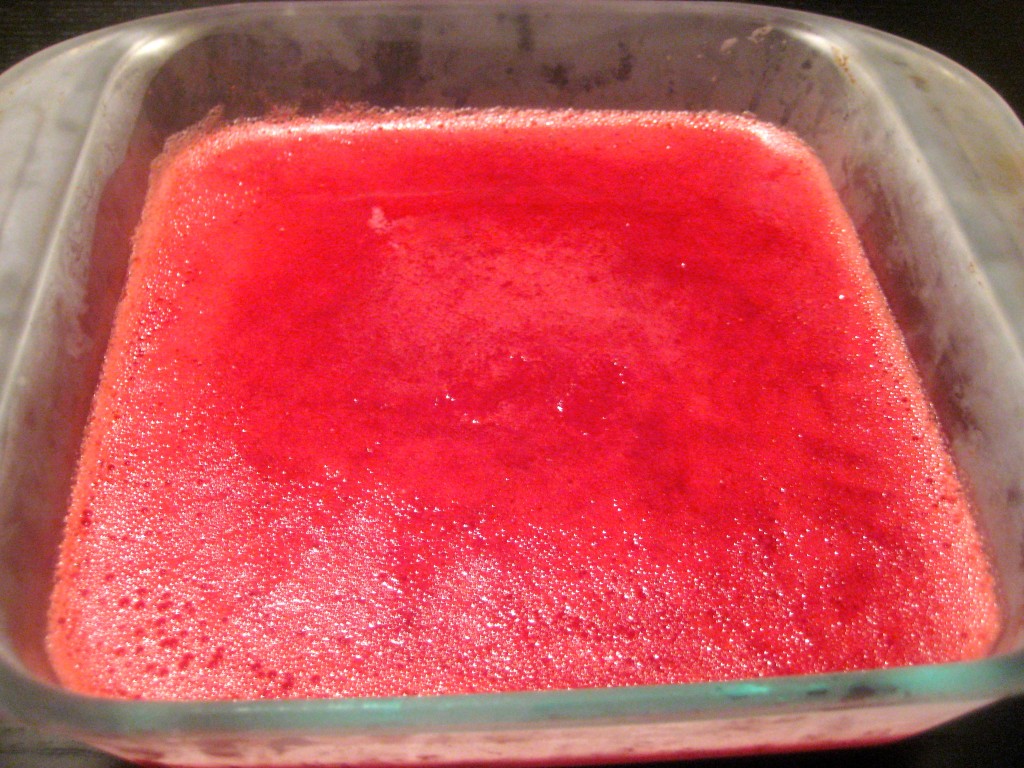 *Scrape the frozen mixture with a fork until the entire dish is scraped up. Freeze approximately two hours. Scrape again. Freeze approximately two additional hours. Scrape for the last time (three scrapes is good!). Enjoy!