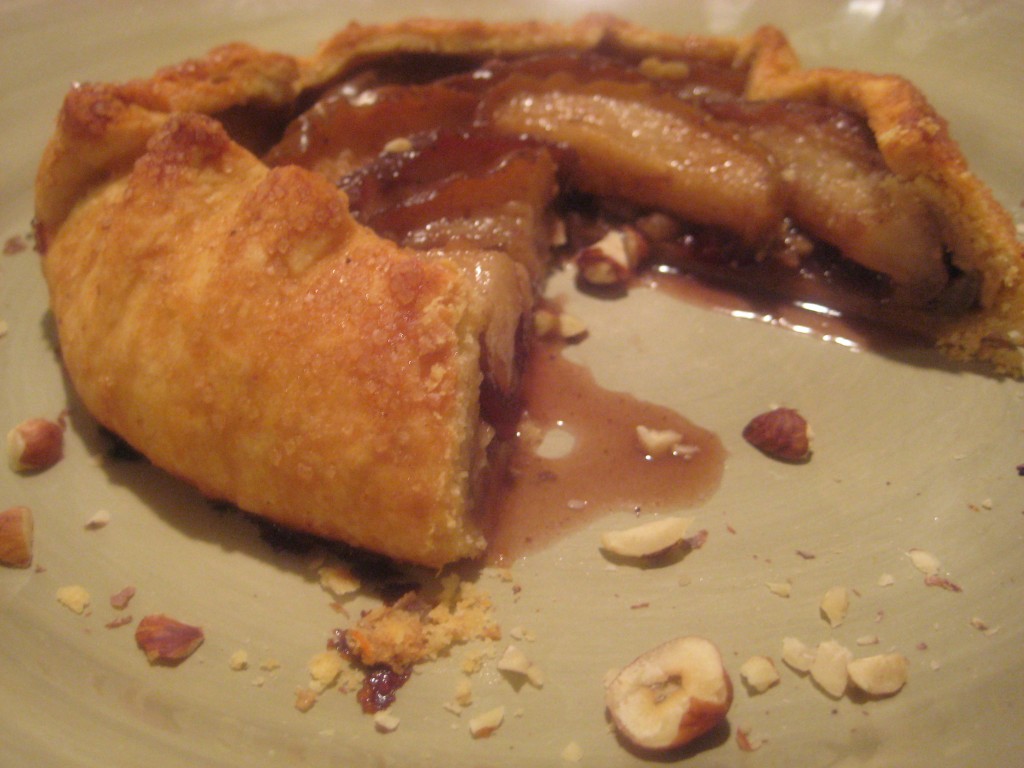 First of all, let me just say, "WOW!!!!!!"  Thank you so much to everyone in the foodie food buzz world for all of your positive feedback and encouragement and enthusiasm for the new comowater.databaseindays.com! I posted on Chef Dennis' site that "I am, because we are" and I realize that more than ever!!! 😀
Now, on to the food! I may have gone a bit overboard with cooking this Christmas, but my brother, nor Andre complained, and now I have lots to share on the blog, so all's good! I've actually made this crostata (galette/tart/pie) three times this month, which should be a testament to how easy to make this is. The first two times I used a store bought pie crust. The third time, after finding out that Andre didn't eat dairy, I decided to make my own … vegan pie crust (for the very first time)!!!  I swear, I should really become the poster child for Earth Balance, because it truly is amazing!
Pear Crostata With Orange-Vanilla Crust
1 pie crust (see recipe below or use pre-made)
2 red Anjou pears–sliced and cored (keep peel on)
5 tablespoons of brown sugar
1/4 teaspoon salt
3 teaspoons earth balance
1 tablespoon cornstarch
1 tablespoon agave
1 tablespoon vanilla
1/4 cup chopped walnuts
1/8 cup dried cranberries
1/2 teaspoon cinnamon
1/8 teaspoon nutmeg
1 tablespoon turbinado sugar
*Preheat oven to 375 degrees F.
*Cut pears into eighths. Add to baking dish with 2 tablespoons of brown sugar, 2 teaspoons of earth balance in pats, cinnamon, and nutmeg. Roast in oven for 15-20 minutes, until pears are barely soft and the sugar is bubbly.
*Roll out pie dough and place onto cookie sheet. Add remaining brown sugar, walnuts, and cranberries to center of pie dough leaving a 2-3 inch border around the dough (you'll be folding up the dough).
*In a bowl combine pears (drained, use slotted spoon), vanilla, cornstarch, agave, and salt. Mix. Arrange pears on top of prepared pie dough. Pour remaining syrup on top of the pear mixture (reserve 1 tablespoon of syrup). Fold up pie dough around fruit. There should be fruit peaking out the center (it's very pretty!).
*Melt last 1 teaspoon of earth balance and combine with 1 tablespoon of cooking syrup. Brush pie dough with this 'butter-syrup' mixture; sprinkle with turbinado sugar and cinnamon. Bake in preheated oven approx. 20-30 minutes or until golden brown.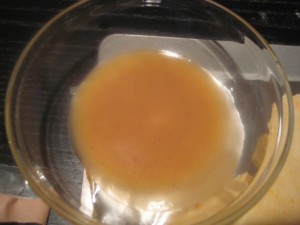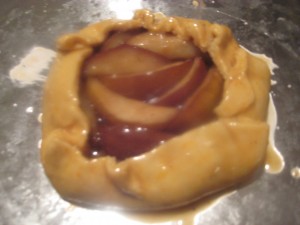 (I wasn't going for the sexy look in these pictures… I got some earth balance on my lens and thought my eyes were just blurry from lack of sleep… that was until Andre came over and told me I had butter on my lens! Hahahaha!)
Some Notes: 1. Always thinking about simple ways to infuse more flavor into my dishes, I added vanilla extract and orange zest to the pie dough before baking. The extra flavor was subtle, but definitely worth the small extra step. 2. I wanted the crust to shine, so I blended 1 tablespoon of the cooking syrup from the pears with 1 teaspoon of melted earth balance and brushed it on the dough before baking. Viola! The crust browned beautifully! 3. Last, I want to (re)emphasize how simple this crostata is! The first time 'I' made it, actually 'we' made it. The youth at SEEDS and I prepared this crostata for the final SEEDS lunch of the year. Everyone marveled at how pretty it was. And on Christmas, my brother told me that he wasn't expecting it to taste as good as it did because he's never heard of pear pie before. This crostata is a hit!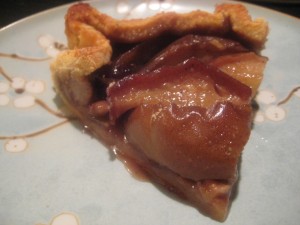 Orange-Vanilla Pie Crust Recipe
1 tablespoon vegan cream cheese
1/2 cup earth balance (cold, and in pats)
1/8 – 1/4 cup ice cold water
*Mix flour, salt, sugar, and zest in bowl. Add to bowl of food processor. Add vanilla, cream, earth balance. Pulse in food processor until combined and butter is in small pea sized pieces.
*Add vanilla and 1 tablespoon of water. Pulse. Keeping adding water 1 tablespoon at a time and pulsing until dough just begins to form and pulls away from blade. You may not use all of the water.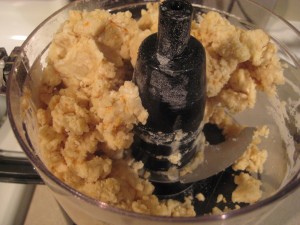 *Add a bit of flour to the surface of your counter. Knead dough a few times. Form dough into a thick flat disk and wrap with plastic wrap or foil and refrigerate.