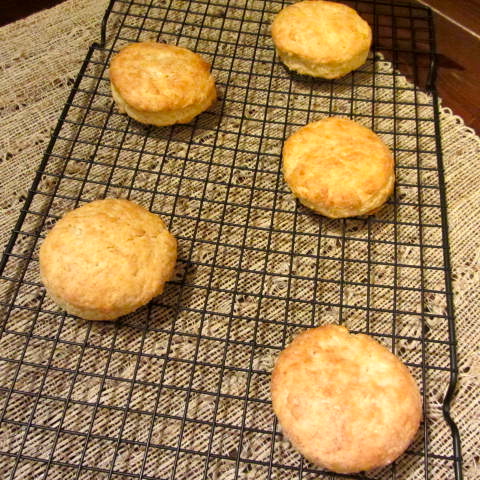 This is turning out to be quite the summer! Yesterday, I arrived back to DC… from Nairobi, Kenya! Yes, I know in my last post, I mentioned being in Austin. Well, right after going to Austin for holiday, I hopped on a plane and flew to E. Africa for three days for work. It was quite the journey! I flew through Dubai, an airport I had never been to, and had a series of great meetings (and even better Indian food :D). Now, I'm back in DC and trying to get back into the swing of things. This includes fulfilling a promise I made to you all while in Austin–posting my vegan biscuits recipe!
As mentioned, I had been working on this recipe for awhile. For some reason though, I just couldn't get the proportions just right. Then I switched from using almond and soy milks to using coconut milk. Viola! Perfection. The relatively high fat content of the coconut milk, in conjunction with the buttery-ness of the Earth Balance made these biscuits heavenly! I also discovered that brushing the top of the biscuits with coconut milk gave them a brilliant golden color (I baked some with brushing and some without brushing, trust me–brush!). If you're using the biscuits in a sweet application, feel free to sprinkle with a bit of sugar on top before baking. Otherwise, I would skip the sugar and just bake after brushing. These were amazing in the shortcakes I featured in my last post and were also fantastic for breakfast the next morning.
I know, I know, you may not want to turn your oven on at this time of the year. BUT if you do, make these biscuits why don't you? And then, relish in all of their buttery, flakey, golden glory! Have a happy day folks! And I'll be back next week with a review and another recipe! 😀
Vegan Biscuits
Ingredients:
2 cups all purpose flour (plus some for kneading)
1 tablespoon baking powder
½ teaspoon salt
1 teaspoon sugar (optional, plus some for sprinkling)
½ cup very cold Earth Balance
1 cup very cold light coconut milk (plus some for brushing)
 Method:
*Preheat oven to 450°.
*Add flour, salt, sugar and baking powder to food processor and pulse for a few seconds to combine.
*Add Earth Balance to food processor in small pieces (remember to work quickly… your hands are warm!). Pulse 6-8 times and check for the size of the Earth Balance pieces. Repeat if necessary until the Earth Balance is in pieces roughly the size of peas.
*Put flour mixture in a large bowl and add the cold milk. Toss together gently until barely combined.
*As soon as the dough holds together, turn it out on a lightly floured counter. Gently knead the dough until it is a mostly a cohesive ball, add additional flour if necessary. (Do not overknead here, just a few times in plenty).
*Roll the dough into a rectangle 1/2-3/4 inch thick, depending on how tall you like your biscuits. Cut into circles, you should get 6 to 8 biscuits. Place circles on a parchment lined cookie sheet.
*Lightly brush the top of each circle with coconut milk and lightly sprinkle with sugar (note: these two steps are optional, but they give the biscuits really nice color). Bake for 10-12 minutes, or until they are golden brown. Enjoy!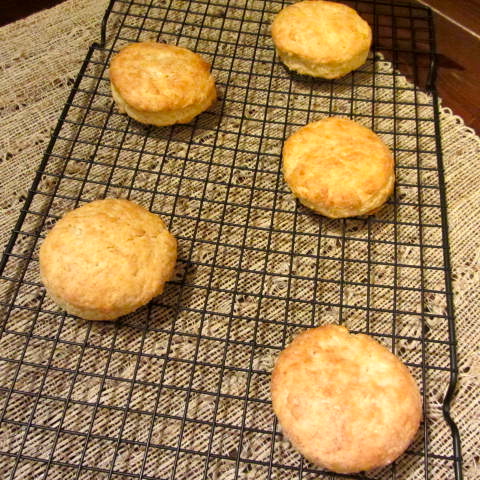 Notes:
I used light coconut milk. Feel free to use an alternative type of milk (i.e., soy, almond, etc.).
I use a food processor to cut up the Earth Balance. If you don't have a food processor, you can use a large fork, a pair of butter knives, or just rub the butter and flour gently between your fingers to create the same effect. Your hands will warm the Earth Balance a little bit, so if you have time to chill the dough briefly after doing this, do – your biscuits will be flakier.
There will be some dough left over after you cut the biscuits. You can re-roll the dough and cut more biscuits. If you do not need all of the biscuits at once, smoosh the dough into a ball, wrap it in plastic wrap and stick it in the refrigerator. It will keep for about a week.