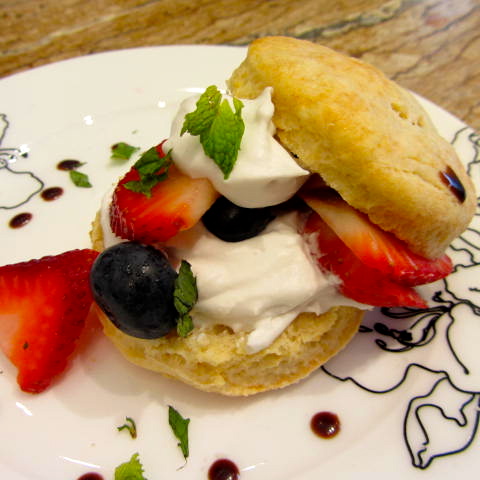 In honor of the 4th of July, I present my vegan strawberry and blueberry shortcakes! They begin with my vegan biscuits–a recipe I had been working on for quite a while. I'll share the recipe in my next post (sorry to be a tease, but I've got to keep you coming back don't I? ;)). After feeling like I had nailed the biscuits, I thought the only fitting thing to do would be to douse them with whipped coconut cream, fresh berries, mint, and balsamic. A grown up shortcake! And nothing short of spectacular!!! I hope those of you in the States have a Happy Holiday, and I'll be back soon with the biscuits recipe!
(Sorry for a short post, but I need to get back to enjoying my last few days in Austin. And by enjoying, I mean eating lots of food! Haha!).
Strawberry and Blueberry Shortcakes
Ingredients:
Vegan Biscuits—(Recipe coming soon)
Fresh strawberries—washed and sliced
Fresh blueberries–washed
1 can full fat coconut milk—very cold
1 tablespoon sugar (optional)
1 teaspoon vanilla (or other) extract (optional)
Fresh mint (optional)
Balsamic (optional)
 Method:
*Place the can of coconut milk in the refrigerator and leave it there until well-chilled (at least 2 hours); I usually leave mine in overnight. Open the can of coconut milk. There will be a firm layer on top.
*Drizzle strawberries with balsamic (about 1 tablespoon per pint of strawberries). Set aside.
*Scoop out the firm layer of coconut cream that has solidified at the top of the can. Stop as soon as you reach the water at the bottom of the can. (You can use the remaining water for smoothies). Place the cream in a large bowl. Using a hand mixer, whip for 3 to 5 minutes, or until the coconut cream becomes fluffy and light. Mix in sugar or vanilla, if using.
*To assemble: slice each biscuit. Add some cream and fruit to the bottom slice. Top with biscuit top. Add a wee bit more cream and fresh mint. Enjoy!