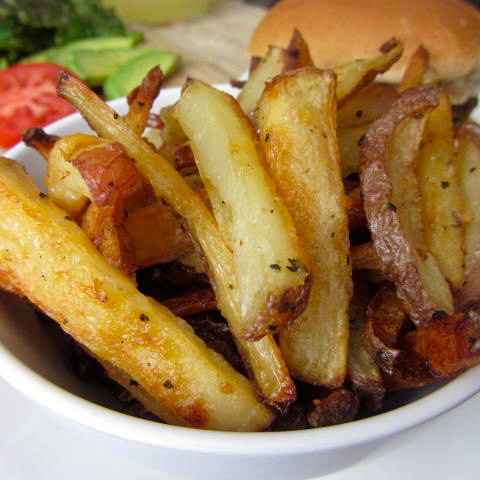 This summer has truly been one of the most exhilarating (read, exhausting!) summer's of my life. From huge life decisions to reconnecting with some of my best friends from grad school to Manhattan and Brooklyn to Austin back to DC for a week to Dubai and Kenya to DC for two weeks, and now getting ready for Utah, Honolulu, Utah, DC (but just for 5 hours) to Rwanda (a la Amsterdam) to Kenya to Ethiopia to Toronto (al la Rome) to DC (but just for a day!) to San Diego to LA to San Diego to DC (to move to a new apt.) to Springfield and finally back to DC–all by August 31st. Writing it out like this makes me realize that I may have a little problem biting off more than I can chew :).
But like any superwoman in training, I know deep down inside that I'll pull it off–while still managing to (barely?) stay afloat at work, still managing (barely?) hit the gym a couple of times per week, and still managing (totally!) to keep in contact with my friends, family, and of course, Como Water readers!
With the colors of the Fall and cooling temps and diminishing humidity will come more stability for me, and I'd be lying if I said that I wasn't looking forward to it. In the meantime, I'll keep on keepin' on, and sharing with you when I can!
Sharing recipes like these roasted garlic potatoes. Now, anyone who knows me knows that I love me some roasted [fill in the blank here]. So, when a friend brought me some super pretty red potatoes, I immediately thought of burgers and fries. But because my tummy doesn't really do so well with fried foods, I decided to roast the potatoes. And I made them "fancy" with a roasted garlic olive oil mixture.
These potatoes were super fragrant, almost sweet, and totally crispy (without the deep frying!). Next time, I plan to make them with sweet potatoes–an equally delicious treat, I'm anticipating. Until then, I leave you with this recipe and a tease… for the super observant of you, you'll see a bun in the background. And where there's buns, well, there's burgers (and apparently avocado)… stay tuned for my next recipe, when you'll find out just what kind of burger filled that bun!
Happy Thursday everyone! 😀
Roasted Garlic Roasted Potatoes
Roasted Garlic Ingredients:
1 head garlic
1 tablespoon olive oil
salt
pepper
Method:
*Preheat oven to 400 degrees F. Cut the head of garlic in half. Drizzle the olive oil on the exposed/cut part of the garlic head. Sprinkle with salt and pepper. Wrap in aluminum foil. Roast for ~30 minutes, or until garlic cloves are completely soft. Set aside.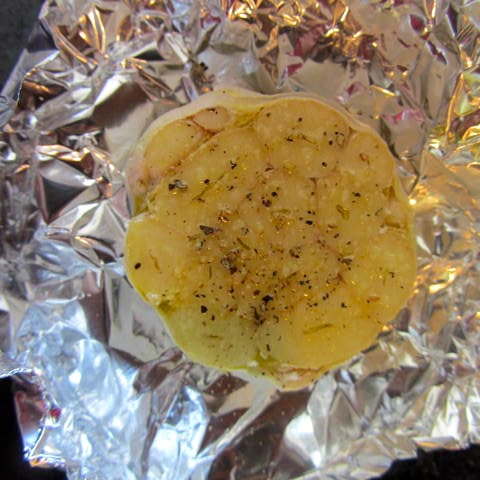 Potatoes Ingredients:
1 head roasted garlic (see above)
7 red skin potatoes–washed and cut into strips
1/4 cup olive oil
salt
pepper
1 teaspoon parsley–chopped
Method:
*Preheat oven to 400 degrees F. Add potatoes to a large bowl. Toss with 1/2 of the olive oil. Sprinkle with salt and pepper. Add to large baking pan. Roast 30 minutes, turning once. While in the potatoes are in the oven, mix the remaining olive oil with the roasted garlic pulp. Set aside.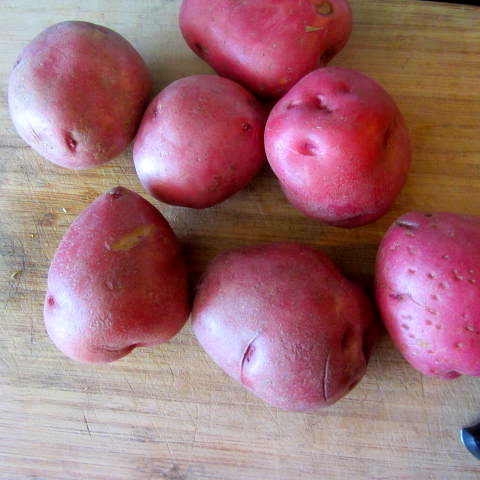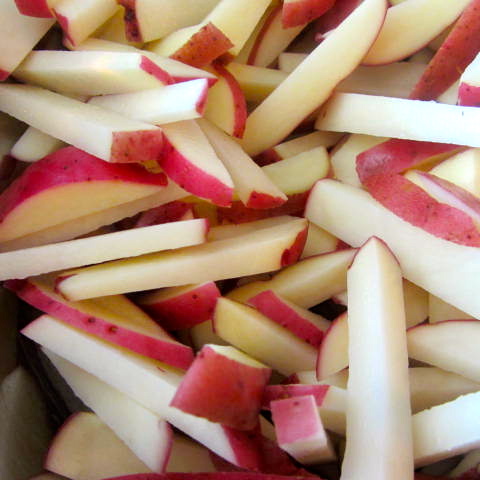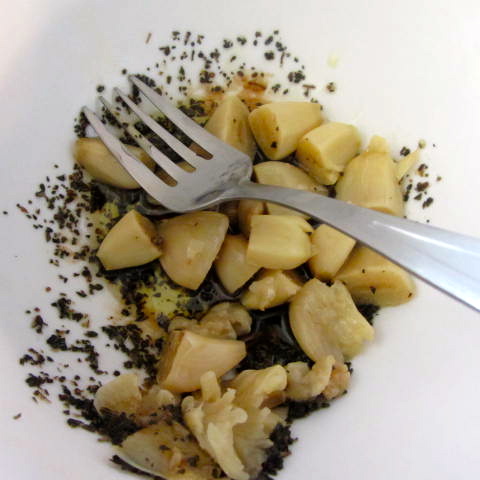 *After 30 minutes, remove potatoes from the oven. Add the partially roasted potatoes to the oil/garlic mixture. Toss liberally. Bake 10-15 additional minutes, or until crispy. Enjoy with your favorite condiments!