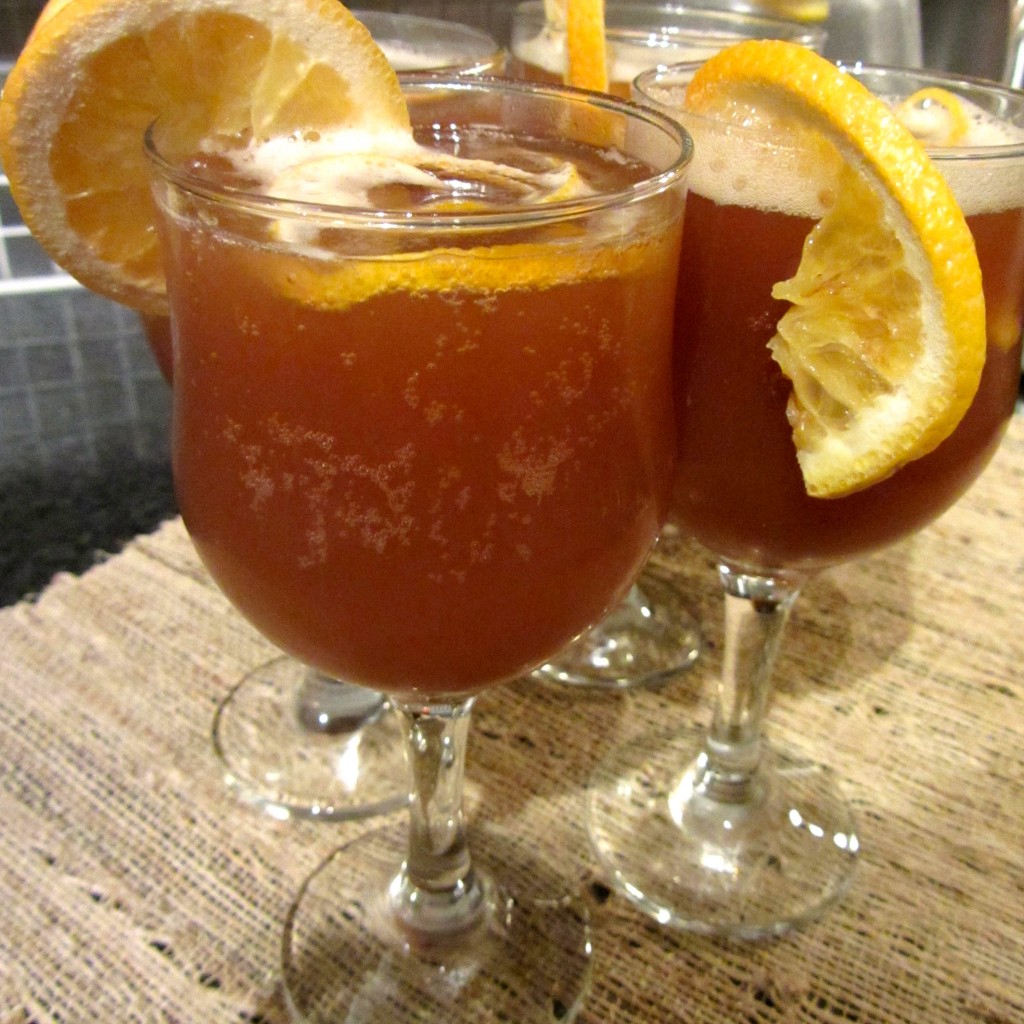 HAPPY Friday folks! My word I have had a long week! But for every long week, there's a weekend that follows. Ahhhhhh, weekends. I'm so happy the weekend's here. It's still pretty warm here in DC (although the humidity is dissipating!) and I couldn't think of a better way to enjoy these last few days of warm weather than with tea. Not saccharin sweet tea. Nope. Refreshingly fragrant, slighly spicy, incredibly effervescent, and mildly sweet tea. Sparkling Tea. Perfect for the fall tea. Ahhhhhhhhhhhhhhh, it's finally Friday tea!
Orange Ginger Sparkling Tea
Ingredients:
2 fresh oranges
3 inch piece ginger root–divided
4 cups water–divided
3/4 cup sugar–divided
4 tea bags
1 liter bottle seltzer water
candied ginger (for garnish)
Method:
*Add 3 cups water to a medium sized sauce pan. Bring to boil. Add tea bags and 1/2 cup sugar. Turn off heat. Let steep. Set aside.
*Peel and slice ginger root. Add 1/2 of ginger root to blender. Blend with the juice and pulp of one orange and 1 cup of tea. Strain. Add to remaining tea. Stir. Set aside.
*Add the other 1/2 of ginger root to small sauce pan along with remaining 1 cup water and remaining 1/4 cup of sugar. Stir. Bring to a boil. Reduce by 3/4 (or until you have a thick, sticky syrup). Mix tea mixture (bags removed) and ginger syrup mixture. Stir.
*Place one piece of candied ginger in each serving glass, along with 1-2 ice cubes. Add 1 part ginger-orange-tea mixture to 2-3 parts seltzer to each glass. Stir. Serve with orange peel/orange slice garnish (from remaining orange). Enjoy!