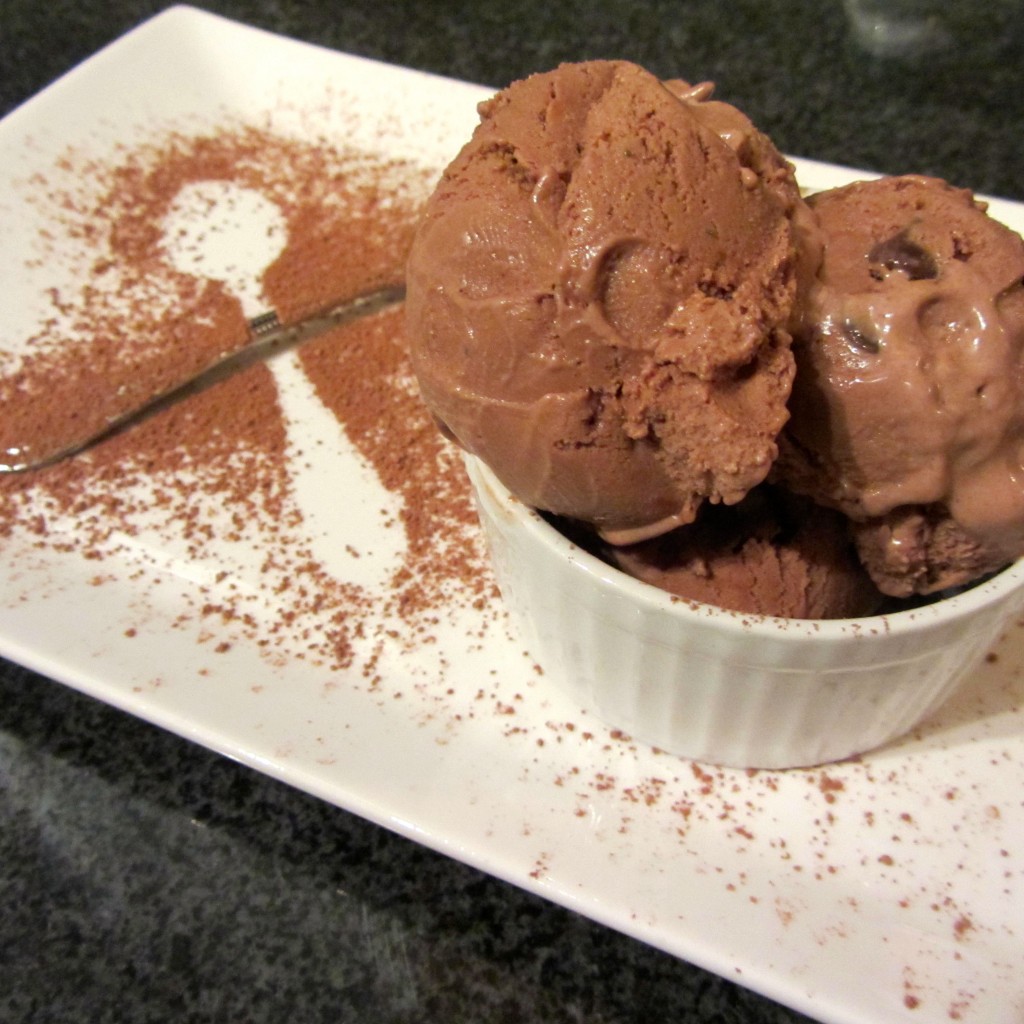 It's Monday, but it doesn't need to feel like with this chocolate, chocolate chip lavender ice cream! June was "frozen treats month" on Como Water, but I didn't actually post a frozen treat until the last week of the month, sooooooo, I decided to extend the frozen treats posts throughout the summer! July is "spices month," so I thought I'd begin the month with some frozen treats that highlight spices, herbs, and/or florals. To kick off the month, I give you my vegan chocolate chocolate chip lavender ice cream. The secret to this silky, smooth, and rich ice cream? The silken tofu! The hint of lavender adds depth and a touch of elegance without being pretentious–just perfect for another scorching summer day!
Want to try this ice cream yourself? Well, the lovely folks over at Nasoya, have offered to host a giveaway so that you can! Here's what you could win: 5 coupons for a Nasoya product, a pair of Tofu-U shorts, and a copy of the book SporkFed. Here's how to enter (leave a comment below for each action you take):
1. Leave a comment indicating what your favorite ice cream flavor is.
2. Became a fan of Como Water on Facebook.
3. Follow Como Water on Twitter.
4. Tweet this giveaway.
5. Become a fan of Nasoya on facebook.
Five ways to win!!! I'll pick the winner at random on Saturday and will post the winner this weekend. Good luck! And stay cooooooooool! 😀
Chocolate Chocolate Chip Lavender Ice Cream
Ingredients:
1 block silken tofu
¾ cup sugar
½ cup cocoa powder
1 can coconut milk
1 teaspoon vanilla extract
1 teaspoon to 1 tablespoon dried lavender petals
½ cup chocolate chips
Method:
*Add tofu to blender. Blend until completely smooth. Add sugar, cocoa powder, coconut milk, and vanilla to blender. Blend until mixture is fully incorporated and smooth. Add to ice cream maker and follow manufacturer's instructions. Once ice cream mixture has thickened and resembles a thick milkshake, add lavender and chocolate chips. Let the ice cream maker run a couple of additional minutes. Freeze until frozen. Enjoy!