Sometimes you win some and sometimes you lose some. This, my friends, was a loss. The failure? Not the concept. I still think the concept was great. My failure was in the proportions (i.e., the execution). Remember my "benefits of spirulina" post? Well, in that post, I talked about how spirulina has arguably the highest concentration of protein of any plant-based food. Since that time, I've been putting spiriulina in my daily smoothie, and I've been trying to think of ways to switch it up and thought about a granola bar packed full of nuts and other goodness–including, you guessed it, spirulina. Since this is "diversify your grains" month on Como Water, I also wanted to include a unique grain in the mix, so I included millet, in addition to the traditional oats.
So, what will I do differently next time? I plan to use 1/4 cup of all of the mix-ins below, rather than 1/3 cup. And I plan to use just 1/4 cup of millet (this was definitely too millet-y). Finally, I might up the peanut butter to 1 1/2 cups because in the end, my granola bars ended up being a combination of granola bites and actual granola. That being said, it was moderately tasty mixed into yogurt and as an in-between-meetings snack. Still, my taste buds know that it can be better, so I'll update you all when I tweak the recipe successfully.
Sooooooo, the moral of the story is… even food bloggers have off days. And when life gives you lemons, make lemonade. Or rather, when your proportions for granola bars are off… change your recipe title to "energy bites and granola"! 😀 Happy Monday everyone!
Spirulina Millet Energy Bites and Granola

Ingredients:
1o dried, pitted dates
1/3 cup pepitas–roughly chopped
1/3 cup candied ginger–roughly chopped
1/3 cup raw pecans–roughly chopped
1/2 cup dried, shredded (unsweetened) coconut
1/3 cup sliced raw almonds–roughly chopped
1/4 cup dried cranberries–roughly chopped
1 cup crunchy peanut butter
3/4 cup millet
2 1/2 cups old fashioned oats
1/4 cup Earth Balance–melted
2 tablespoons olive oil
1/4 cup raw agave
2 tablespoons brown sugar–melted
1 teaspoon vanilla extract
1 teaspoon Tamari
1 teaspoon cinnamon
1/4 cup spirulina
Method:
*Preheat oven to 325 degrees F. Line 9″ x 13″ baking dish with parchment (or foil). Spray with cooking spray. Set aside. In a large bowl, mix pepitas, pecans, coconut, almonds, cranberries, ginger, cinnamon, oats, millet, and spirulina. Set aside.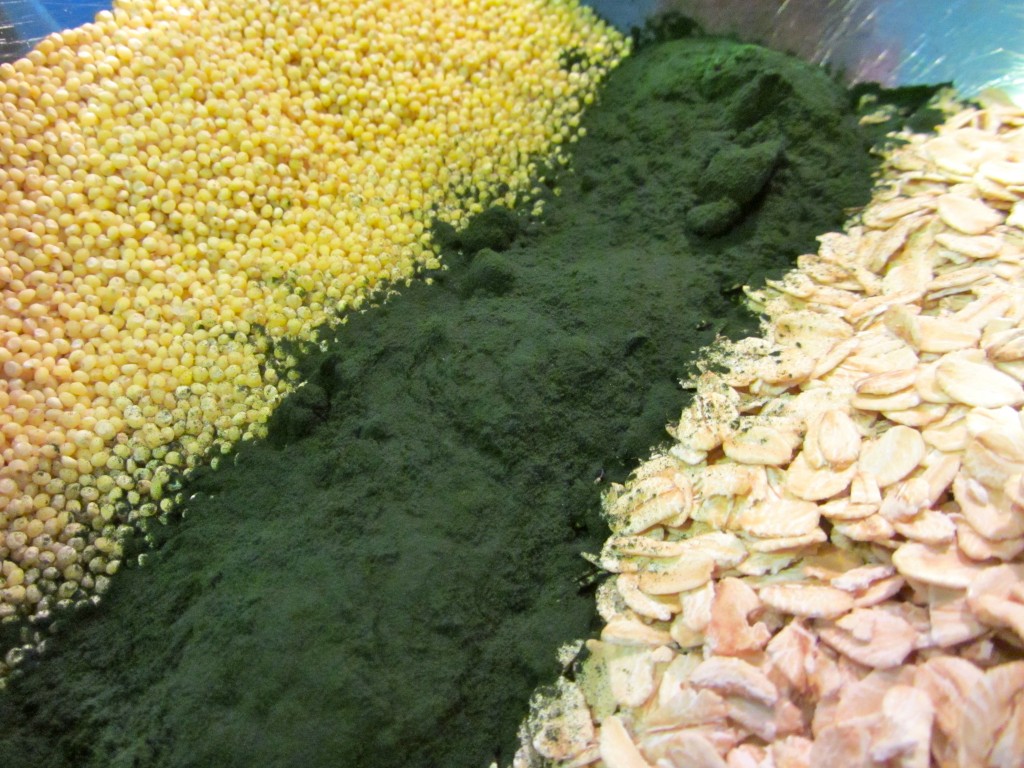 *In a blender or food processor, mix dates, peanut butter, Earth Balance, agave, brown sugar, vanilla, and Tamari. Mix "wet" mixture with "dry" mixture. Press into baking dish. Bake for 25-30 minutes. Allow to cool completely. Score with sharp knife (or break up into granola!).