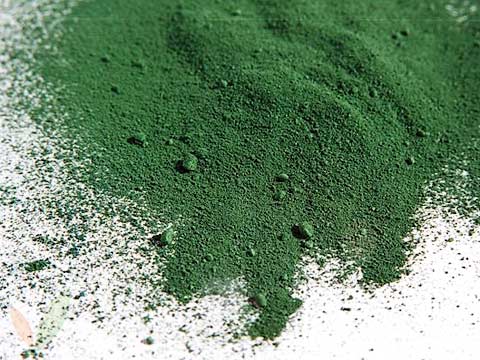 Spira-What??? Spira-where? Spira-WHO!?!?!  Spirulina! I couldn't think of a better way to end "Juices, Smoothies, and Superfoods" month than by introducing you to one of the most potent superfoods ever! Spirulina.
Spirulina is microscopic blue-green algae living both in sea and fresh water. Spirulina has been a food source for ancient cultures (i.e., Africans in Chad, Native Americans living throughout Central and South America) for centuries. In the 1960s, spirulina got on the radar of French researchers, and since that time, more and more Westerners have recognized its health benefits and advocated for its consumption.
Spirulina is arguably the most potent plant-based protein source known and also packs iron, magnesium, beta-carotene, and calcium among other essential nutrients for healthy functioning. It also has antiviral and antioxidant properties, and is believed to help regulate insulin and help control sugar cravings. Spirulina comes in tablets or gel caps, as well as in powder or flakes form, which can be dissolved in hot liquids, sprinkled onto foods, or incorporated into dishes (and smoothies and juices!).
Because February turned into Craz-ruary, I decided that this post will serve as an introduction–both to spirulina and to Nutrex Hawaii, the company I get my spirulina from. I'm currently working on a couple of spirulina-based recipes that emphasize it's lovely emerald color (I'll give you a hint–one is sweet and one pays homage to Dr. Seuss who was from my hometown!). Until those recipes are finished and posted though, I'll leave you with a recipe from Traci at Nutrex Hawaii (thanks for sharing Traci!!!).
Spirulina Pate
Juice of half a lemon
1 tablespoon olive oil
1 teaspoon spirulina (flakes or powder)
1 teaspoon soy sauce
1 clove garlic–crushed
*Mix the spirulina with the garlic. Add the lemon juice and soy sauce Mix well with a form. Stir in the olive oil. Serve on toast or crackers with slices of tomato and onion (optional).
Oh, and if you have time, head over to visit Nate and check out my guest post on mindful eating!
Happy Wednesday everyone!!! 😀