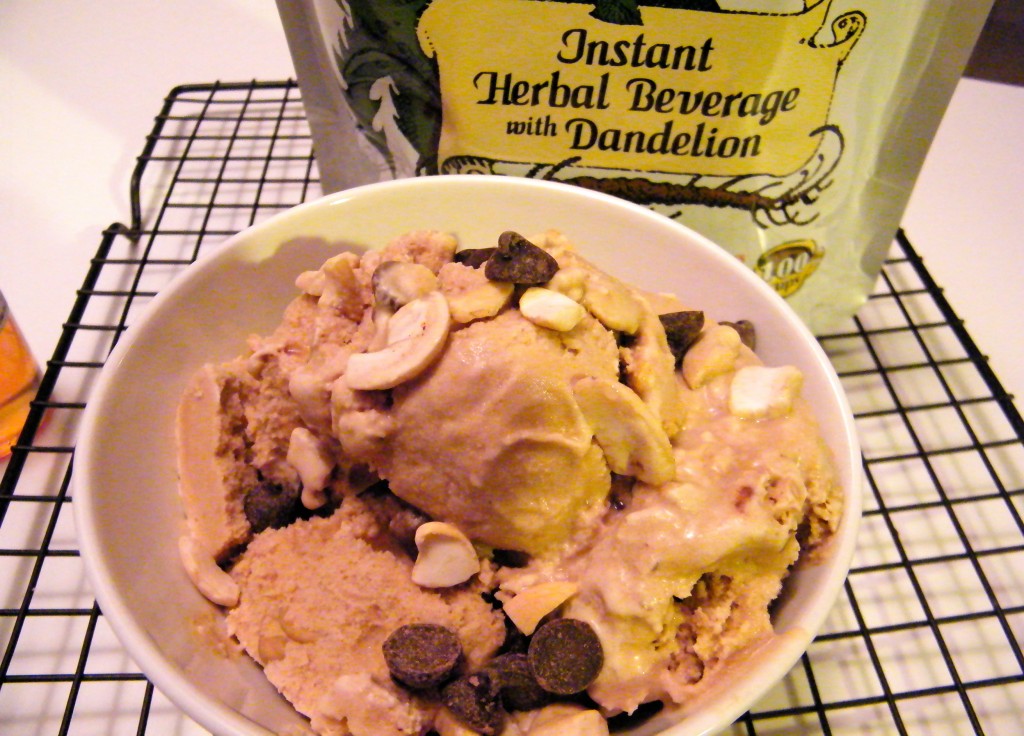 First things first–the winners of the Food Matters DVD giveaway! Join me in congratulating: Ashley, Kara, Jamie, Rachel, and Sandra! Congrats ladies and I hope you enjoy the film as much as I did!
Well folks, when one door closes, another one opens. So don't fret if you did not win the Food Matters giveaway. I am hosting another one, right now!
Last year, at one of the last dinners I had in North Carolina, my friend started talking about the health benefits of dandelion root. Now, if you are like me, dandelions bring about memories of singing buttercup buttercup while rubbing flowers on someone's chin (oh wait, was I the only one who did that as a kid? lol). But in fact, dandelion root is a rich source of beta-carotene, fiber, potassium, and other essential vitamins and minerals.
AND… Roasted and coupled with a few other ingredients, dandelion tastes like coffee! Who knew?!?!?!? Not me. But I was super excited to learn this because I love the taste of coffee, but I am super sensitive to its effects. It makes me anxious. I can feel my heart beating when I drink it. And it makes me shake. Even decaf, I'm sad to say. Which is why in the end, I decided that drinking coffee just wasn't worth the side effects and gave it up months ago. Sigh. But as I said earlier, when one door closes, another one opens! Helllllllooooooo Dandy Blend! 😉
Dandy Blend is an instant, herbal coffee substitute made of roasted barley, rye, chicory root, dandelion root, and beet root (and that's it!). It tastes JUST like coffee, but without bitterness or acidity, and most importantly for me, without any of the side effects of coffee. I was super delighted when the makers of Dandy Blend sent me a free sample to try and I immediately thought of ice cream!
This vegan ice cream packs mocha flavor, and with raw cashews and maple syrup a la the Federation of Quebec Maple Syrup Producers (thank you to our neighbors from the north for sending me samples of their maple syrups!), it has crunch and sweetness that you need not feel guilty indulging in! And, I am so enamored with Dandy Blend, I am going to giveaway one 7 oz. bag to a lucky Como Water reader.
You know the deal, here's how to enter (Leave a separate comment for each action you take!):
1. Leave a comment letting me know what you would make with Dandy Blend if you won the free sample.
2. Become a fan of Como Water on Facebook.
3. Follow Como Water on Twitter.
4. Tweet this giveaway.
I'll be announcing the winners in my Tuesday post. Good luck! And Happy Weekend folks! 😀
Dandy Blend Mocha Cashew Ice Cream (vegan!)
Ingredients:
1 can full fat coconut milk–chilled
1/4 cup dark amber maple syrup
1 cup dandy blend ("brewed" double strength)
pinch salt
1/4 cup chocolate chips (I used vegan)
1/4 cup raw cashews
Method:
*Whisk coconut milk, Dandy Blend, maple syrup, and salt. Add to ice cream maker. Let ice cream maker run for 15 minutes. Add chocolate chips and cashews to ice cream maker. Let run additional 5 minutes. Add soft ice cream to freezer proof container. Freeze. Serve with drizzle light amber maple syrup.