The sun is shining and it's supposed to be another unseasonably warm winter day in DC. Don't get me wrong, I am NOT complaining… in fact, I am relishing–in the warmth, thinking about how to best spend this spring-like day, and planning what to make for dinner :D. Not a bad way to spend the last Saturday in January.
And speaking of the last Saturday… On New Year's Day I announced a number of "new features" on Como Water this year, including a series called "My Favorite Veg on the Web." In this series, on the last Saturday of each month, I will highlight some of my favorite veg-centric food blogs with the hopes of introducing Como Water readers to new and exciting dishes and bloggers. Well, today is 2012's first last Saturday of the month, which means it's time for me to introduce my first Favorite Veg on the Web! So, without further ado… please meet Natalie from Food Blog and the Dog and her Aloo Gobi Filo Tartlet!
Aloo Gobi Filo Tartlet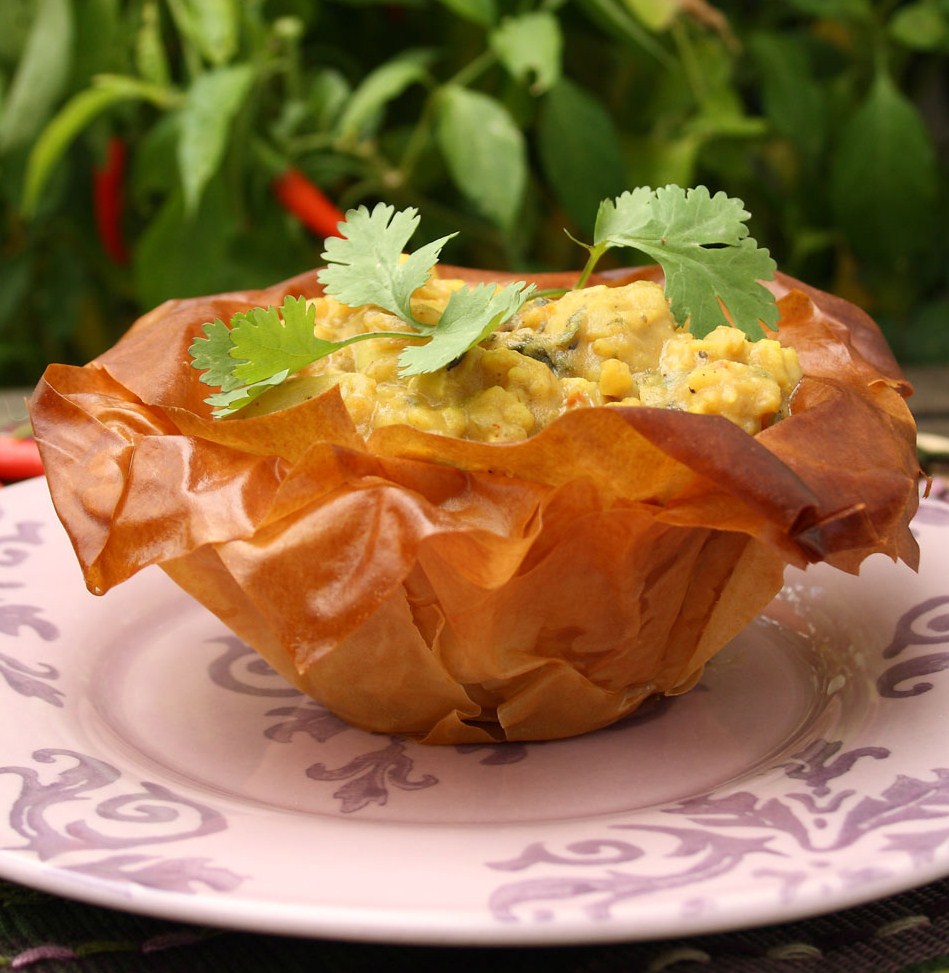 My name is Natalie Ward and I live in Andalucia, Spain with my partner (The Washer Up), our dog Rufus and three cats.
I am a freelance food writer, photographer and stylist specialising in delicious vegetarian and vegan cuisine.
We used to own and run a restaurant which we sold in 2009  when I was diagnosed with breast cancer. I am now fully recovered and feeling better than ever. I attribute my swift recovery to a combination of conventional and alternative treatments and my following a whole foods, mainly plant based diet. I avoided all cows milk products, sugar (including all fruit), processed and refined foods.
My diet post treatment is less strict but I still choose to keep my consumption of cows mik products very low, avoid processed foods, use whole foods whenever possible and I try to limit my intake of animal based foods to below 10 per cent of my diet.
I started Cook Eat Live Vegetarian because I wanted a place to share my enthusiasm for exciting, seasonal vegetarian food with a world flavour. My inspiration comes from what fruit and vegetables I see growing while walking the dog in the countryside in the morning and I hope to share some of the beauty of Andalucia in the process.
I first "met" Tiffany as a friend on Foodbuzz and quickly discovered that we have very similar values and taste in food. I would go as far as to say that we are foodie kindred spirits. I really hope that one day that we can meet in person and have a very long lunch somewhere gorgeous!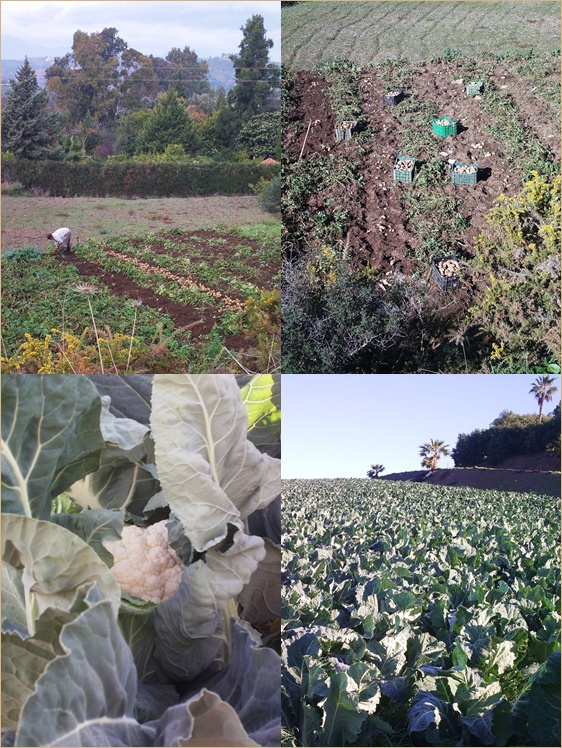 The inspiration for this dish came to me because at the moment, where I walk the dog in  the mornings, they are harvesting potatoes and cauliflowers.
One of my favourite Indian dishes is Aloo Gobi which is potatoes and cauliflower cooked in a spicy masala. It is real Indian comfort food, the potatoes and cauliflower are meltingly soft, this is no time for al dente vegetables!
Serving it in a filo tart shell just gives it a little contrast in texture. The delicate crisp filo is the perfect vehicle for the Aloo Gobi and it makes it look a bit more special too.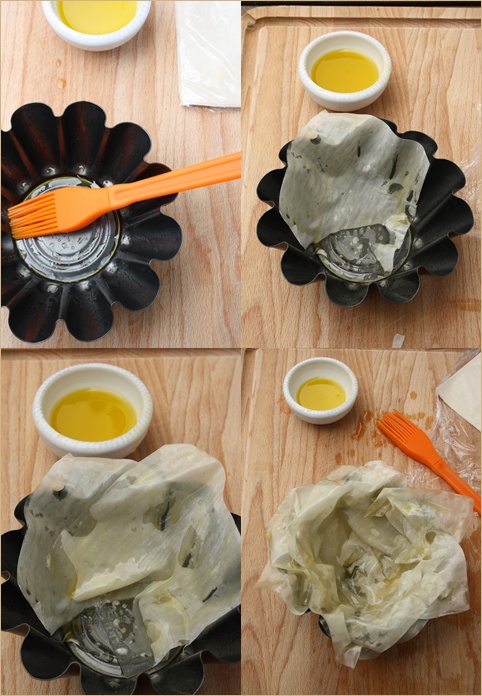 Aloo Gobi Filo Tartlets Recipe
Serves 3, vegetarian
1 pack frozen filo pastry, defrosted in the fridge overnight
olive oil (for brushing the pastry)
1/2 cauliflower (about 500 gr), cored and cut into florets
400 gr baby new potatoes, halved or quartered depending on size
1/2 tsp cumin seeds
1 cardamom pod
1 medium onion, chopped
2 cloves garlic, finely chopped
2 tsp minced ginger
1 chilli, finely chopped
1 medium tomato, chopped (or use about 100 ml tomato passata)
1 tsp salt
1/2 tsp black pepper
1/2 tsp turmeric
1/2 tsp chilli powder
1/2 tsp ground cumin
1/2 tsp ground coriander
1/2 tsp garam masala
a splash of veg stock or water
the juice of 1/2 a lemon
a handful of fresh coriander, chopped
You will need an ovenproof deep flan tin or pudding basin to build the filo tartlets in. (You could even make mini ones in a muffin tin.) Preheat the oven to 190C. Cut out squares of filo pastry about 15-20 cm square depending on the size of your tin.
Keep the filo under a damp tea towel so that it doesn't dry out. Brush the inside of your tin with oil. Brush you first square of filo with olive oil and place it in a diamond shape in the tart tin (see pictures).
Brush your second square of filo with oil and lay it in a diamond shape overlapping the first. Keep doing this around the tart tin until you have about 3 layers of filo all the way around.
Bake in the preheated oven for 10-12 minutes until browned. Keep an eye on them they burn easily. Leave to cool  before very gently and carefully removing the tart shells from the tins
Cook the potatoes in a large pan of boiling salted water for about ten minutes until tender. Add the cauliflower into the water with the potatoes and cook for a further five minutes until both the potatoes and the cauliflower are soft. Drain into a colander and set aside.
Meanwhile heat a few tablespoons of coconut oil or olive oil in a large saute pan over a medium heat. Add the cumin seeds and cardamom and what for it to sizzle and pop. Add in the onion and cook for about 4 minutes until softened and translucent.
Add in the garlic, ginger and fresh chilli and cook for another minute. Then add the tomato, salt and pepper and cook for 2 or 3 minutes. Stir in the turmeric and chilli powder adding a splash of stock or water to stop it drying out.
Then add the ground cumin, ground coriander and the cooked potatoes and cauliflower and stir well to coat in the spices. Cook together for another few minutes then add the garam masala, lemon juice and chopped coriander, stir well and taste. Adjust salt & lemon juice as required.
Carefully spoon the hot Aloo Gobi into the filo tart shells, garnish with fresh coriander leaves and serve immediately. I served this with some sauteed green beans on the side.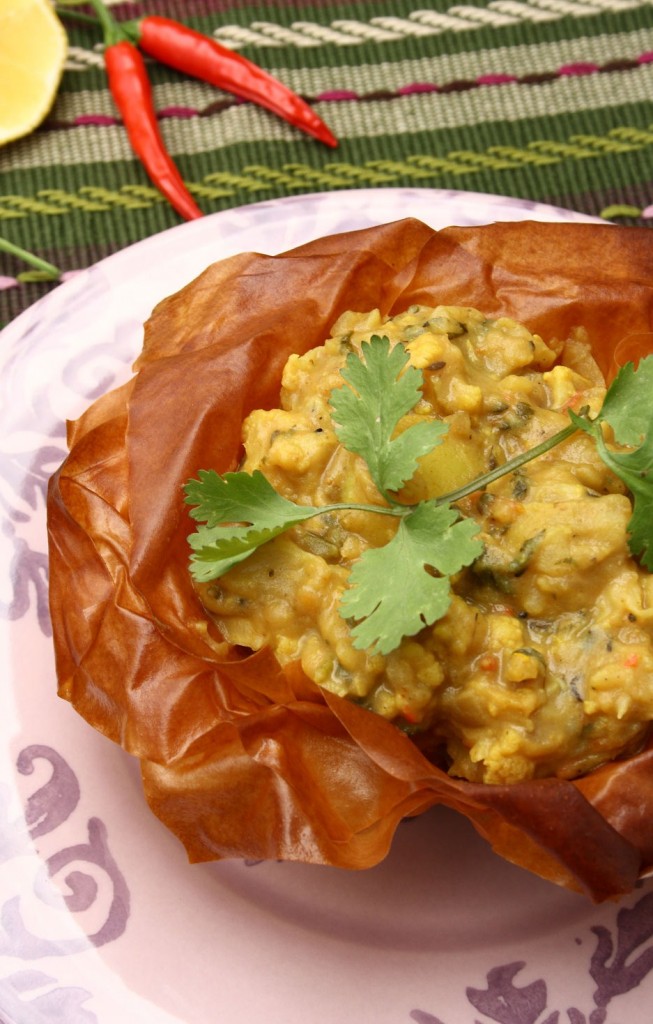 Enjoy!!!