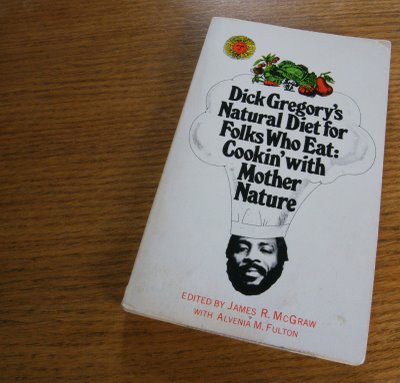 Switching it up today folks. In honor of vegetable month, I am sharing a review of a book by one of the most prolific activists and under-recognized pioneers of healthy eating of our time–Dick Gregory. I read the book awhile ago, but now–Como Water's vegetable month and a time when so many folks are trying to be mindful of how they treat their bodies–seemed like the perfect time to share the review with all of you.
And Gregory's perspectives rocked my world so much that I've decided to host a giveaway of one of his books: Callous on My Soul, which is part memoir, part food. The giveaway is open to all readers (a.k.a. not just those in the US). To enter, leave a comment sharing your impression of this review. For extra entries, become a fan of Como Water on Facebook and follow Como Water on Twitter (leave comments letting me know that you did so for to ensure that you receive your extra entries).
Happy Sunday and back to vegan veggie-centric recipes on Tuesday!
*          *          *
While doing research for an essay I'm working on regarding culture and eating, I came across a book, Dick Gregory's Natural Diet for Folks Who Eat: Cooking with Mother Nature. The fact that this out-of-print text kept popping up time and time again meant only one thing—if I was going to write an informed essay, I would definitely have to read it. I found it online, ahem, for $50, but since it was a classic and I wanted to be thorough in my research, I forked the cash over and opened to page 1. Within a few hours, I had read the entire book and I've been figuring out ways to weave it into daily conversations ever since. I immediately knew that I had to write a review for Como Water readers… so, here it goes…
One word comes to mind when I think of Natural Diet—timeless. Although it was published in the 1970s, the book could have easily been written yesterday. The concepts of vegetarianism, veganism, going raw, and the slow movement all still seem very "new agey" to me at times, yet Gregory contextualizes such eating choices as culturally and temporally universal. In other words, such eating patterns are not 'new' at all; instead, they are quite traditional. Unfortunately for us, our mounting ailments, and our rising health care costs, we have become disconnected from such traditions.
Natural Diet also dispels the misconception that these types of diets are (or ought to be) reserved for a privileged few. Through what I would describe as a brilliant analysis, Gregory connects a plant-based diet to the universality of the human condition and for that, his book breaks down barriers and opens doors. What's more, the pages are laced with humor, wit, and irony that leave you knowledgeable and cracking up.
The basic premise of the book: "you are what you eat," so "be mindful" and "eat plants" pervades the text, and is quite reminiscent of the many popular food/eating books that have been published in the past few years. Unique from more contemporary books however, is Gregory's voice—a comedian, an activist, a Black man, a man who grew up in extreme poverty, a man with firsthand experiences of the very real barriers to healthy eating and the systemic obstacles inhibiting many individuals from making better food/eating choices. The rawness and realness of his voice resonated with me in a way that allowed for a deep connection to the text, a connection that I haven't been able to make with the many contemporary books on eating/food I've read to date.
Natural Diet begins with a declaration that not reading Gregory's book is harmful to your health. In this first chapter, Gregory connects our eating practices to psychological and social realities that have changed little since the 70s. The second chapter has the feel of a memoir as Gregory explains the consumption continuum (from omnivorism to fruitarianism) through his own personal journey of eating. Linking eating to poverty, addiction, and protest, this account is as candid, as it is riveting, but most of all, it is encouraging.
No matter where you are on the continuum, Gregory asserts, "…Mother Nature is always waiting for your return!"
The third chapter discusses how Gregory and his wife introduced healthier eating in their own family (of nine children) and the fourth chapter—one of my favorites—likens the body to a car and describes, in detail, the trip a piece of food takes from the bite to excretion. I thought this was especially cool because most folks—including myself before reading this chapter, haven't the faintest idea of what actually happens—physiologically—when we eat. Read chapter four and you'll soon know!
Chapter 5 makes a conceptual distinction between diet and nutrition and offers suggestions for how to stock your kitchen if you want to "cook with Mother Nature." In this chapter, Gregory mentions a number of foods I have only heard of in the past few years. I, who have eaten a plant-based diet for many years have only recently heard of foods like dulse, dandelion 'coffee,' sorrel, black mission figs, and huckleberries, but here was Dick Gregory writing about them—in the 1970s! Chapter 6 clears up a number of misconceptions—including those around culture—about cooking with Mother Nature and consuming meat (especially related to how meat consumption has changed over time). Chapter 7 is dedicated to fasting and chapter 8 offers natural cures for everyday (and not so everyday) ailments. The end of the book deals with dieting, being pregnant/feeding babies, feeding plants and pets, and Q & A.
Comprehensive, hilarious, and insightful, Gregory states simply, but profoundly, "I believe diet is at the root of all of our problems." I believe he is right and I think it's a shame that Natural Diet is out of print. I wish that Natural Diet was available to the masses (potentially updated with a section on strategies for 'cooking with Mother Nature' in our current climate of astronomical food prices and increasing income inequality…), yet until that time, I encourage you to try to get a copy of Natural Diet, if you can. I guarantee that you will laugh and learn as you read each chapter.