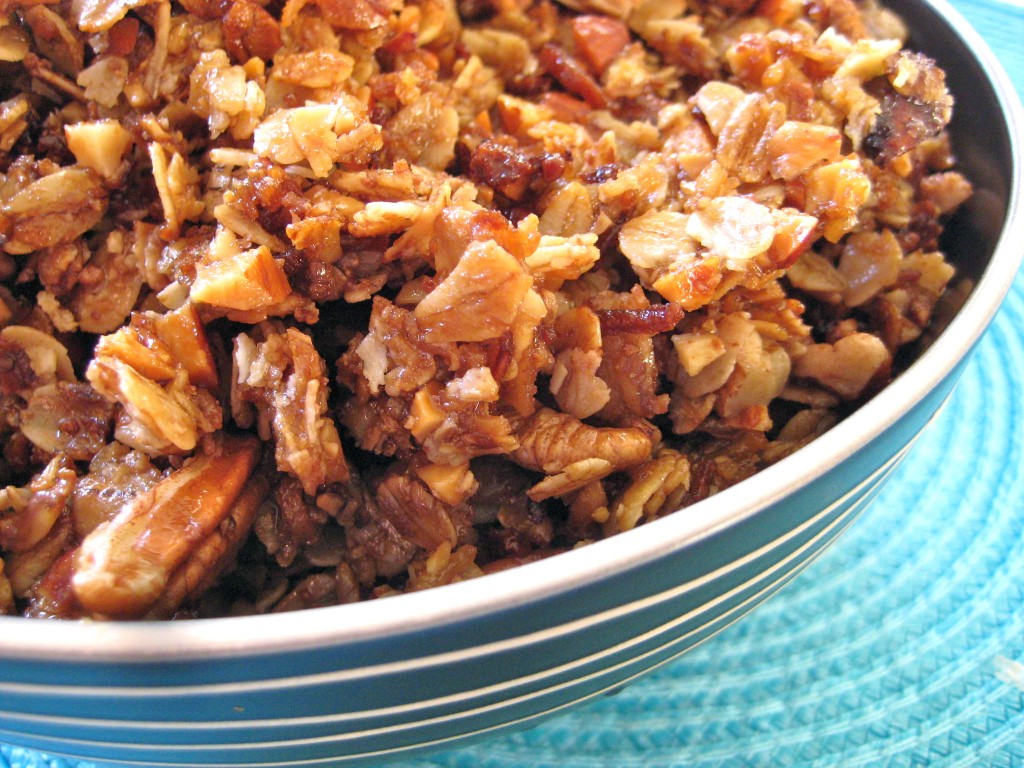 There's just something about alliteration that makes me feel all gitty inside. Mocha Maple. Say it. Go ahead. Moooooocccchhhhaaaaa Maaaaappppllleee :). One of my dear friends commented on Como Water's Facebook page that she likes how my food has so much poetry in it. I never thought about my food like that (and truth be told haven't written a poem in years!), but I guess creative energies do not dissipate, they only change forms. This granola is no exception. It's got poetry in it and crunch and sweetness and a slight pick me up from the coffee. I'm also a sucker for chocolate in the morning (pain au chocolat, Cocoa Pebbles, you name it! :)) so this granola lets me have a sweet treat, with minimal guilt!
Mocha Maple Granola (Printable Recipe)
Ingredients: 
2 cups old-fashioned oats
1/3 cup melted Earth Balance (or butter/margarine)
2/3 cup chopped almonds and/or pecans
dash salt
1/4 cup maple syrup
1/4 cup brown sugar
2/3 cup shredded coconut
1/2 cup coffee–brewed double strength
1 tablespoon vanilla extract
1/4 cup mini chocolate chips
Method:
*Preheat oven to 325 degrees F. Add oats and almonds to large baking dish. Toast 10 minutes, stirring twice. Add to a large bowl. Set aside.
*Add sugar, maple syrup, and coffee to saucepan. Heat over medium high heat. Reduce by 1/2. Remove from heat. Whisk together melted Earth Balance and reduced coffee mixture. Stir in salt and vanilla extract. Add syrup mixture to the oats and almonds. Add coconut. Stir. Press into pan. Bake ~20 minutes. Remove from oven. Break up the granola and let cool. Add chocolate chips before serving.