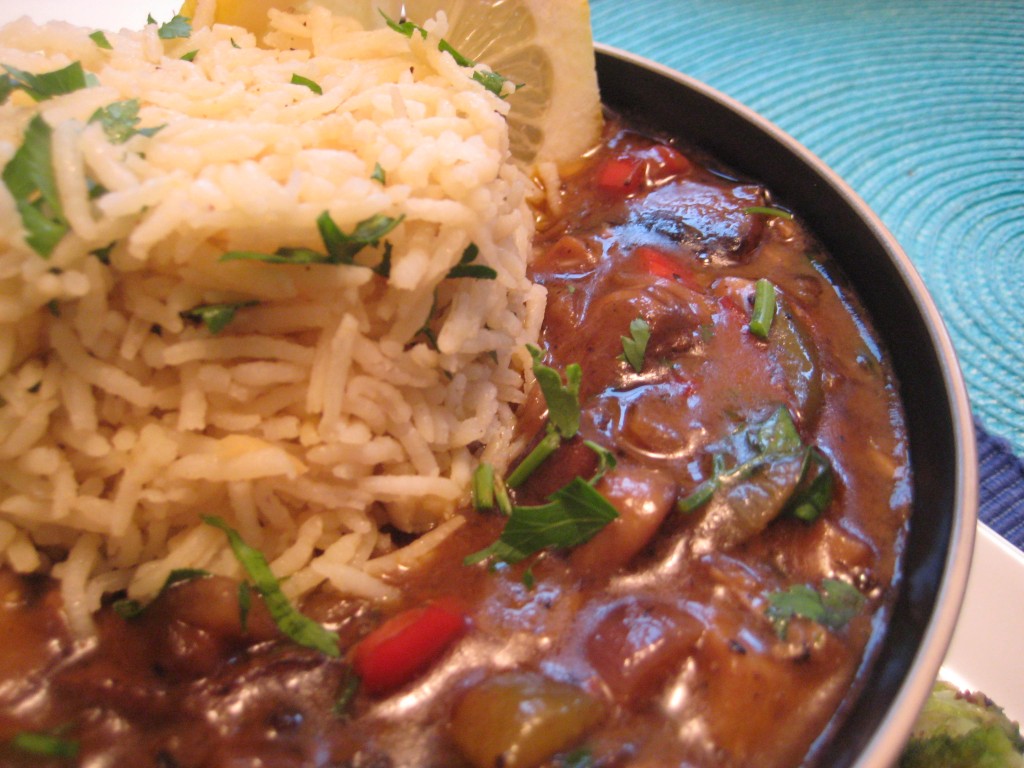 And the winner is…. Cassie from Bake Your Day! You may recall that last week I hosted a giveaway of Eco Natural Soap products on my blog. Well, then life happened. Life being defined as the flu and a busy work week. I resisted the notion that I was still sick and in my last post preemptively stated that I was better. Well, I learned the hard way–better does not mean absolved of all ailments. In all fairness, I did feel better. But far from 100% was I. I pushed, kept working, and my sickness (dare I say the flu???) lingered. Today, I'm feeling better–still not 100%, but better still, so much better that I'm going back to the pool. I have Nana to thank for my recent turnaround. Resisting both the doctor and antibiotics, I asked her for a natural "antibiotic." Her reply?
Raw garlic! Who knew? Apparently everyone except for me. Because when I've asked folks over the past two days about the antimicrobial properties of garlic, everyone asserted that they knew about the powers of garlic. (Mind you, none of these people suggested I take raw garlic to get better! :)) In any event, I have taken three cloves of raw garlic each day for the past two days and I am almost 100%. Thank you Nana… and thank you garlic!
As I catch up on my comments, clean out my foodbuzz.com account, gear up for Thanksgiving, and hope the supercommittee comes up with a deficit reduction plan that doesn't completely unravel the very fragile thread of social services we have left in this country, I leave you with my mushroom étouffée. I made this incredibly easy étouffée for girls night. It was a hit! And I might add, it's really inexpensive!
Foodie friends, beware, I now plan to completely inundate your sites with comments on all of your lovely culinary creations! Congrats again to Cassie! Thanks again to Alicia for sponsoring the giveaway! And thanks again to all of you for commenting on my first video blog post! Happy Saturday to you all! 😀
Mushroom Étouffée (Printable Recipe)
Ingredients:
4 tablespoons Earth Balance (or butter/margarine)
1 tablespoon flour
1/2 large red onion–chopped
2 stalks celery–chopped
1/2 green bell pepper–chopped
1/2 red bell pepper–chopped
2 cloves garlic–minced
1 bay leaf
3 tablespoons Worcheshire sauce
1 cup vegetable broth
1 cup white mushrooms–chopped
1 large portobello mushroom–chopped
fresh lemon juice
fresh chopped parsley
olive oil, salt, pepper, cayenne pepper, hot sauce
Method:
*Heat ~3 tablespoons of olive oil in a pan over medium heat. Saute mushrooms. Set aside.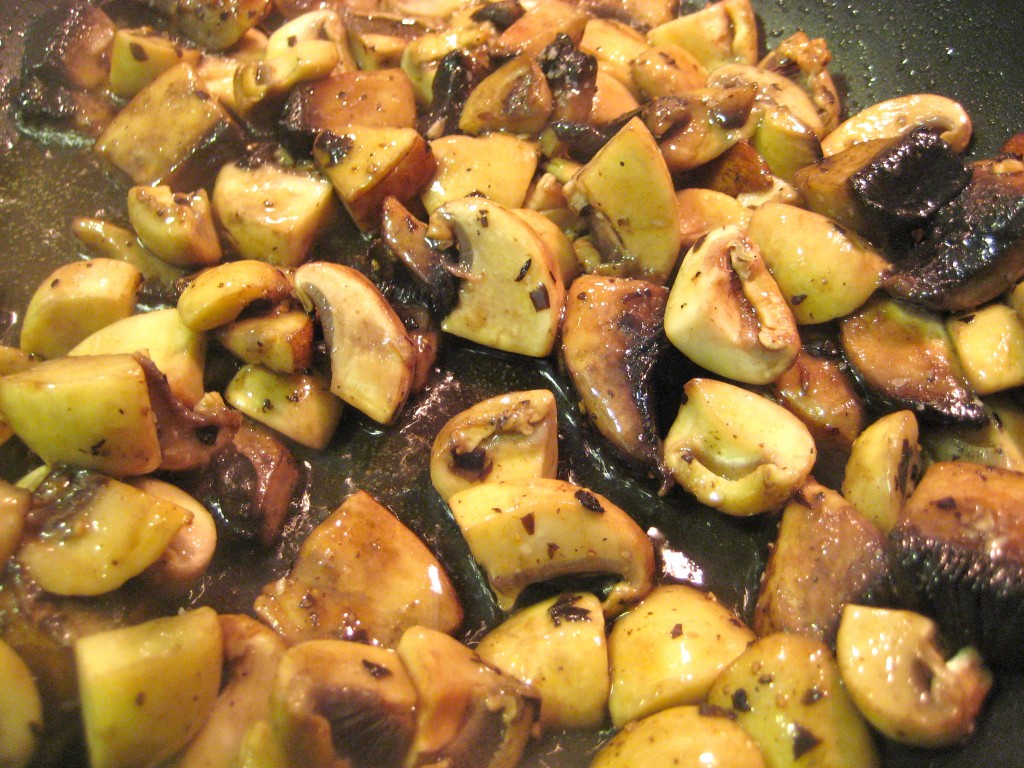 *Melt Earth Balance over medium heat in medium to large stock pot. Add flour. Stir and cook to make a light tan roux. Add onion, celery, peppers, garlic, and bay leaf. Stir to combine. Add a dash of salt, a few grinds of black pepper, and a dash of cayenne. Cook and stir for approximately 5 minutes until the roux is a deep brown and the vegetables are soft.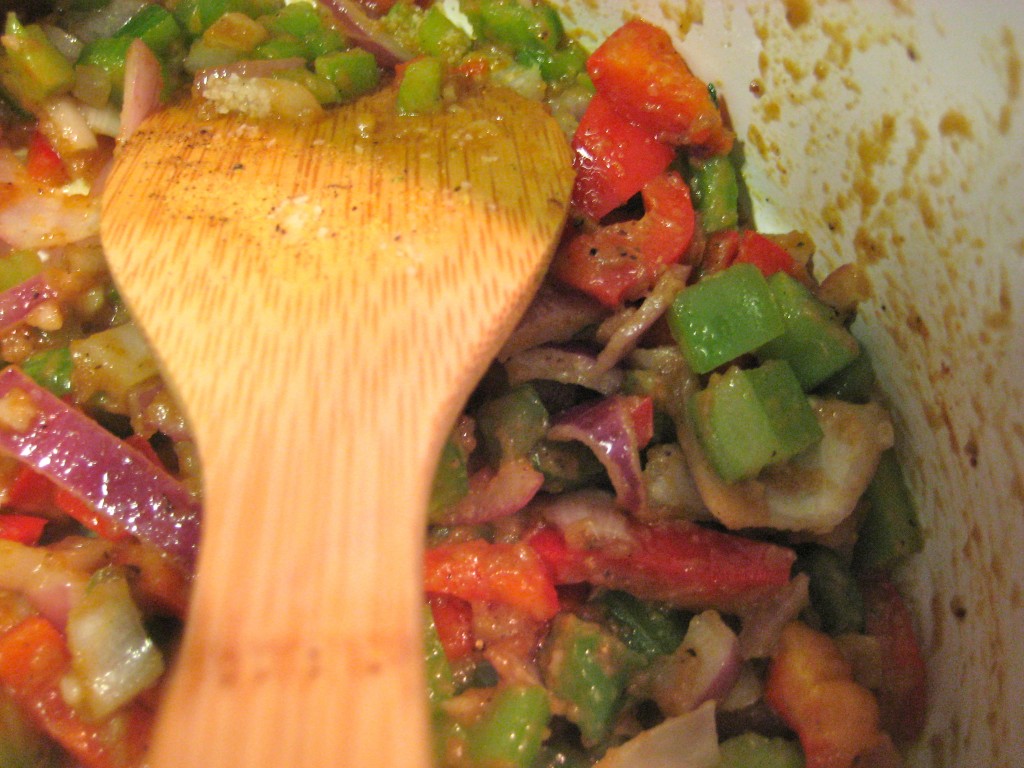 *Add Worcheshire sauce. Cook 2 minutes. Add the vegetable broth and sautéed mushrooms. Reduce heat to medium low. Simmer, stirring occasionally, for 5-10 minutes until mixture thickens. Adjust seasoning according to taste. Just before serving squeeze in lemon juice and add fresh, chopped parsley. Serve with rice and cornbread.