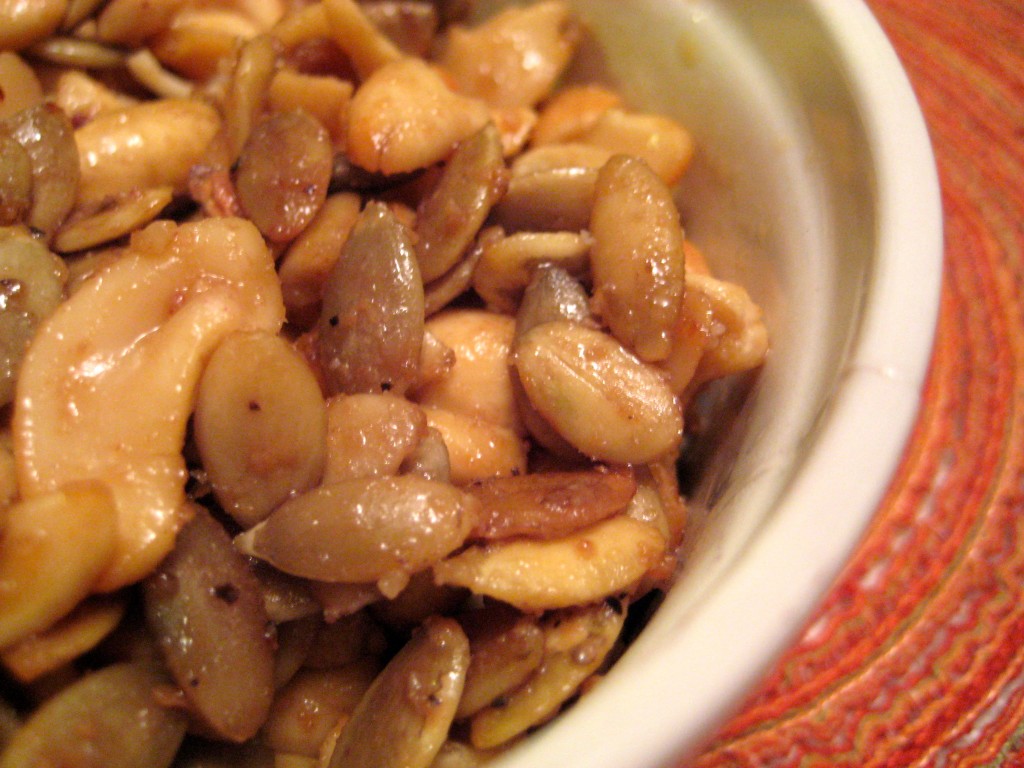 First things first… THANK YOU to all of you who left comments wishing me a speedy recovery. My fever has now broken and besides from an intermittent, hacking cough that sounds worse than it feels, I am just about back to 100%–which meant one thing and one thing only–I went back to my kitchen today! To celebrate having enough energy to cook again, this evening, I made roasted garlic grits, Italian roasted peas, roasted garlic "chik'n" Parmesan, and these lovely Caesar Roasted Nuts. All of the dishes, sans the grits, used Newman's Own products (stay tuned to Como Water for the remaining recipes!).
As part of the Foodbuzz.com's Tastemaker's program, I was selected to receive an assortment of Newman's Own products. But that's not all! They also provided a Flip video camera and encouraged us to make videos to accompany our dishes! SUPER exciting! So, ladies and gentlemen, I give you my first video! Well, it's actually two videos, because I didn't realize that shutting the camera off and turning it back on would create two different files. (I'm still new at this! :D)…. So without further ado!
(Special shout out to DG whose steady hand was in charge of the Flip camera and to my brother Keith, for coming through–yet again–and helping me get the video embedded into this post).
Making the video was SO much fun! I think this could get addicting :D.  (I've already talked to my friend Adam–one of the best video editors I know, and he agreed to do some video editing for me in exchange for food! Consider yourselves warned :)). I hope y'all liked the video and I also hope that you try these Caesar Roasted Cashews and Pepitas! Soooooooo much flavor comes from the Newman's Own dressing, and finished with a bit of zest and cheese, these nuts would be great at a cocktail party or served over a salad or warm winter soup!
Caesar Roasted Nuts (Printable Recipe)
Ingredients:
1/2 cup raw pepitas
1/2 cup raw cashews
1/3 cup Newman's Own Light Caesar Dressing
lemon zest
Parmesan cheese (optional)
salt/pepper (optional)
Method:
*Preheat oven to 325 degrees F. Add nuts and dressing to pan. Roast uncovered for 10-15 minutes, stirring occasionally. Serve with fresh lemon zest and Parmesan cheese.
(p.s… I haven't forgotten about the giveaway mentioned in my last post. I'll pick a winner tomorrow evening, which gives you one more day to enter!!!)