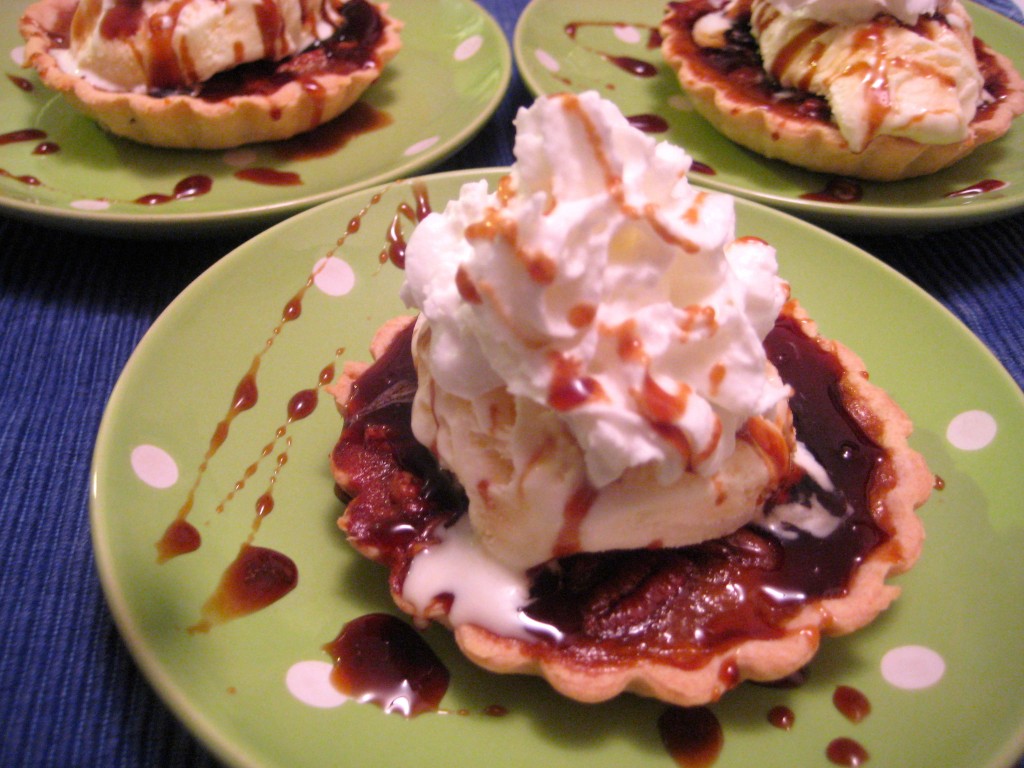 Before the pie, a disclaimer–I've been running a fever all day–any incoherencies, typos, or other deviations from normality can be attributed to high bodily temperatures and my general aversion to medication. Now, with that said, onto this lovely, lovely pie!
This pie is the third and final dish from my Godiva Fall coffee samples I received as a part of Foodbuzz.com's Tastemaker program. Originally, I wanted a pie that consisted of a pumpkin pie layer and a pecan pie layer, but instead the layers melded together, which actually turned out really nice. What I loved the most about this pie though was the unity between the coffee in the pumpkin filling, the coffee in the pecan filling, and the pumpkin spice coffee syrup. Served with whipped cream and ice cream, this would be a great addition to your Thanksgiving feast! 🙂
But before getting to the recipe, I want to tell you about the giveaway I'm hosting! Although I express gratitude daily, there is something about Thanksgiving–a day dedicated to gratitude and eating–that makes it one of my favorite holidays. So, to thank you for being the best readers a food blogger could ask for, I want to offer you the chance to win some of the best all natural body products on the market. Here are the details:
Step 1: Head to my friend Alicia's site, Eco Natural Soap, and check out her wonderful, all natural products.
Step 2: Leave a comment on my site indicating what body balms, lip balms, and soaps you'd like to try if you were the winner of the giveaway. (I'd highly suggest the cocoa butter lip balm. I'm ADDICTED! :D)
Step 3: Increase your odds of winning, by engaging in any or all of the following: a) tweet this giveaway, b) post this giveaway to Facebook, c) become a fan of Como Water on Facebook, and d) become a follower of Como Water on Twitter. Be sure to leave a separate comment for each action you take to increase your chances! On Sunday night, I'll use a random number drawer to pick one lucky winner to receive 3 Eco Natural products!!!
Good luck! and Happy Eating!
Pumpkin Spice Coffee Pecan Pie (Printable Recipe)
2 pie crusts
Pumpkin Pie Ingredients:
1 egg
1 egg yolk
1/2 can cooked pumpkin (~1/2 cup)
1/2 cup sugar
3 tablespoons maple syrup
1/2 cup half and half
1 teaspoon vanilla extract
1/4 cup Godiva pumpkin spice coffee (brewed double strength)
1/4 teaspoon cinnamon
pinch nutmeg
pinch lemon zest
pinch salt
Pecan Pie Ingredients:
1 egg
1 egg yolk
1/4 cup sugar
1/3 cup light corn syrup
2 tablespoons maple syrup
1 tablespoon molasses
1 teaspoon vanilla
2 tablespoons Godiva pumpkin spice coffee (brewed double strength)
pinch salt
1 tablespoon melted Earth Balance (or butter or margarine)
1 cup lightly toasted, chopped pecans
Maple Coffee Sauce Ingredients:
1 1/2 cups Godiva pumpkin spice coffee (brewed double strength)
1/3 cup maple syrup
1/3 cup sugar
Method:
*Pre-heat oven to 350 degrees F. Make pie crust (or thaw according to package directions). Press into pie dish/tart pan(s). Prick with fork. Blind bake for 10-15 minutes. Remove from oven and set aside.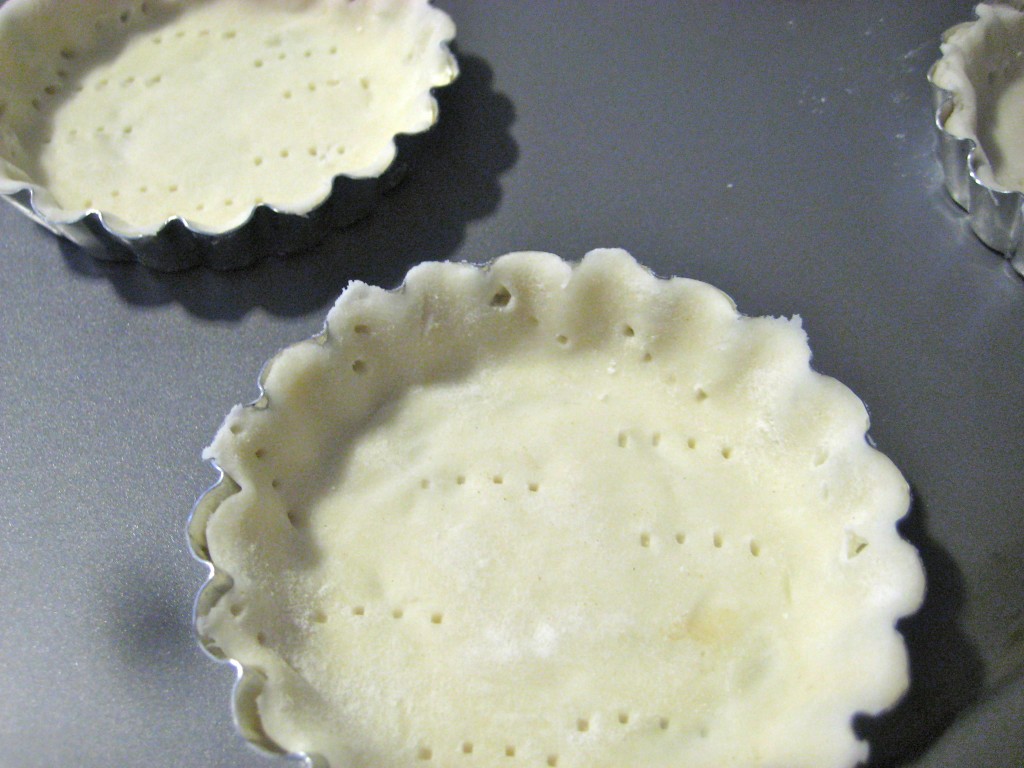 *Make pumpkin pie filling by whisking the sugar, maple syrup, salt, spices, zest, half and half, vanilla, and coffee together until thoroughly mixed. Whisk in the egg. Whisk in the egg yolk. Whisk in the pumpkin until all ingredients are fully incorporated. Add the filling to the pre-baked pie crust(s).
*Make pecan pie filling by whisking all of the ingredients except the pecans until thoroughly mixed. Stir in pecans. Spoon the pecan pie filling over the pumpkin pie filling. Bake pie/tarts until the filling is set (~40-50 minutes for full pie; ~20-25 minutes for tartlets). Cool. Serve with whipped cream/ice cream/pumpkin spice coffee sauce.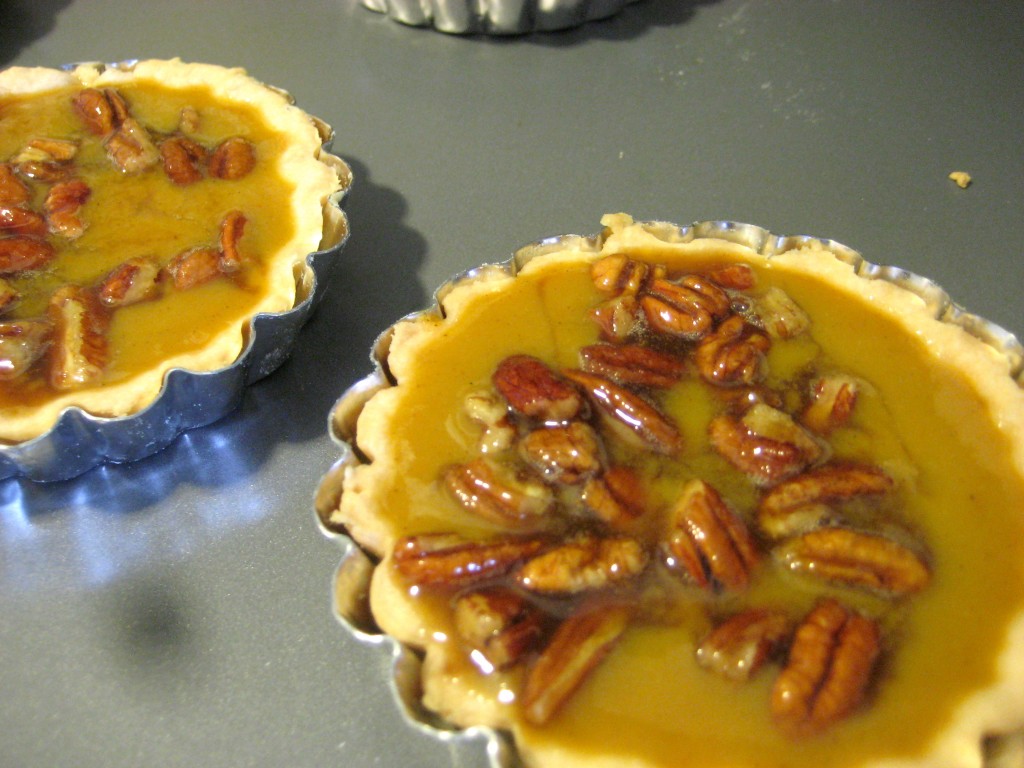 *To make the sauce: add all ingredients to medium, heavy bottomed sauce pot. Heat over medium heat until the sugar is fully dissolved and the liquid turns into a thick and sticky syrup.
Note #1: This recipe made 6 tartlets and 1 whole pie.
Note #2: Sorry for the not so great lead picture… I made this for girls' night and we were so anxious to dig in, I didn't take the time to get the 'perfect shot.'