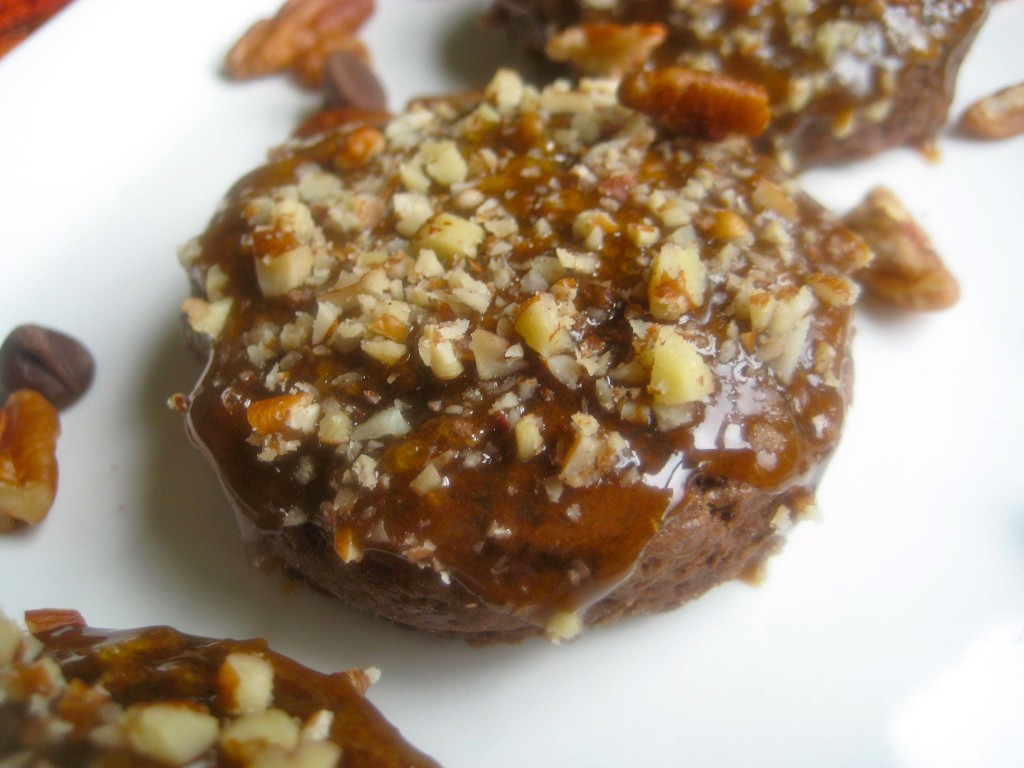 Ironically enough when I heard that as part of Foodbuzz's Tastemaker program I had been chosen to receive free samples of Godiva's latest coffees, the first thing I thought about was scones. Not lattes. Not blended drinks. Not spiked adult beverages. Scones. It may have been because I've been dying to make scones for months now. Or it may have been because the two seasonal flavors–Caramel Pecan Bark and Pumpkin Spice– coupled with rapidly declining temperatures and torrential downpours in DC made me crave something comforting as fall apparently set in. Whatever the reason, I set my sights on making scones that would highlight the flavors of these decadent, limited edition coffees.
Well, folks, as you see from the title of this post, my scone ambitions gently faded into tender cookies (or mocha biscuits?). I am not sure if I used a bit too much flour or if my proportions were just off (this is what happens when you think you can just make recipes up yourself! lol :D), but my scones turned out to be cookies. Yummy, mocha cookies, but cookies nonetheless. I still have my eyes set on nailing scones, but until then, I'll take a delicious cookie that highlights caramel pecan bark coffee flavors not only in the dough, but also in the glaze and toasted pecans that topped each cookie, any day of the week!
And two more quick things before the recipe… 1. This is one of three recipes I made with the Godiva coffee samples. The other two are coming soon (stay tuned!). And 2. Don't forget to vote for Como Water as Best Veg Blog on Foodbuzz.com (the ballot closes next week!).
Mocha Caramel Pecan Cookies (Printable Recipe)
Cookies Ingredients:
1 3/4 cups flour
1/2 cup unsweetened cocoa powder
1 1/2 teaspoons baking powder
1/2 teaspoon baking soda
1/4 teaspoon salt
3/4 cup semi-sweet chocolate chips
1/4 cup chopped–finely toasted pecans
1 large egg beaten
1 teaspoon vanilla extract
1/4 cup half and half
1/3 cup cold Earth Balance cut into pieces (or butter/margarine)
1/2 cup sugar
1/2 cup double strength Godiva caramel pecan coffee–brewed and cooled completely
Topping (optional):
1 egg lightly beaten with 1 tablespoon of half and half
sugar
Glaze and Garnish Ingredients:
2/3 cup double strength Godiva caramel pecan coffee–brewed
2/3 cup sugar
1 tablespoon Earth Balance
1 teaspoon vanilla extract
2 tablespoons half and half
pinch salt
finely chopped pecans–lightly toasted
Method:
*Pre-heat oven to 375 degrees F. Whisk half and half, egg, vanilla, and coffee. Set aside. In a separate bowl, whisk flour, cocoa powder, baking powder, baking soda, salt, and sugar. Cut in cold Earth Balance using pastry cutter or fork/two knives. Add the pecans and chocolate chips to the dry ingredients-Earth Balance meal. Add the half and half mixture to the dry ingredients. Mix just until the dough comes together.
*Lightly flour counter or other work surface. Add the dough to the floured surface. Add flour to the dough if it is too wet to knead. Knead the dough 2 – 3 times. Shape the dough into a circle about 1/2 inch in thickness. Cut into triangles (I used a round cookie cutter instead). Remove excess flour and add cookies to cookie sheet. Reshape and cut out dough until all dough is used up.
*Lightly beat second egg with half and half. Brush the egg wash on each cookie and sprinkle lightly with sugar. Bake cookies for 11-14 minutes. In the meantime, make the glaze and chop pecan garnish.
*Chop pecans for garnish; set aside. Add coffee and sugar to medium, heavy bottom saucepan. Heat over medium heat, stirring until sugar is completely dissolved. Reduce glaze until it's thick and syrupy. Remove from heat. Whisk in Earth Balance, half and half, vanilla extract and salt.
*Once cookies are baked and cooled, dip each cookie in the coffee glaze and top with finely chopped pecans. Enjoy!