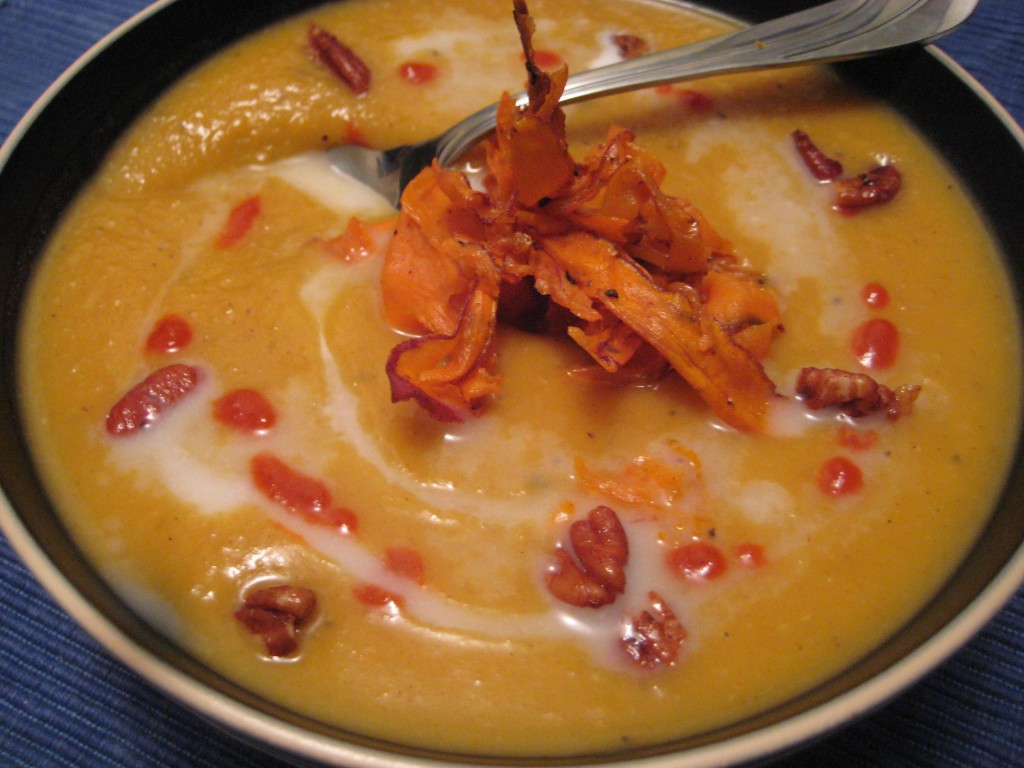 This soup has the longest title ever… but don't judge a soup by it's title. It's super easy to make and is an adaptation of my Three Times Roasted Butternut Squash Soup. The curry is the soup adds depth, the cayenne yam chips add spice and crunch, and the sriracha-maple pecans bring it all together. This is the perfect soup as the weather gets colder–slightly sweet, savory, and spicy; silky with a splash of crunch. Next time I'll use full fat coconut milk, but other than that this soup was pretty spot on!
Oh, and before I get to the recipe, I want to share a piece of exciting news. I've scheduled my first swimming lesson! Yes, folks, I do not know how to swim, but I'm taking the plunge (bad pun intended) and conquering my fear. The lesson is Tuesday and I'll be sure to update y'all on how it goes! :). Happy Friday and don't forget to vote for Como Water as Best Veg Blog on Foodbuzz.com!!!! There's only a couple more days to vote!
Curry Roasted Butternut Squash Soup w/Cayenne Yam Chips & Sriracha-Maple Pecans (Printable Recipe)
Soup Ingredients:
1 small butternut squash
1 apple (I used honey crisp)–cut into 8 pieces
1 1-2 inch hunk fresh ginger–peeled and sliced
1- 1 1/2 cups vegetable broth
1/2 cup light coconut milk
1 garlic clove–minced
1/4 red onion–finely chopped
olive oil
salt
pepper
balsamic vinegar
Method:
*Preheat oven to 400 degrees F. Cut the squash in half. Remove seeds and stringy membrane. Cut the squash into pieces 2 inch chunks. Sprinkle with salt and pepper. Drizzle lightly with olive oil. Roast 15 minutes.
*Peel/slice ginger. Add ginger, vegetable broth, and coconut milk to medium sauce pan. Heat over low stirring occasionally. Finely chop onion and mince garlic. Sweat the onion and garlic in 2 teaspoons of olive oil in small frying pan. When the onion and garlic are soft, add them to a blender.
*After the squash has roasted for 15 minutes, remove the pan from the oven. Add the apple. Drizzle the squash and apple with balsamic vinegar and 1-2 tablespoons of olive oil. Return pan to the oven. Roast until the squash and apple are both soft (approx. 20 minutes).
*Once the squash and apple are soft, let cool enough to handle. Add the apple to the blender with the cooked onion and garlic. Remove the squash from the peel and add the peeled squash to the blender. Add a pinch of salt and pepper. Remove the ginger from the broth-coconut milk mixture. Add the broth to the blender. Blend the soup until smooth. Adjust seasoning. Serve with cayenne yam chips and sriracha-maple pecans.
Cayenne Yam Chips Ingredients:
1 small yam
olive oil
salt
pepper
cayenne
curry
Method:
*Preheat oven to 400 degrees F. Wash and dry yam. Slice thinly (using mandolin, food processor, or vegetable peeler). Keep potatoes in bowl of water until ready to oven fry. Dry potatoes and add to large baking pan. Drizzle with olive oil. Sprinkle with seasoning. Oven bake until crispy (approx. 15-20 minutes).
Sriracha-Maple Pecans:
1/4 cup roughly chopped pecans
1 teaspoon olive oil
dash: salt, pepper, cinnamon, cayenne, curry powder
1 teaspoon maple syrup
1 teaspoon sriracha
Method:
*Pre-heat oven to 400 degrees F. Massage all ingredients into pecans. Add pecans to baking dish in one layer. Bake for 5-7 minutes.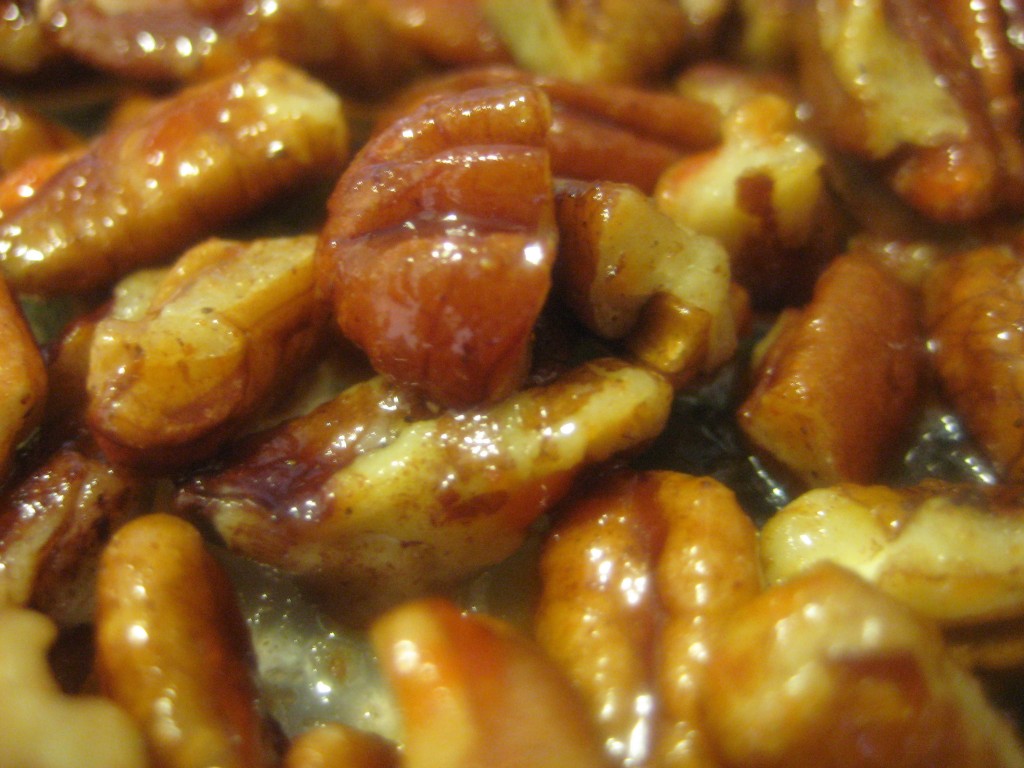 To Serve Soup:
*Add soup to bowl. Drizzle with additional coconut milk and sriracha. Mount yam chips in center of bowl. Sprinkle a few pecans. Enjoy!