Call it polenta, call 'em grits, just whatever you do, call these UBER-flavorful little gems delicious!
You know, I've never really understood folks who say they do not like grits/polenta. Sweet ground corn paired with butter, salt, and pepper can never be a bad idea in my book, but I know that many folks need more complex flavors before they endorse a dish. Because of this, towards the end of grad school, I started making my grits with vegetable broth, cilantro, and chili. Sometimes I added cheese, sometimes I didn't, but that rendition of grits converted many-a-grits haters. So when a couple of weeks ago, I had bunches of parsley and basil to use up, I did what any grits loving food blogger would do… I made herbed grits cakes using my spiked up grits recipe as a base.
What I love about these grits cakes, over and above the taste (which by the way was so good, I couldn't refrain from eating the warm grits right out of the pot!), is that they look really elegant, even though they are super simple to make. And although I ate them for dinner (with the cabbage from my last post and beans), I can totally see eating these grits cakes for breakfast (perhaps with tofu scramble or eggs??? ;)). They're also super versatile. I made this version with lemon, chile, and herbs, but the possibilities are endless!
Before getting to the recipe though, I wanted to share two things. First, I wanted to thank Manu and Alyssa for the blog awards they recently passed on to me!!! Thanks Ladies! And second, I wanted to tell you all (but especially my folks in The City) about a new vegan soup of the week club! My dear, dear friend Stephen in New York has started an exciting new venture, a part of which entails personal chef services. Check it out! Now… onto the grits!!!!!
Lemon Chile Grits Cakes (Printable Recipe)
Ingredients: 
1 clove of garlic–minced
1 small serrano chile–minced
1/2 cup old fashioned grits
1 cup vegetable broth
1 cup water
1 tablespoon Earth Balance (or butter or margarine)
1/2 to 1 teaspoon lemon zest
2 tablespoons freshly chopped parsley
2 tablespoons freshly chopped basil
1/4 cup shredded Monterrey jack cheese (optional)
salt
pepper
flour
olive oil
Method:
*Add garlic and chile to medium pot with 1 tablespoon of olive oil. Saute over medium heat until soft. Add vegetable broth and water, along with a pinch of salt and black pepper. Turn heat to high . Bring to boil. Slowly stir grits into boiling liquid (stir in the same direction for good luck!). Reduce heat to low. Cover. Cook 15 to 20 minutes, or until grits are tender. Turn heat off.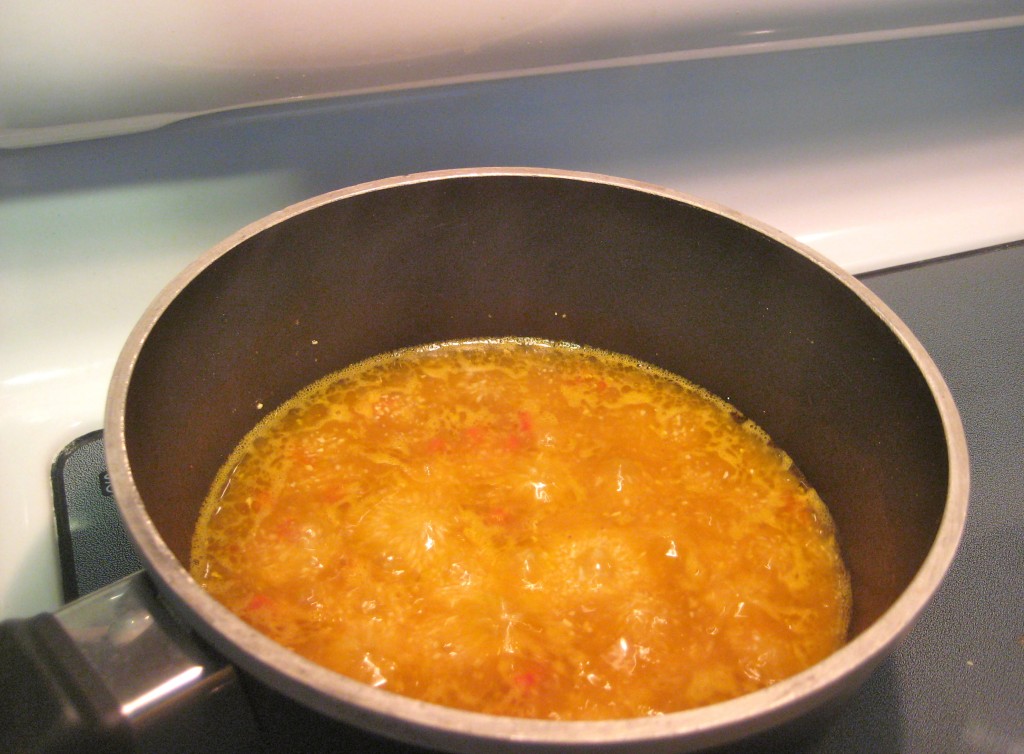 *Line a 9″ x 9″ baking pan with parchment or wax paper. Stir lemon zest, parsley, basil, Earth Balance, and cheese into cooked grits. Add grits to prepared pan. Add pan to refrigerator. Refrigerate at least 1 1/2 hours to allow grits to firm up.
*Once grits are firm, remove from pan and slice into six rectangles. Dredge each rectangle lightly in flour seasoned with salt and pepper. Heat 4 tablespoons of olive oil in a medium-sized frying pan over medium/medium high heat. Saute each rectangle until golden brown on each side. Serve warm or at room temperature!