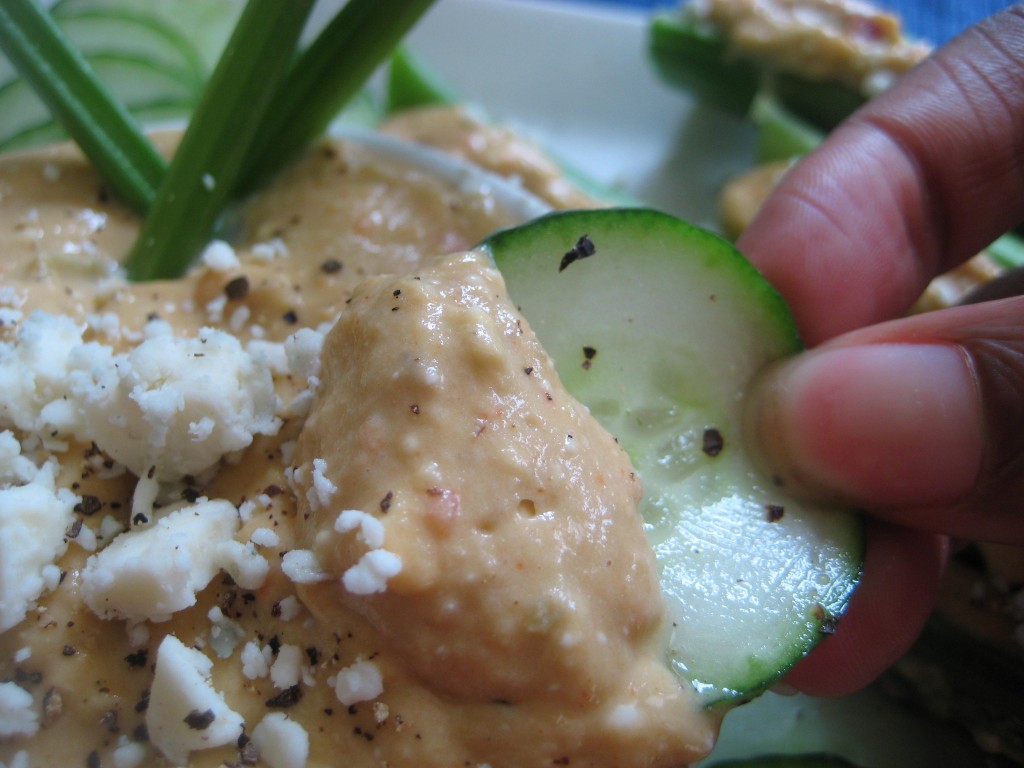 Ok, you've been forewarned. This is a long post– two recipes and lots to say about them… so just in case you do not read all the way to the end, I wanted to share with you that tomorrow is my first day of my new job. Please wish me luck and thank you for your encouraging comments on my last post!
Now, the real reason you came here–la comida!
As part of the Foodbuzz Tastemaker Program, I received free samples of Sabra Hummus to create a cocktail party-worthy dish using the lovely, creamy spread. To say that I was excited and honored would be a complete understatement. Upon hearing that I had been selected, I ran around my living room screaming and dancing like a six-year old. Immediately, I started thinking about what I would make. My mind wandered… could I nail a dessert hummus?
I was determined to try and rather than fill this dessert hummus with lots of sugar and chocolate and cookie dough and marshmallows (although that would be incredibly yummy too!), I wanted to try to keep it healthy–maintaining the integrity of all of the nutrients hummus provides. I also wanted to highlight the end of my favorite season by including summer fruit and pairing the hummus with fruit. The nectarines at the Farmers Market were whispering, "Tiffany, buy me, buy me…," so I heeded. And behold, the roasted nectarine and toasted coconut hummus was born!
Truth be told, this hummus was a labor of love, a lesson in determination if you will. You see the original hummus has garlic in it–totally nutritious and delicious, but not dessert friendly! But… by roasting the nectarines to bring out sweetness and including nut butter for heartiness and toasted coconut for crunch, I was able to create a spread that I couldn't stop dipping into! I was so happy it came together! In addition to serving the sweet hummus with fresh cut fruit, I made little dessert canapés using chocolate chip cookies as the base (I couldn't help myself!), fresh nectarines, fresh mint, and lemon zest. Mamma mia! Fresh, crisp, and creamy… a perfect dessert canapé for a cocktail party!
And because Sabra has recently come out with Buffalo Style Hummus, I couldn't resist making a super simple savory dip too. I paired the buffalo style hummus with roasted apple and blue cheese, and of course, served it with celery… because after all, the veg community wants to relish in that magical combination of spicy hot sauce, creamy blue cheese, and crunchy celery too! 😉 But enough talking… Here are the recipes! 😀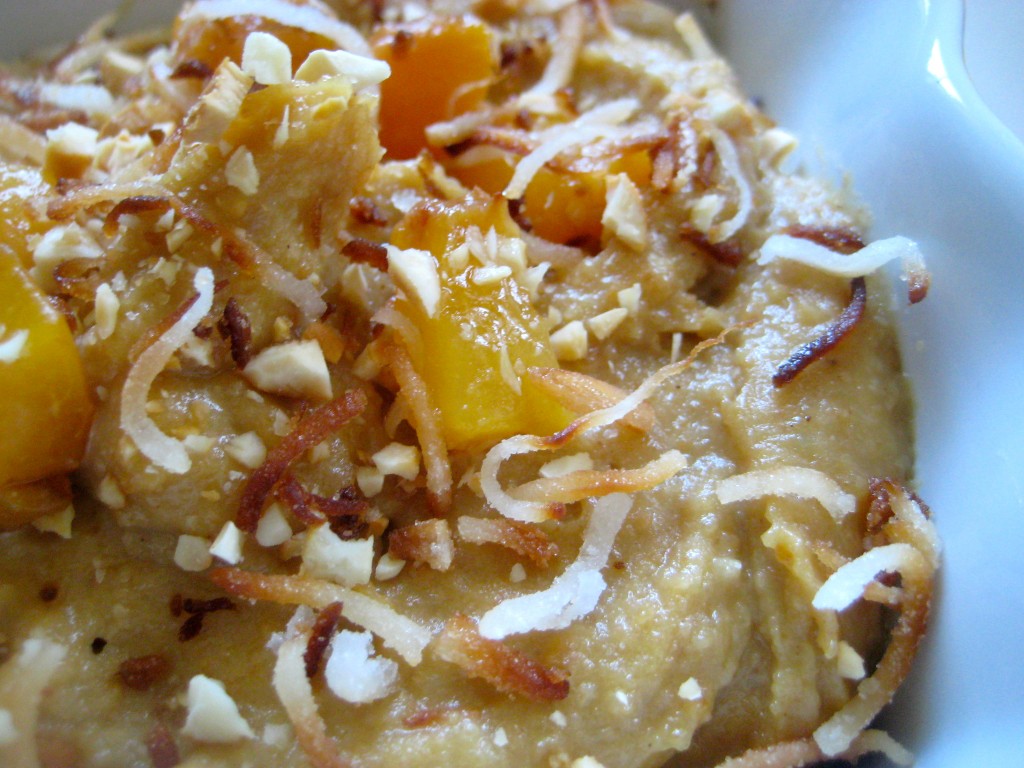 Roasted Nectarine and Toasted Coconut Hummus (Printable Recipe)
Ingredients:
1 cup Sabra plain hummus
2 roasted nectarines (see below)
1/3 cup toasted coconut
2 tablespoons agave
1 cup cashew butter (I made my own)
1/4 cup strained peach Greek yogurt (vegan or regular)
1 tablespoon light coconut milk
1 teaspoon vanilla extract
1/4 cup brown sugar
1/2 teaspoon cinnamon
Method: 
*Add sweetened, shredded coconut to dry frying pan. Heat over medium low heat, shaking the pan periodically. Toast until light golden brown.
*Roast nectarines: preheat oven to 325 degrees F. Remove pit from nectarines and quarter. Add nectarines to shallow baking dish. Whisk 1/2 teaspoon of agave, 1/2 teaspoon of soy sauce; 1 teaspoon of olive oil, and 1 1/2 tablespoons of white balsamic vinegar; drizzle mixture over nectarines. Roast nectarines for 15 to 20 minutes, or until nectarines are soft and caramelized. Turn twice during roasting. Let cool completely.
*Add all ingredients to a food processor or blender. Blend until smooth!
*Serve with fresh fruit.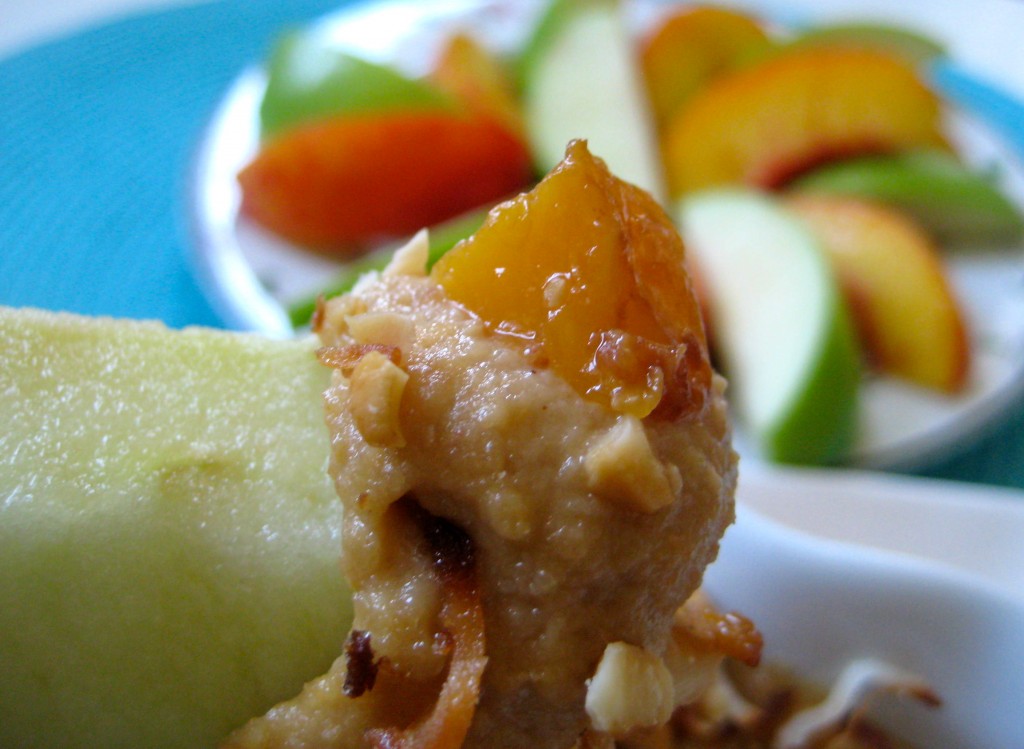 *I also made little dessert canapés! I topped a small chocolate chip cookie with a bit of the hummus, a mint leaf, sliced raw nectarine and lemon zest. The flavor and textural combination was absolutely phenomenal–sweet and refreshing; crunchy and soft!
*          *          *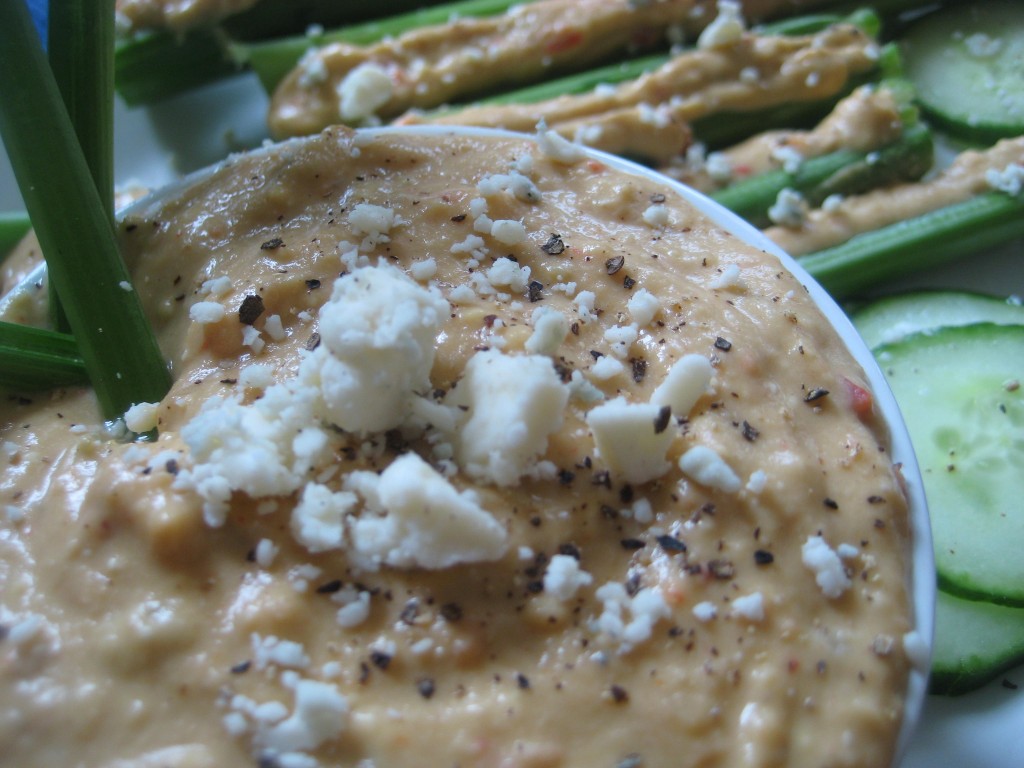 Roasted Apple Blue Cheese Buffalo Hummus (Printable Recipe)
Ingredients:
1 granny smith apple–roasted (see below)
1 10 oz. container Sabra Buffalo-style hummus
1/4 cup blue cheese crumbles
5-10 dashes of your favorite hot sauce
black pepper
cucumber
celery
Method:
*To roast the apple: preheat oven to 375 degrees F. Wash, core, and quarter the apple. Add the apple to a small baking dish. Drizzle with 1 tablespoon of balsamic vinegar and 1 tablespoon of olive oil. Sprinkle with a pinch of salt and black pepper. Let cool completely.
*Add hummus, cooled apple, blue cheese crumbles and hot sauce to blender or food processor. Blend until mixture is completely smooth.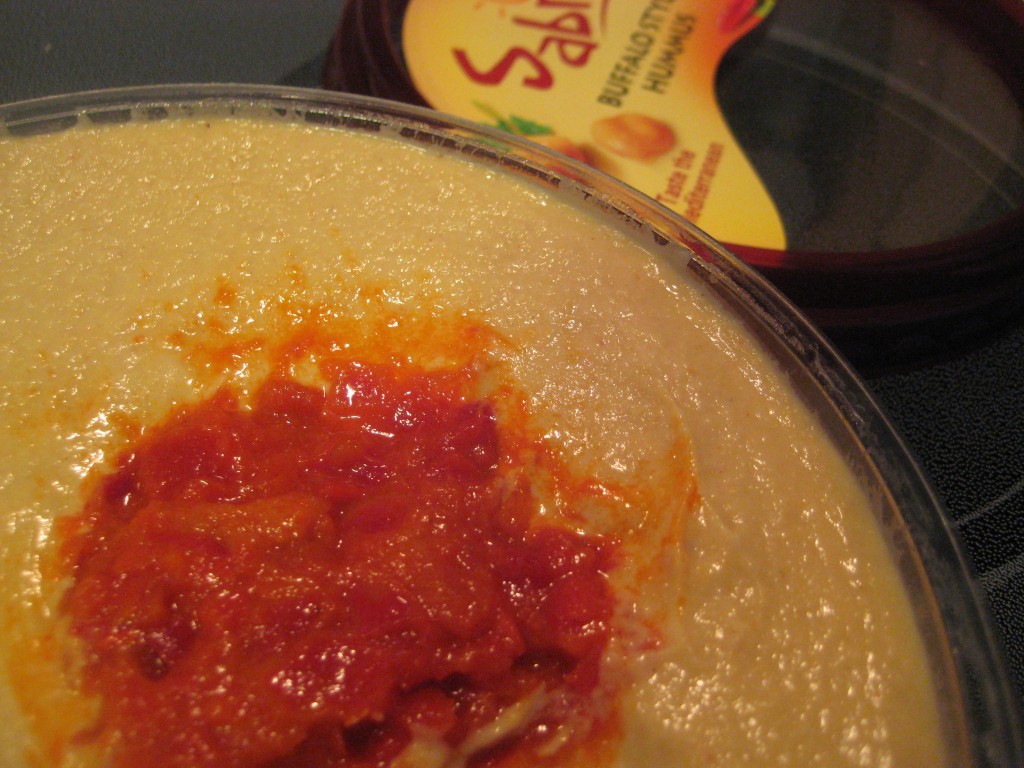 *Add the hummus to pastry bag (or plastic sandwich bag). Cut a small tip. Pipe hummus into celery ribs. Serve remaining hummus with slices of cucumber. Garnish with blue cheese crumbles and freshly cracked black pepper.