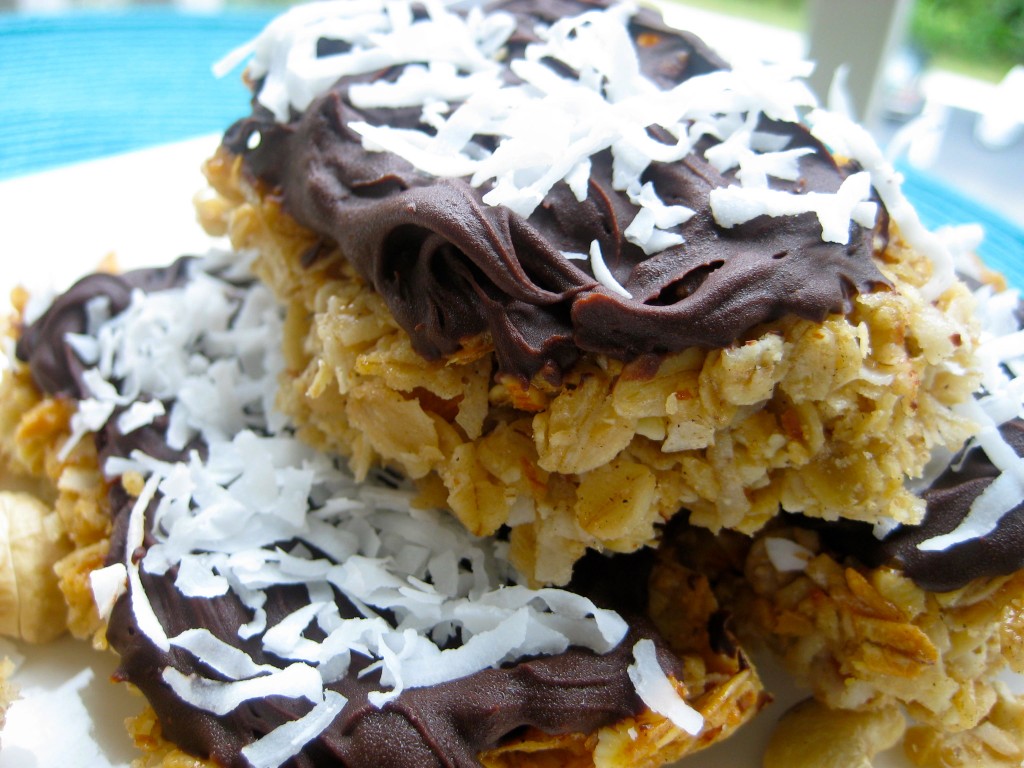 With days left before my move, my last few meals in North Carolina were the culmination of mixing a bit of this with a tad of that. I do not like to throw away food, so I made a bunch of "kitchen sink dishes." These granola bars are one of those dishes. The measurements do not have to be exact–the recipe is the result of what I had lurking in my pantry. But I will say that when I make these granola bars again, I'll either include more sweetener (i.e., honey, agave, maple syrup, etc.) or some dates because they were crumblier (is that a word???) than I wanted. Crunchiness aside, these granola bars were the perfect snack for my moving adventures….
And speaking of moving adventures: I am officially in DC! On Friday, I shipped most of my things to my new home in DC. (Side story… I saw the HUGEST praying mantis EVER at Fed Ex right as I was going to ship my things. Anyone who knows me knows that, of course, I immediately googled "praying mantis symbolism" on my iPhone. The result of my search–the praying mantis is a symbol of stillness, mindfulness, and divine energy. My interpretation was that I should be calm, optimistic, and assured as I enter this next phase of my life… Here's a pic of it!).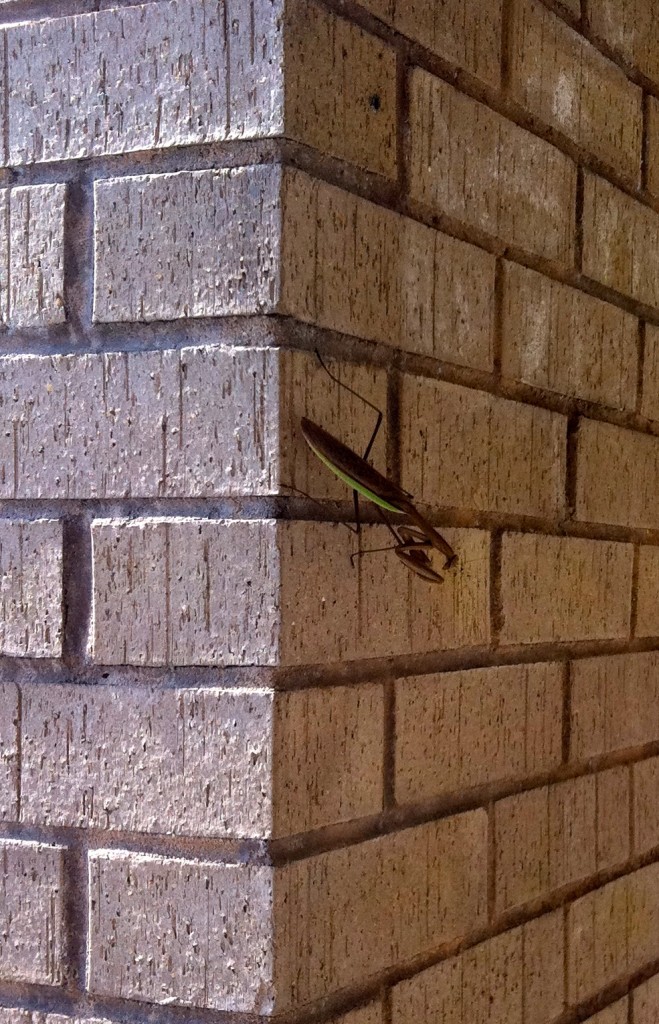 On Saturday, I drove up to DC, unpacked the car, received my 38 boxes (mostly books and kitchen items! 😀) from Fed Ex, picked up a number of Craigslist items, ate at Sticky Fingers (mmmmm), and discovered my new favorite neighborhood restaurant. Sunday, with boxes all around, I tackled the bathroom, went to the Farmer's Market, and locked myself out of my building while taking out the trash–in my pajamas–in the sweltering DC heat (luckily a neighbor let me in before I passed out from heat stroke). Monday, I took on the kitchen, and yes, you guessed it prepared my first meal. Yesterday, I finished my bedroom (for now at least). And I've spent most of today on the phone dealing with all sorts of minutiae I wouldn't dare bore you with. As I reenter my blogging life, I am super grateful that I do not actually start work until the end of the month. So much to do, so many dishes to prepare (I've missed cooking!), and so many blog posts to read (ah, I have close to 1,000 msgs. in my food buzz inbox!).
I've missed you foodie friends, but I'm happy to say, I'm baaaaaaaaaaack! 😀
Moving Out Granola Bars (Printable Recipe)
Ingredients:
3 cups old fashioned rolled oats
3/4 cup raw almonds
1/4 cup raw cashews
1 1/2 cups unsweetened flaked coconut, plus 1-2 tablespoons for sprinkling
1/3 cup white chocolate chips
1 1/2 teaspoons cardamom
1/4 cup honey
2 tablespoons agave
1 1/2 tablespoons maple syrup
1/3 cup brown sugar
4 tablespoons Earth Balance
1 teaspoon Tamari (or soy sauce)
1 teaspoon vanilla extract
1/2 teaspoon almond extract
1 teaspoon orange extract (divided)
1 cup semi-sweet chocolate chips–melted
Method:
*Pre-heat oven to 325 degrees F. Roughly chop almonds and cashews. Add nuts and oats to a large baking dish with oats. Toast in preheated oven for 10 minutes (stir twice). Add oats and nuts to a large bowl with cardamom, coconut, and white chocolate chips.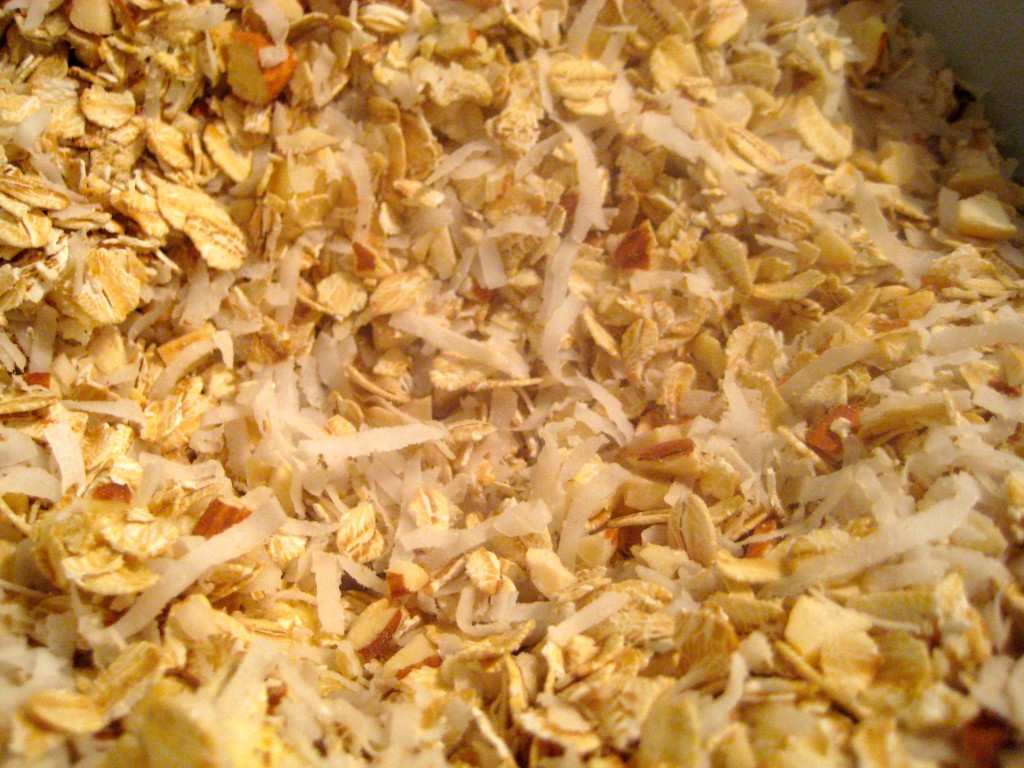 *Spray a 9″ x 13″ baking dish with cooking spray. Set aside.
*In a medium saucepan, mix honey, agave, maple syrup, brown sugar, Earth Balance, and Tamari over low heat until all ingredients are fully combined. Turn off heat. Stir in vanilla extract, almond extract, and 1/2 of orange extract. Pour the fragrant sugary mixture over the oats mixture. Mix thoroughly. Press into prepped pan. Bake for 15-20 minutes, or until granola bars are golden brown. Let cool. Slice into bars of desired size.
*Melt semi-sweet chocolate with remaining orange extract in the microwave in 3o second increments. (Microwave for 30 seconds. Remove from microwave. Stir chocolate. Repeat until chocolate is completely smooth). Spread chocolate on 1/2 of the granola bars. Sprinkle with coconut. [One half of the bars will have melted chocolate and one half will not have melted chocolate]. Enjoy!