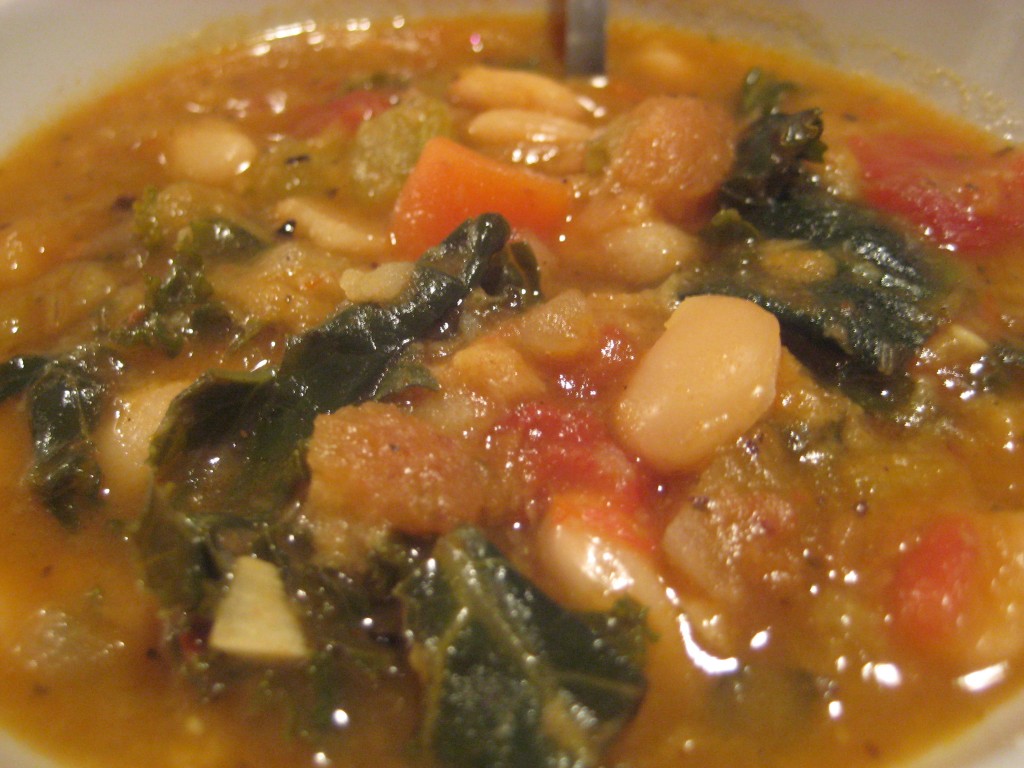 Perhaps it was in anticipation of hearing Elizabeth Gilbert speak of her tales in Italy (and India and Bali). Or maybe it was because I have been thinking about this soup since I first had it at Kamasouptra in Portland, ME back in January. Or maybe it's because I subconsciously stand in solidarity with my friends and family in the North who are battling the harshest winter in memory. Whatever the reason, this Tuscan soup has been on my brain for awhile and I finally got it together and made it two nights ago. Although it tastes nothing like the soup I had in Maine, which was so absolutely wonderful, I ate it for lunch two days in a row, like so many of my improvisational adaptations, it tastes delicious in its own right.
Last night, after a day of meetings, I came home in need of pampering. So, I laid out a placemat and poured myself half a glass of vinho verde. As I sat in silence, without hulu.com, without Pandora, and without a book, eating a hot bowl of this soup, one word kept coming to mind–bellissimo.
The Beans:
Ingredients:
2 cups water
1 cup vegetable broth
1 small red onion–diced
1 small red bell pepper–diced
8 oz. dry Cannellini or Great Northern Beans–soaked overnight
1/8 cup olive oil
1 heaping tablespoon Goya sofrito
1 heaping tablespoon Goya recaito
1 tablespoon Goya adobo (or favorite seasoned salt)
black pepper
Method:
*Heat olive oil in stock pot over medium heat. Add adobo, sofrito, and recaito. Cook 2 minutes, stirring. Add onion and bell pepper. Cook until soft (~10 minutes).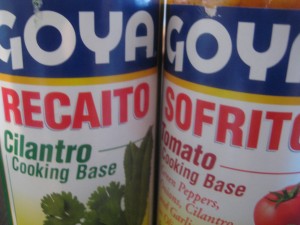 *Add soaked, rinsed beans to pot, along with water, broth, and black pepper. Stir to combine. Turn the heat to high to bring contents of the pot to a boil. Then drop heat to medium low. Let simmer for approximately one hour, or until beans are tender. Stir occasionally. Set aside. (This step can be done the day before).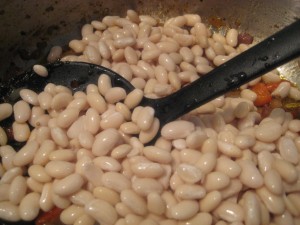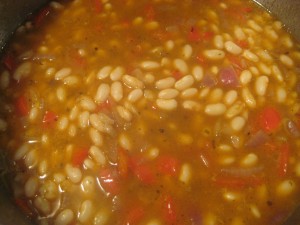 Note: The preparation for the beans is very understated, as I wanted them to soak in all of the wonderful flavors of the final soup.
The Soup:
Ingredients:
1/4 cup olive oil (+ oil for finishing)
1/2 teaspoon celery seed
1 teaspoon red pepper flakes
1/2 teaspoon fennel seeds
1 bay leaf
1/4 teaspoon dried thyme
1/4 teaspoon dried sage
1 small onion–chopped
1 Anaheim pepper–chopped
3 celery stalks–chopped
1 cup carrots–chopped
1 russet potato–cubed
3 cloves garlic–chopped
1 can diced tomatoes (with juice)
3 cups day old bread (baguette or ciabatta)–cut into 1/2 inch cubes OR processed into crumbs [I did cubes…]
4 cups chopped kale
2 cups cooked Cannellini or Great Northern Beans (see recipe above)
3 1/2 cups vegetable broth
1 1/2 cups beer of choice (I used a Winter lager)
1/2 cup water
2 teaspoons sugar or agave
1 teaspoon cayenne (or to taste)
salt, black pepper
fresh basil (garnish)
freshly grated parmesan cheese (optional)
Method:
*Chop all veggies. Heat olive oil over medium low heat in large stock pot. Add celery seed, fennel seed, red pepper flakes, sage, thyme, and bay leaf. Stir. Cook 3-5 minutes to infuse oil with the spices.
*Add chopped onion, peppers, celery, carrots, and potato. Sweat in pan until veggies are barely soft (~15-20 minutes). Add garlic and large pinch of salt. Cook for 5 minutes.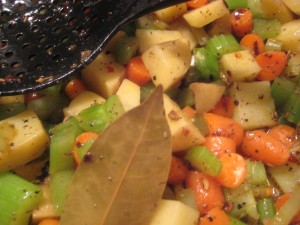 *Add kale and tomatoes. Cook for 10 minutes. Add 2 cups cooked beans (along with cooking liquid). Stir. Add sugar/agave, water, broth, and beer, along with big pinch of salt, black pepper, and cayenne. Stir. Let simmer on medium low for 30 minutes or until all veggies are soft and kale is cooked.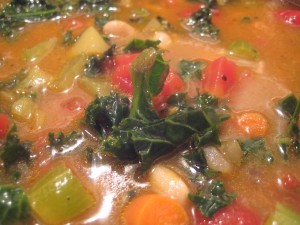 * Add bread to soup. Stir. Cook 20 minutes, stirring occasionally. Serve with fresh chopped basil, parmesan (optional), drizzle of raw olive oil, and fresh bread.