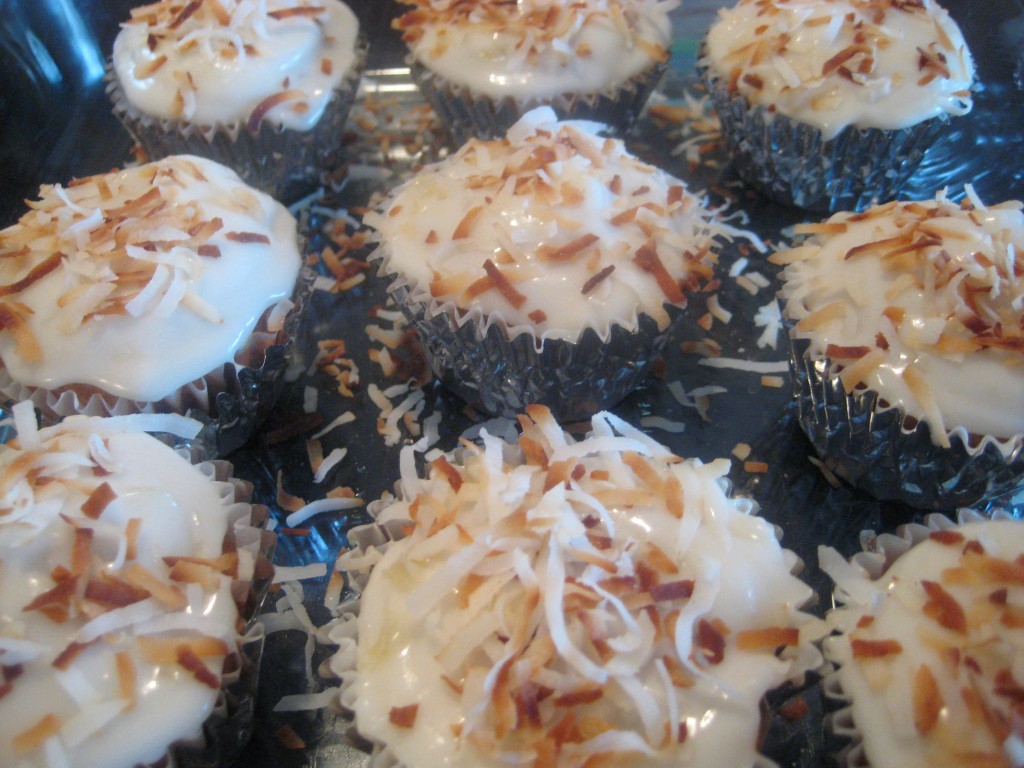 SEEDS was having a gathering to discuss future plans and one of the board members asked me to bake some sweets for the meeting. Perfect, I thought, because I had two recipes that I had been working on and wanted to nail.
Mistake #1: Make sure that you have nailed the recipe before sharing the baked goods with 60 other people!
Sunday morning before the meeting I went to meditation planning to return home with my chi balanced and my mind focused as I baked. Then I remembered that my timeline for getting to the meeting on time was waaaaaaaaaaaaay off.
Mistake #2: I had forgotten to factor in travel time to the meeting. I would have to 'find' a half an hour from somewhere… which generally means, taking fewer pictures. Ok, I thought, I have this under control.
Mistake #3: I had also forgotten to factor in cake cooling time before frosting. Silly, yes. Amateur, I know. But totally fixable. Instead of the fluffy, cream cheese buttercream that I planned to make, I decided to go with a cream cheese glaze (which could be applied, even if the cake was still a tad bit warm). It would be o.k. I became centered again.
I was winging it. Baking is a science, and yet I still feel the need to be improvisational with it. And vegan baking, well, vegan baking is part science, part skill, part art, and part prayer. So, I prayed, "Please, Universe, let my cupcakes rise." Enter mistake #4.
Mistake #4: Cupcakes. Cupcakes, in a rush, with one cupcake tin. It wasn't going to happen, but I had already filled the tin with the batter. Doh! I continued winging it. I added the rest of the batter to a prepared bundt pan. It would be a shallow bundt, but that's what was going to have to be. I didn't have time for anything else.
I was really testing the Universe's love for me. The cupcakes would be done in anywhere from 1/3 to 1/2 of the time as the bundt. If I opened the oven to get the cupcakes at the wrong time however, the bundt could fall. I knew this all too well because growing up, when my mom or nana or greatgrandmother was baking a cake, we weren't even allowed in the kitchen, let alone, anywhere near the oven. But I didn't have enough time to bake the cupcakes and the bundt separately, so I put them both in the oven at the same time, followed by a moment of silence and another prayer, "PLEASE let this work out!"
I made the glaze and packaged the brownies I had baked the night before. I could smell the cupcakes. Delicately. Gently. I removed them from the oven. Carefully. Softly. I closed the oven door and tip toed away from the oven. Then, I RAN to my balcony to remove the cupcakes so the cold winter air could cool them. The cake did rise and luckily inverted perfected. After glazing and sprinkling with toasted coconut, I did 80 in a 55 to the SEEDS meeting. I was 20 minutes late, but they forgave me. I did nail the recipe! … A vegan version of my favorite cake at Zingerman's in Ann Arbor. Jose B, this one's for you!
(Oh, and the morals of this adventure? Murphy's Law is real. Planning is a part of baking. And prayer in the kitchen works! :D)
Cake Ingredients:
1/2 cup earth balance (softened)
1 cup Tofutti sour cream
1/3 cup light coconut milk
3 ripe bananas (SMASHED :D)
1 teaspoon vanilla extract
1/2 cup finely chopped pecans
1 cup crushed pineapple (drained)
1/2 cup pineapple juice (from crushed pineapple)
2 cups flour
1 1/4 cup sugar
2 tablespoons cornstarch
1 1/4 teaspoon baking powder
1 teaspoon baking soda
1/2 teaspoon salt
1 teaspoon cinnamon
Method:
*Preheat oven to 350 degrees F. Prepare bundt pan with earth balance and flour, or cupcake pan with paper liners. Chop pecans in food processor. SMASH bananas. Set pecans and banana aside. Mix flour, sugar, salt, baking soda, baking powder, cornstarch and cinnamon in large bowl. Set aside.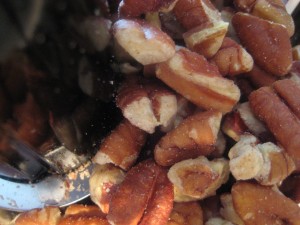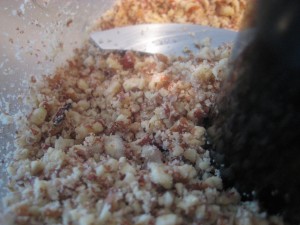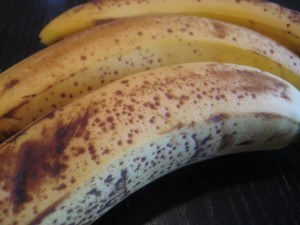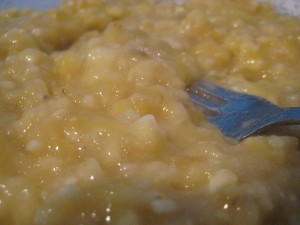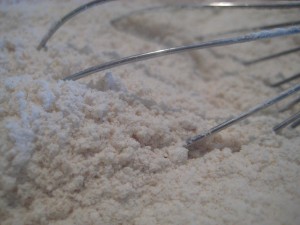 *In a second large bowl, beat earth balance, sour cream, coconut milk, smashed bananas, pineapple, pineapple juice, vanilla extract, and pecans.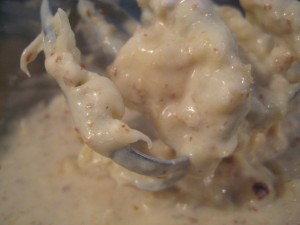 *Add wet to dry, mix well.  Add batter to prepared pan(s). Bake bundt for 45-60 minutes or until a toothpick inserted into the center of the cake comes out clean. Bake cupcakes for approximately 20 minutes. Let cake cool before glazing.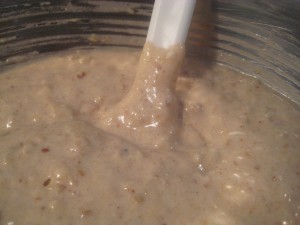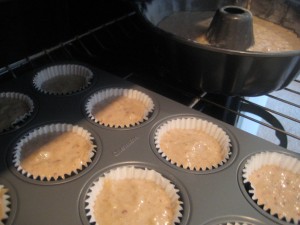 Glaze Ingredients:
8 oz. Tofutti cream cheese
4 cups confectioner's sugar
1 teaspoon vanilla extract
1/3 cup crushed pineapple (drained)
2 tablespoons coconut milk
1/2 cup shredded coconut (toasted)
Method:
*Beat all ingredients (excepted toasted coconut) until well mixed. Glaze cake and sprinkle with toasted coconut. Breathe and enjoy!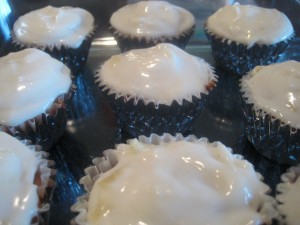 Last, but not least, I want to thank Natalie, Abeer, and Mateja for the three blogger awards that I received this week! What an HONOR! To say I was excited would be an understatement. I was so happy and proud I danced around my living room and jumped up and down. Folks should definitely check out their blogs for more foodie goodness! In the spirit of the Stylish Blogger Award, I have to do 4 things:
a) Thank who awarded me the honor and link to their blogs (see above)
b) Give 7 fun facts about myself:
1) I wanted to be an opera singer when I was 6; 2) I learned how to ride a bike when I was 27; 3) I'm pretty sure I was Brazilian in a past life; 4) No, I cannot read your mind; 5) I hate raspberries; 6) I would move to Paris tomorrow, if I spoke French; and… 7) I don't want to live to be 100, 87 is just fine for me!
c and d) Recognize 15 blogs that I think deserve the award (see below, in no particular order!) and contact them personally letting them know (I'm on it…):
Nikki @ The Tolerant Vegan
Liz @ That Skinny Chick Can Bake
Kate @ Diethood.com
Briar Rose @ Flour Dusted
Monet @ anecdotes and apple cores
Dennis @ More Than a Mount Full
Sommer @ A Spicy Perspective
Stephanie @ 52 Kitchen Adventures
Viv @ Vivacious Vegan
Something Good @ Cevabun.ro
Kita @ Pass the Sushi
Amy @ Fragrant Vanilla Cake
Carolyn @ Food Dreamer
Chelsea @ Sprinkles of Parsley
The Mom Chef @ The Mom Chef
… Ok, that's it, for the longest blog post EVER!!!!!