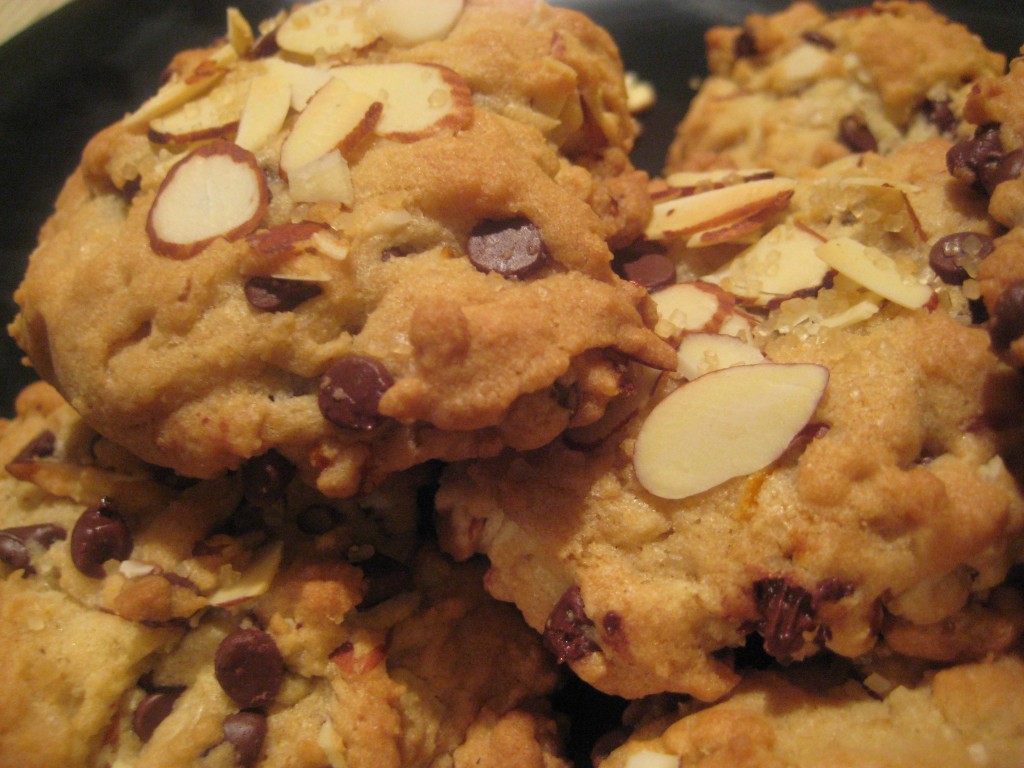 More often than not, I have a lengthy dramatic story about the dish I'm posting. Not today. No drama. No catastrophes. No turning the oven to broil instead of off, or baking in a time crunch. Just the smell of clementine zest and almond extract as Cirandar softly played in the background.
I was writing (surprise, surprise) and reached a point that I couldn't push past. I wrote the sentence. Deleted again. Tried a different sentence. Deleted that one. I went back to the beginning of the paragraph. Attempted the sentence again. Nope. Went to the beginning of the page. By this time, my eyes were glazing over the words. Anyone who writes knows what this means. Put down the pen (or in today's age, close your laptop) and stop. So I did. And I baked. With what I had in my pantry and fridge. Half a bag of this, half a bag of that, a few of these, and what do you know–you got cookies :D. Which I absolutely adored. Chocolate and orange is my favorite fruit-chocolate combo, but I didn't have oranges, I had clementines, which was just as tasty! The almonds added crunch and the almond and orange extracts added a lovely fragrance that hit your nose before the cookie touched your lips. And I'm happy to say that these cookies passed the CJ test. My friend–CJ–is an avid cookie connoisseur and never hesitates to tell me that certain cookie recipes "could be tweaked." Not this one. His reply after one bite, "These cookies are like gourmet!" He proceeded to eat the entire batch I brought for his taste-testing session. So, there you have it. I like them. CJ likes them. Now, you have to try them! (P.S. I did go back to writing after the cookies came out of the oven and got through the section that was causing me such pangs prior to baking. I think I may have found the ultimate cure for writer's block!).
Oh, and I almost forgot! I'd like to thank Shea for passing on a Stylish Blogger Award to me, and Mina and Citra for passing on Sunshine Awards to me! What a month this February has been!!!! 🙂
Clementine Almond-Chip Cookies (Printable Recipe)
Ingredients:
1/2 cup earth balance (or butter)–softened
1/2 cup sugar
1/2 cup brown sugar (packed)
1 egg
1/2 teaspoon vanilla extract
1/2 teaspoon orange extract
1/2 teaspoon almond extract
1/2 teaspoon baking soda
1 teaspoon hot water
1 1/2 cups flour
1/4 teaspoon salt
zest of one clementine (or orange, tangerine, etc.)
3/4 cup mini chocolate chips
3/4 cup sliced almonds
turbinado sugar to sprinkle on top
Method:
*Pre-heat oven to 350 degrees F. In large bowl, cream earth balance and sugars until smooth. Add extracts and egg. Mix. Dissolve baking soda in hot water; add to egg/sugar mixture. Mix until fully incorporated.
*In second bowl, combine flour, salt, clementine zest, chocolate chips, and almonds. Mix. Add dry to wet, mix until fully incorporated. Refrigerate for ten minutes. Drop onto cookie sheet, sprinkle with turbinado sugar, and bake 9-12 minutes until golden brown.